This dessert is so quick and easy! You can make it with various jams and summer fruits. Grapes, blueberries, apricots and plums all work well. Because I made it first with grapes, I am still most fond of it that way.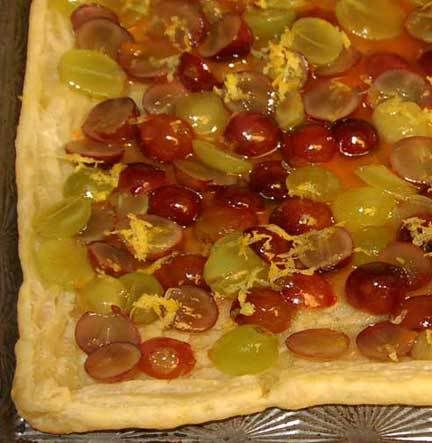 Fresh Grape Tart
Serves 6
Originally from

Vegetarian Times

, July 2007.

• 1 sheet (1/2 of 17.3 oz. pkg.) frozen puff pastry, thawed
• 1 Tbsp sugar
• 3 cups halved seedless grapes - I like a combination of red & green
• 3 Tbsp apricot jam (I prefer the all-fruit kind)
• zest of 1 lemon

Preheat oven to 400ºF.

Open puff pastry on floured surface and roll out to 14"x12" rectangle. Brush water 1/4" around edges and fold in to make border. Sprinkle dough with sugar, and prick lightly with fork. Bake 10 to 15 minutes, or until crust is golden. Transfer to serving plate, and flatten pastry inside border with back of spoon to deflate.

Meanwhile, combine grapes and jam in saucepan. Bring to a simmer over medium-low heat, and cook 5 to 7 minutes, until grapes are warm and jam melts. Spread on pastry, and zest lemon over the top. Serve warm or at room temperature.