My family loves waffles and I am always on the lookout for different ones to try. This is a recipe I have had in my files and only got around to trying about a year ago. Liège Waffles originated in Liège, Belgium where they are served by street vendors as a food to eat on the go.
Now these are not the typical Belgian Waffles with which most Americans are familiar. (Those waffles are similar to Brussels Waffles.) This is a recipe for a thinner, denser waffle, with embedded pearls of semi-caramelised sugar. It's considerably more substantial than a "Belgian Waffle". And to be totally authentic it requires a special waffle iron, because in Belgium they are oblong and pretty much oval in shape.
The coarse pearl sugar really is vital to the success of the recipe, as when the waffle is cooked, the pearls melt, but only slightly. Pearl sugar can't be found in all stores, but I've gotten it at IKEA and it's available from a number of places online. The best way to eat a Liège Waffle is warm and straight from the iron, though you can add toppings if you like. (This really is gilding the lily, though). Some places serve it as a dessert with ice cream on top.
The first time I made these, I shaped the dough into little balls and made round waffles using my vintage art deco waffle iron. Subsequently I have shaped the balls into ovals, still baking them in my vintage iron.
Mixed in a vintage Fiesta Kitchen Kraft bowl, the dough is
very
soft: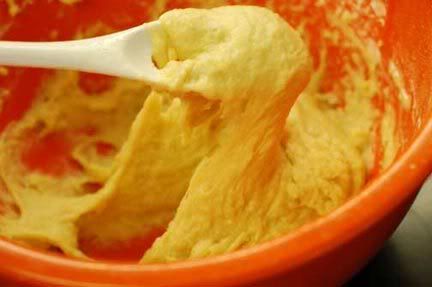 Kneading surface needs plenty of flour: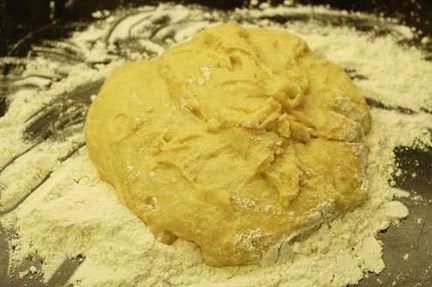 Kneaded the dough is still soft, but you can work with it:
I patted the dough out before adding the pearl sugar: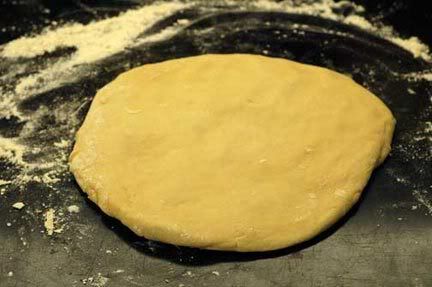 Pearl sugar kneaded into dough: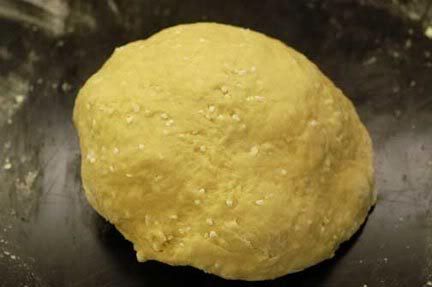 Shaped into balls: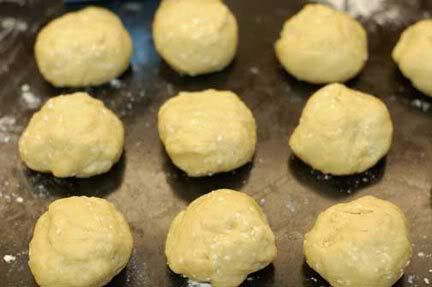 Into the waffle iron: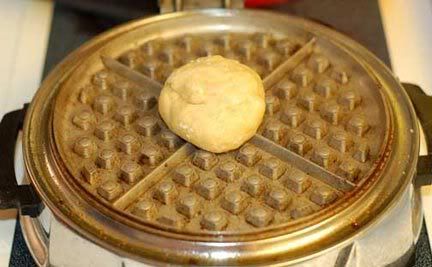 Freshly baked on the cooling rack. I thought these were too dark, so turned down the temp on my waffle iron.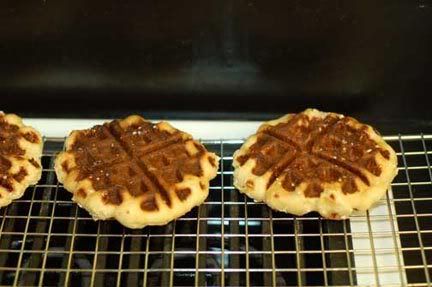 More freshly baked waffles. The ones toward the front are not as dark as the first ones and the sugar still caramelised.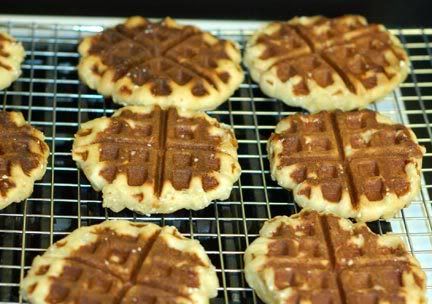 Liège Waffles
• 2 cups flour (plus extra for kneading)
• ¼ cup sugar
• 1 tsp dry yeast
• ½ tsp salt
• ½ cup milk
• ½ cup butter
• 2 eggs
• ¼ tsp vanilla
• ¼ box pearl sugar or ½ cup coarsely crushed sugar cubes (a quarter of the box of pearl sugar measured out to a rounded 1/3 cup)

Mix dry ingredients (flour, sugar, yeast, & salt). Heat the milk and butter until butter has melted (I did this in the microwave). Stir into the dry ingredients. Add eggs and vanilla and mix well.

Dough will be pretty soft. Turn out onto floured surface and knead, adding flour as necessary. Let dough rest and rise (covered) in a warm place until doubled. Place on lightly floured surface, flatten and sprinkle pearl sugar on dough. Knead sugar into the dough and then divide into small balls - about a dozen. Cover and let the balls rise until doubled.

Bake in a waffle iron 2-5 minutes on medium high until golden brown. Cool on a wire rack.

Notes:
1. I got 14 waffles from the recipe. The finished waffles were about 3" diametre and a little less than an inch thick. Excellent for eating out of hand with a cup of coffee.
2. Although the directions called for medium high heat, that was too hot on my waffle iron. The outside overbrowned at that temperature. I turned mine down to slightly under medium.
3. I spray my waffle iron with PAM at the beginning of cooking and then between every couple of waffles so that they don't stick.