Beautiful eggs. Wonderful eggs. Lovely cage-free, fertile, free-range eggs from our CSA box. Who needs Easter egg dye when eggs look like this?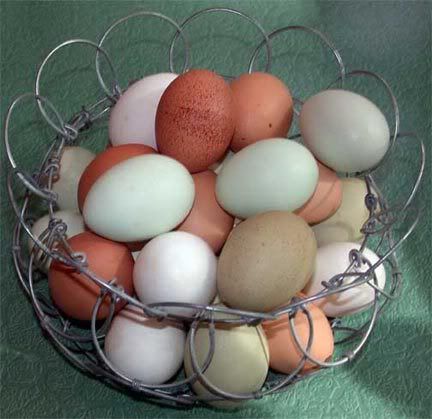 And it's not just the shells that are a beautiful colour. The yolks of cage-free, free-range eggs are not a pale, lemon yellow. They are a lovely deep orange yellow. I've heard some people say they can't taste the difference, but factory eggs taste completely different to me.
I grew up gathering the eggs every day at my grandparents house whenever I would be visiting there. They had a chicken yard where the chickens ran around living on bugs, seeds and whatever else just naturally happened to be there. Several fig trees grew in the chicken yard and the chickens could often be found roosting there. Those figs were especially good, too.
Collecting the eggs was always a treat, until one day when I was about 5 years old and was attacked by the rooster.
My grandmother was so outdone by the rooster that my grandfather took care of it when he got home and we had Chicken and Dumplings the next day for dinner. Later a new rooster came to take it's place, and eventually I started having fun gathering the eggs again. When we are finally able to move out to the farm, I am intending to have chickens that lay beautiful healthy eggs.
We love eggs! They are so versatile, I think a person could eat eggs every morning for a year and never repeat a recipe. Crouton Eggs are a particular favourite at our house. Many years ago I found a little paperback book of egg recipes (
The Fabulous Egg
, by Jeffery Feinman) at a junky flea market for which I paid all of 5¢. It was well worth it just for the idea of this recipe. I've changed it up to suit us and have been making it for years. Never fails to impress. And of course, it's always made with our CSA eggs.
Start with lovely eggs, whole wheat bread and some reduced fat cream cheese.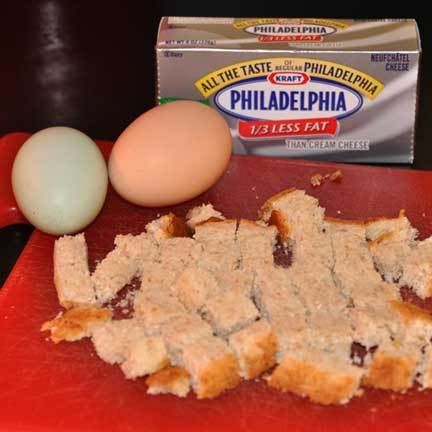 Sauté the bread cubes in a little butter. (Always better done in a cast iron skillet.)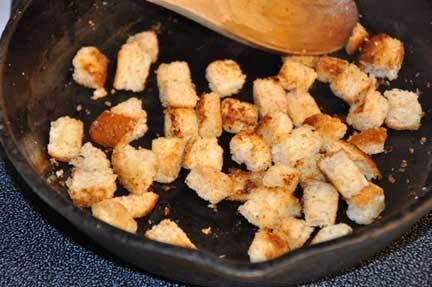 Spray an individual baking dish with PAM. Add the croutons and gently place the eggs on top.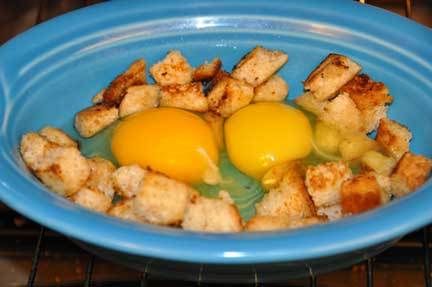 Bake and top with cream cheese, kosher salt and freshly ground pepper.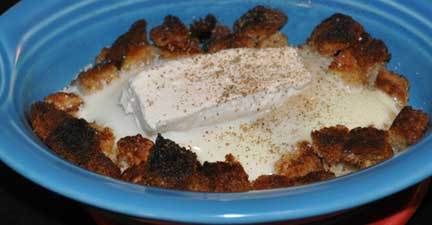 And here we have breakfast! The peacock Fiesta baker really sets off the colour of the egg yolks.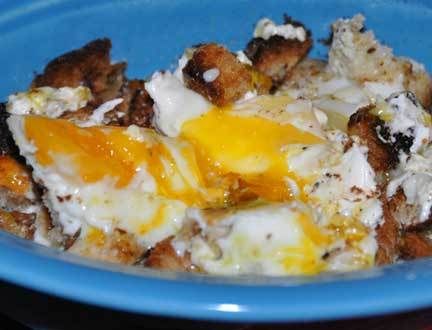 Crouton Eggs
Serves 4

1/4 cup butter
4 slices whole wheat bread, cut into 1/2" cubes
8 eggs
salt and pepper
4 oz (1/3 less fat) cream cheese, cut into 4 slices

Melt butter in large skillet and sauté bread cubes until they are crisp and a rich golden brown on all sides. Divide evenly between 4 greased ramekins. Break each egg into a saucer and carefully slip 2 eggs into each dish. Season to taste with salt and pepper.

Bake at 325ºF for about 15 minutes. Top each dish with a slice of cream cheese. Cover for two to three minutes to allow cheese to soften. Serve at once.



Notes:

You can use regular cream cheese, if you like. I just always have the low-fat on hand.