January's second Barefoot Blogger recipe is Easy Sticky Buns, from Ina's latest book,
Back to Basics
. Having made the
Easy Cheese Danish
and
Apple Turnovers
, I knew these would be a piece of cake.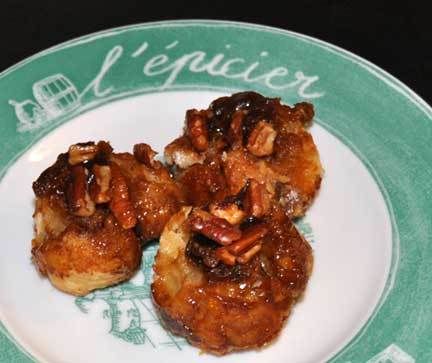 And really they should have been. But I have had terrible luck in the kitchen today! To begin with, my housekeeper has totally cleaned my kitchen and put everything away the way that seems right to her. Nothing is where I'm expecting it to be, so it's taking me longer to find everything. Plus, I do not have as much energy as I'd hoped for after the transfusions Friday.

No matter, these are easy.
Next, when I was getting things out to get started, I discovered all my regular sized muffin tins are at the farm. So I had to improvise using miniature muffin pans. Each of the mini-pans makes 8 muffins, but I figured out these would be OK, just smaller than Ina intended. We'd have lovely little bite-sized morsels to pop into our mouths. Instead of having 12 large buns, we would have 36 miniature buns. Sounds good to me. Just a neat little bite per bun.
I got all my stuff out and got done to the point of preparing the dough, (I'd gotten the puff pastry out of the fridge last night to thaw) and my dough was molded! Whoever heard of molded puff pastry dough? It was just nasty. And it was a setback I did NOT need today. So I put everything on hold and got out another box of puff pastry. Thankfully there was more than one on hand.
Everything was eventually going smoothly, but I was getting tired and feeling somewhat dizzy. After the first batch was in the oven I sat down to rest. I should've gotten DD#2 to go get the rolls out of the oven when they were done, but wasn't thinking ahead well enough. Not being especially careful, I managed to burn my hand on the pan when removing the rolls.

Dropped the pans on the floor and all the rolls fell out upside down on the floor in front of the oven and I had a huge mess.
At this point I was ready to break down in tears, and DD#2 came to the rescue. She cleaned up all the mess, put the spilt buns out for the birds to eat and got our second batch of buns in the oven to cook. I just went to bed and pulled the covers over my head (though I did notice the time the buns went in the oven.) When the second batch of buns was cooked, DD#2 got them out of the oven without dropping them all over the floor like her Mom did. (And Mom has recouped somewhat by now.)
The buns really are good, and they are easy. This morning was just a time when I probably should have been doing something else. Thank goodness for Ina. If these had been something more difficult, I would have probably burned the kitchen down.

(Glad to have my sense of humour back. I haven't had a disaster like this in the kitchen in over 30 years!)
Let's start with good pecans, the best Vietnamese cinnamon and some puff pastry dough that is not molded!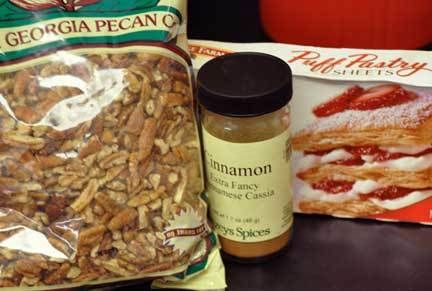 Chopped pecans and butter mixed with brown sugar, ready to go in the muffin tins.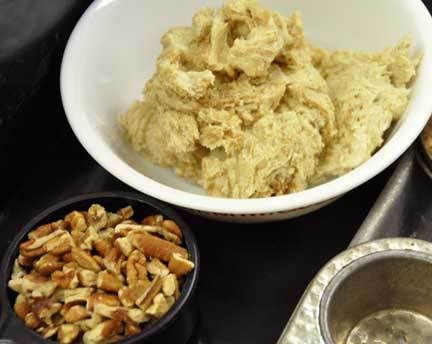 Butter, sugar and pecans in the miniature muffin tins.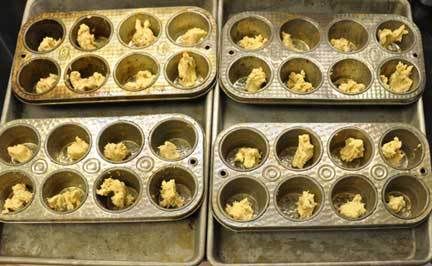 Puff pastry dough prepared and in the pans.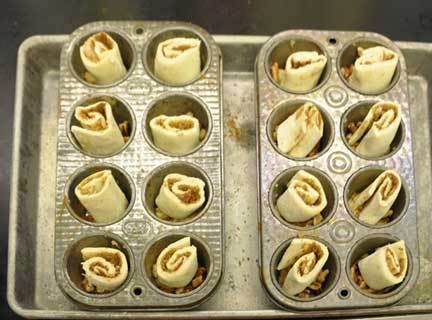 And finally, our second batch of Easy Sticky Buns, ready to eat!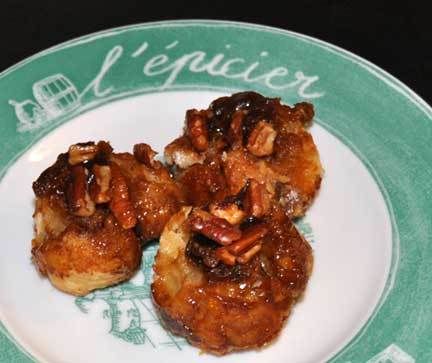 These were very good and they were easy. I've served them on some little Yves Deshoulieres plates from France. The pastry one seemed rather appropriate.

And I really do like the tiny size!
Easy Sticky Buns
Ina Garten



We used to make really delicious sticky buns at Barefoot Contessa, but they took two days to make because the yeast dough needed to rise overnight in the refrigerator. I was dying to find a way to make them easier, so I decided to try baking them with Pepperidge Farm puff pastry dough, instead. OMG are they good … and they're really easy to make! Light, flaky dough filled with brown sugar, toasted pecans, and sweet raisins — my friends go crazy when I make these.



12 Tbsp (1 1/2 sticks) unsalted butter, at room temperature
1/3 cup light brown sugar, lightly packed
1/2 cup pecans, chopped in very large pieces
1 package (17.3 ounces/2 sheets) frozen puff pastry, defrosted for the filling
2 Tbsp unsalted butter, melted and cooled
2/3 cup light brown sugar, lightly packed
3 teaspoons ground cinnamon
1 cup raisins

Preheat the oven to 400°F. Place a 12-cup standard muffin tin on a sheet pan lined with parchment paper.

In the bowl of an electric mixer fitted with the paddle attachment, combine the 12 tablespoons butter and 1/3 cup brown sugar. Place 1 rounded tablespoon of the mixture in each of the 12 muffin cups. Distribute the pecans evenly among the 12 muffin cups on top of the butter and sugar mixture.

Lightly flour a wooden board or stone surface. Unfold one sheet of puff pastry with the folds going left to right. Brush the whole sheet with half of the melted butter. Leaving a 1-inch border on the puff pastry, sprinkle each sheet with 1/3 cup of the brown sugar, 1 1/2 teaspoons of the cinnamon, and 1/2 cup of the raisins. Starting with the end nearest you, roll the pastry up snugly like a jelly roll around the filling, finishing the roll with the seam side down.

Trim the ends of the roll about 1/2 inch and discard. Slice the roll in 6 equal pieces, each about 1 1/2 inches wide. Place each piece, spiral side up, in 6 of the muffin cups. Repeat with the second sheet of puff pastry to make 12 sticky buns.

Bake for 30 minutes, until the sticky buns are golden to dark brown on top and firm to the touch. Allow to cool for 5 minutes only, invert the buns onto the parchment paper (ease the filling and pecans out onto the buns with a spoon), and cool completely.



Notes:

I did not use the raisins this time for two reasons. First DD#2 is not specially fond of them. And second, I was making such small buns, I thought the raisins I had were too large. If I'd had some currants, I would have used those, instead.
Click here
to see what other Barefoot Bloggers think of this recipe.