I am having the best time cooking and baking with the Barefoot Bloggers.

October's Bonus Recipe is Easy Cheese Danish from
Barefoot Contessa at Home
. It was chosen by Val of
More Than Burnt Toast
and I do thank her for picking this recipe. Everyone here loves cheese Danishes and I am very into easy these days. This morning I was feeling pretty good, so I baked these for breakfast.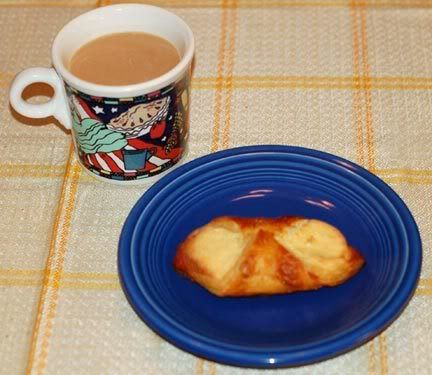 I had a large lemon so that is what I zested, and it was more than enough.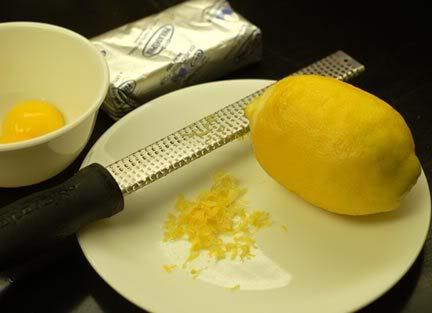 One thing I did differently from the recipe was to only use one sheet of puff pastry and cut it into 9 squares. This made smaller Danishes, but they are easier to pick up to eat and can fit smaller appetites. For the egg wash, I did not crack another egg, but just mixed a little water with the leftover egg whites. Before baking I sprinkled the pastry with sugar. And as you can see from the photo, I used a Silpat for baking instead of parchment.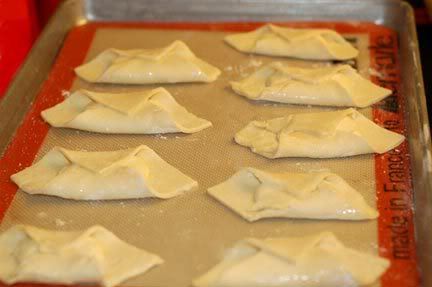 After the Danishes were baked I wished I had put more filling in each one. I put a tablespoon of filling in each because the pastry squares were smaller. Next time I will use a heaping tablespoon. I have leftover filling, egg wash and another sheet of puff pastry. Likely I will bake another batch tomorrow morning. In the book Ina says these can be assembled the night before and baked in the morning. As I want to add some chopped, dried apricot to them, I may do that.
I love this recipe. It's easy. It's delicious. And everyone here was most impressed! Thanks for the impetus to make them. They'll definitely be a regular around here.
Easy Cheese Danish
Ina Garten

8 oz cream cheese at room temperature
1/3 cup sugar
2 extra large egg yolks, at room temperature
2 Tbsp ricotta cheese
1 tsp pure vanilla extract
1/4 tsp kosher salt
1 Tbsp grated lemon zest (2 lemons)
2 sheets (1 box) frozen puff pastry, defrosted
1 egg beaten with 1 tablespoon water, for egg wash

Preheat oven to 400°F. Line a sheet pan with parchment paper.

Place the cream cheese & sugar in bowl of an electric mixer fitted with paddle attachment and cream together on low speed until smooth. With the mixer still on low, add the egg yolks, ricotta, vanilla, salt, and lemon zest and mix until just combined. Do not whip!

Unfold one sheet of pastry onto a lightly floured board and roll it slightly with a floured rolling pin until it's a 10×10 inch square. Cut the sheet into quarters. Place a heaping tablespoon of cheese filling into the middle of each of the 4 squares. Brush the border of each pastry with egg wash and fold two opposite corners to the centre, brushing and overlapping the corners of each pastry so they firmly stick together. Brush the top of the pastries with egg wash. Place the pastries on the prepared sheet pan. Repeat with the second sheet of puff pastry and refrigerate the filled Danish for 15 minutes.

Bake the puff pastries for about 20 minutes, rotating the pan once during baking, until puffed and brown. Serve warm.

Makes 8 Danish

We were supposed to post results on Thursday the 16th, but I was late.
Click here
to see what other Barefoot Bloggers think of this recipe.