This is all the fault of my friend Craig (
RainbowDishes Journal
), and I thank him profusely. Some weeks ago he posted on our dish board that he had thirteen of last year's Fiesta peppermint ornaments from Carson Pirie Scott. Now I had one of those and two of the 2005 Fiesta peppermint ornaments sold by Betty Crocker. I kept thinking about a bunch of peppermint ornaments and how those would look on a tree together. Finally I wrote to him and asked if he were planning to use all those ornaments or was he interested in selling some of them. Happily, he only wanted to keep one. The other twelve now are here with me. Then a couple of other people on the dish board traded with me so that I have 15 of the 2007 ornaments.
As it's relaxing and makes me happy to play with dishes, I spread out a piece of cool peppermint print fabric that I want to use for a tablecloth and decorated my Peppermint Tree.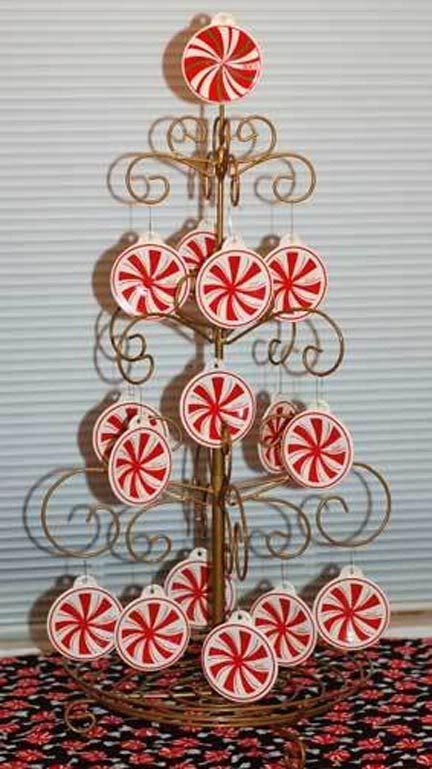 My Museum Putty had mysteriously disappeared from where it usually lives, so the 2005 ornament is hot glued to the top of the tree. I really like the way this turned out. Originally I was thinking I would set this tree up in the kitchen, but after seeing it, I think I might put it on the table in the foyer along with some other peppermint holiday items (not just Fiesta).
But for now it has been put away to await the winter holiday season. October is the time for the spooky stuff!!!