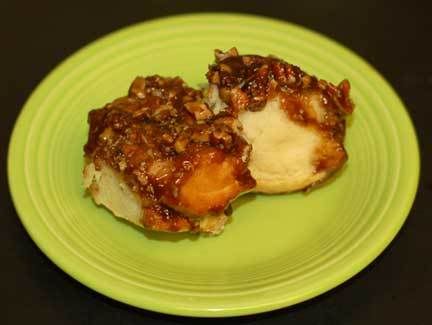 Both of my two favourite recipes for breakfast rolls start with the Ice Box Roll dough my maternal grandmother used for all her rolls. Years ago I updated the dough recipe for the breadmaker and it works like a charm. I use it for dinner rolls as well as breakfast rolls. My grandmother preferred the Parker House shape for dinner rolls, but cloverleaf, hamburger or hot dog buns, monkey bread, etc., all work equally well. For these Sticky Cinnamon Buns I adapted a recipe I got from my neighbour before I had children, so I've been making these some 25 years now.
We made the dough Thursday night and put it in a gallon Ziploc bag in the fridge till Saturday. Then yesterday morning I made the Sticky Cinnamon Buns. Forgot to make pics until I already had the rolls in the pan ready to go into the oven.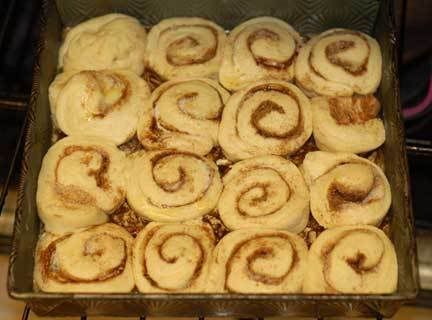 And here they are ready to come out of the oven.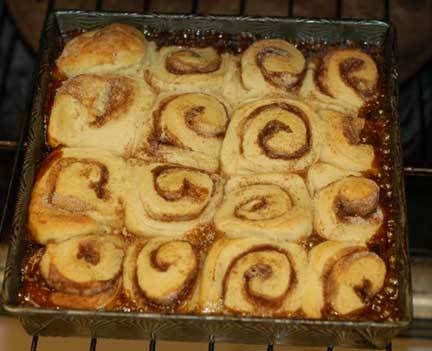 Turned out on a small Fiesta pizza tray. (I'm going to be so glad when the Square Fiesta comes out, as some of my favourite baking pans are vintage square ones.)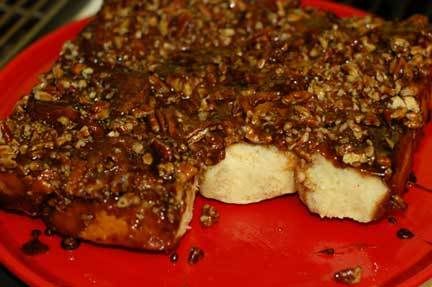 Sticky Cinnamon Buns
Dough:
1 cup milk
1/4 cup sugar
3/4 teaspoon salt
1/4 cup oil
3 cups flour
1 teaspoon baking powder
1/4 teaspoon baking soda
1 Tablespoon instant yeast

Pour milk in breadmaker pan. Add sugar, salt, oil, flour, baking powder, soda and yeast, in order given, ending with the yeast. Set breadmaker to dough setting and start.

When breadmaker is finished, remove dough and turn out on floured surface. Knead a couple of times and shape into ball. At this point you can either shape the rolls for baking or put in a Ziploc bag in the refrigerator. Dough will keep several days in the fridge.

1/4 cup unsalted butter
1/2 cup packed brown sugar
2 Tablespoons light corn syrup
1 cup chopped pecans
3 Tablespoons unsalted butter, melted
1/4 cup sugar
1 Tablespoon cinnamon

Preheat oven to 375ºF.

In a 9" cake pan combine 1/4 cup butter, brown sugar, and corn syrup. Place in oven to melt.

Meanwhile, roll dough out to 12x18 rectangle and brush with 2 Tbsp. butter. Combine sugar and cinnamon. Sprinkle over dough. Roll tightly like a jelly roll, beginning at the long edge. Cut into 16 slices.

Turn off oven and stir mixture in cake pan. Sprinkle pecans evenly over the bottom of the pan. Lay rolls, cut side down in pan and brush tops with remaining butter. Cover and let rise till doubled.

Bake at 375ºF for 25 minutes or until browned. Invert onto large platter, being sure to scrape all the yummy goodness out of the pan and onto the top of the rolls. Cool slightly before serving.