Both the girls were off at the movies with friends, so Mike and I were on our own for dinner. I decided to try something new, putting together several recipes to make a new one. Dinner was Herb Waffles with Roasted Asparagus and Eggs Goldenrod. It was really nice to be able to cook again!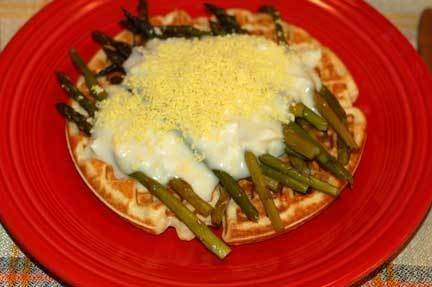 Herb Waffles
I cut this recipe out of the newspaper at least 10 years ago. It's from Chef Carole Wagner Greenwood, who at the time was with the Tabard Inn in DC. She suggested serving these in the spring with asparagus and sautéed morels. Yield: 4 large waffles

2 cups flour
1 tsp salt
4 tsp baking powder
2 Tbsp sugar
2 Tbsp finely diced chives
1 Tbsp finely chopped fresh thyme
1 Tbsp chopped fresh Italian parsley
1 Tbsp finely chopped fresh sage
5 oz unsalted butter
1 1/2 cups milk
2 eggs, beaten

Sift dry ingredients together and stir in fresh herbs.

Heat butter and milk until butter is melted. Cool slightly before whisking in eggs. Quickly whisk in dry ingredients.

Bake waffles according to waffle iron instructions, greasing iron as needed.

Notes:
1. This made six waffles in my waffle iron.
2. I topped the waffles with roasted asparagus and Eggs a la Goldenrod. To make Goldenrod Eggs, hard cook three eggs. Make a white sauce of 4 Tbsp butter, 4 Tbsp flour and 1 1/2 cups milk. Stir and cook till thickened. Season to taste with salt and pepper. Chop egg whites and stir into sauce. Ladle sauce over asparagus and sieve egg yolk over the top.
3. These waffles would also be a good base for Chicken a la King or other similar dishes.