Besides the Square Fiesta that has just been announced, there are three new glaze colours this year. Marigold (in honour of Fiesta's 75th anniversary) and Ivory were introduced at the Housewares Show in Chicago in March. Now, just in time for Thanksgiving the newest colour is Chocolate.
CHOCOLATE FIESTA®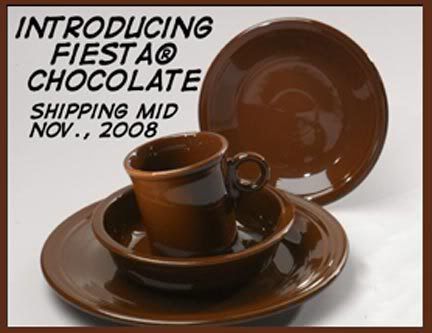 Select Chocolate shapes include: the traditional size Mug and oversized Java version, Oval Platter, various size Bowls, Luncheon, Salad and Dinner Plates, large and small Disc Pitchers, Salt and Pepper Shakers, Individual Oval Casserole, and Gusto Bowl.

While I wouldn't set a whole table in this glaze, it will be nice to have some pieces to mix in for autumn table settings.