Some time back I ran across a recipe posted on a foodie board for Sweet Potato Cornbread. The title appealed to me because I'm the only one at my house who really enjoys sweet potatoes plain. We get them fairly often in the veggie box, so I was thinking this could be a good way to use them. I made this cornbread tonight.
Baked in a cast iron skillet and turned out on a small Fiesta pizza tray.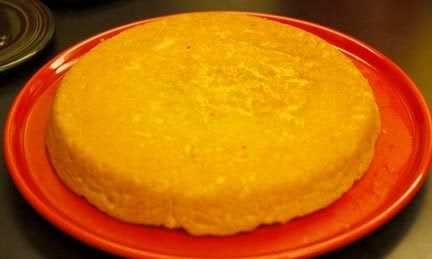 It is a lovely colour and we liked it OK, but I will probably not make this particular recipe again. I'm glad I tried it and will likely try adding sweet potatoes to my regular cornbread recipe. The biggest problem for us is the ratio of flour and cornmeal in the recipe. Traditional southern recipes for cornbread use little to no wheat flour. The texture is very different. Tonight's bread had a very smooth, almost cake-like texture. We prefer the more coarse texture of a recipe that is mostly cornmeal. But in case anyone else would like to try it, I will post the recipe as I got it and note my changes.
Sweet potatoes from the veggie box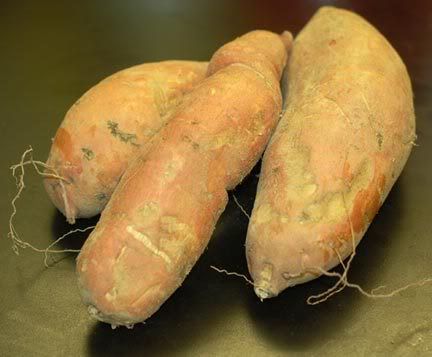 Baked and ready to mash. I use my paternal grandmother's potato masher. IMO, this style works better than any other.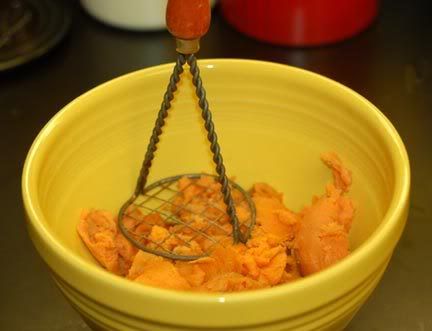 Juicing an orange. I love this Braun juicer. First saw it years ago when Ina Garten used it on
The Barefoot Contessa
on FNTV.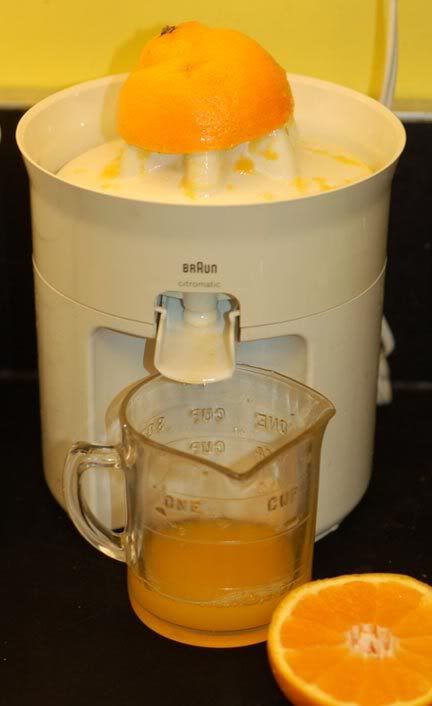 Equal parts flour and cornmeal. I was afraid we wouldn't be too happy with the texture.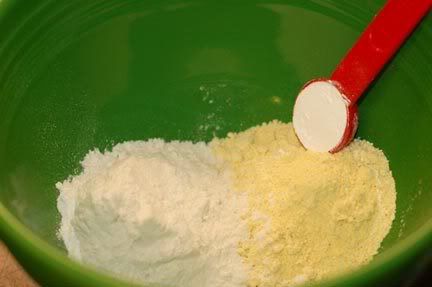 The cornbread batter. The addition of the sweet potatoes make it a lovely colour.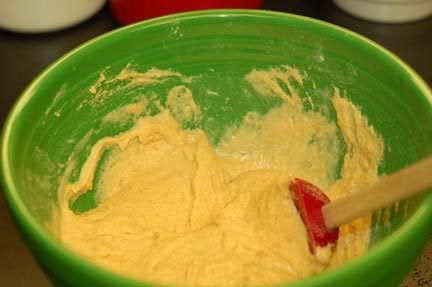 Sweet Potato Cornbread

1½ cups yellow cornmeal
1½ cups white flour
2 tablespoons baking powder
¼ teaspoon cinnamon
¼ teaspoon cardamom
1 teaspoon salt
1 cup butter
½ cup brown sugar
2 eggs
2 tablespoons orange juice
2 cups cooked, mashed sweet potatoes
½ cup milk
1 cup frozen corn (thawed)

Preheat oven to 350°F.

Combine dry ingredients in large mixing bowl. In a mixer, cream butter until fluffy (about 1 minute). Add brown sugar and mix briefly. Add eggs, orange juice, sweet potatoes and milk. Mix until smooth. Add dry ingredients and mix well. Fold in corn.

Coat two 9-inch pans with cooking spray and pour batter into them. Bake about 20 to 30 minutes until firm or until cake tester inserted in center comes out clean. Cool before serving. Makes about 16 slices.

Notes:
1. I halved the recipe to make this a better size for our family.
2. Omitted the cinnamon, cardamom and corn because I didn't want those flavours in the bread to go with the greens tonight.
3. Southerners bake cornbread in a cast iron skillet. Preheat the skillet on the stove and add a tablespoon of oil. Pour the batter into the hot skillet so that it will have a nice crust. Then place the skillet in the preheated oven.

I had some sweet potatoes and orange juice leftover so I made a little sweet potato soufflé. To the mashed sweet potatoes I added the oj, a beaten egg, a little milk, salt, and some sugar. Put it in an individual Fiesta pie baker and topped it with pecans and a little brown sugar. Then dotted with butter and baked it along with the cornbread. It was delicious!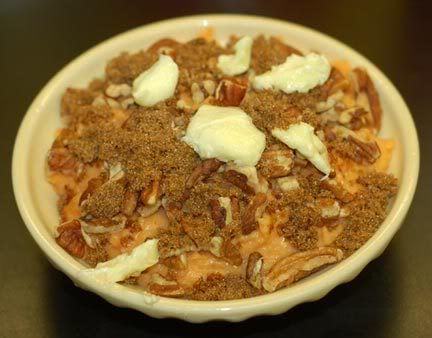 The cornbread and the soufflé. Yellow and orange food are really set off by the sapphire Fiesta.