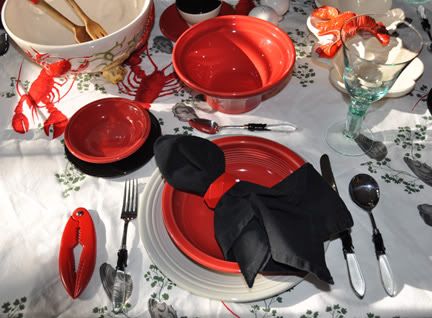 My Diva pals are featuring tablesettings using the Wilendur lobster tablecloths and asked if I had blogged about mine. Although I did post photos last year on our dish board when I first got back into tablescaping after the transplant, I realized I had not done a blog post. Better late than never!
The Wilendur Lobster cloth is one of the Holy Grails of tablecloth collecting. Although the Wilendur Company made table linens for over 60 years, this cloth is hard to find and is treasured whenever someone runs across one. There are matching napkins, but I have not found those yet. I have particulary liked doing tablescapes with the Divas as I love seeing how we all interpret them differently.
This table was done last summer and some of the photos were made in the morning light and some were later in the day.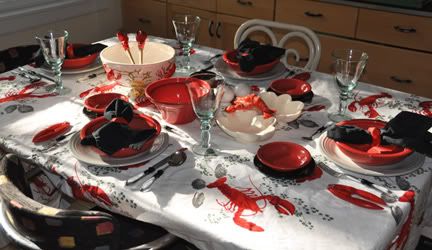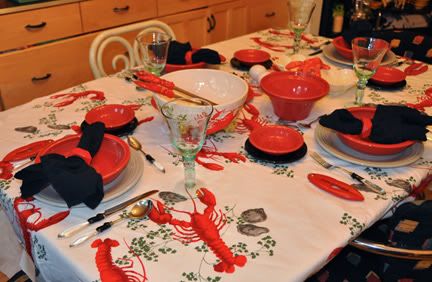 Flatware detail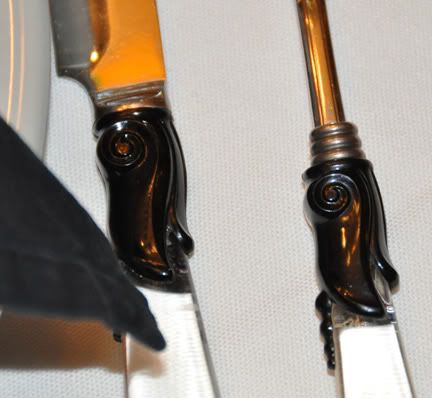 Lobster double serving dish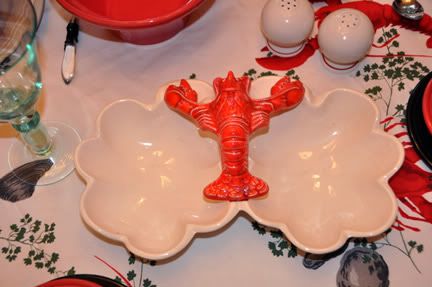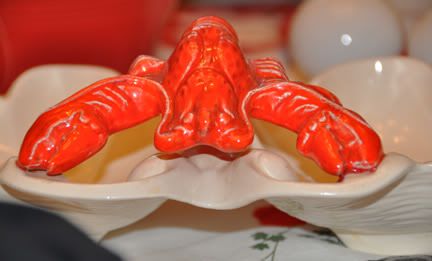 I fell in love with this salad bowl the first time I saw it. Isn't it just perfect for the Lobster cloth?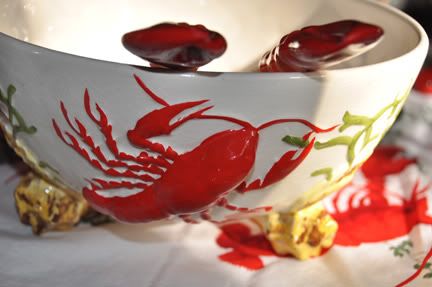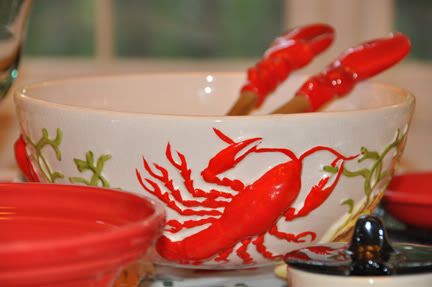 And what better to use for servers than these wooden ones with ceramic lobster handles?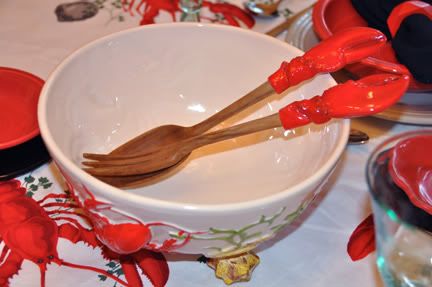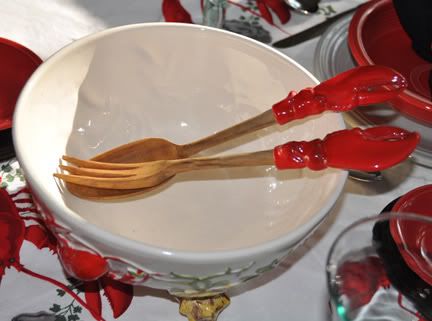 Wine goblets (not lobster-ish at all, but they pick up the green of the parsley).
Pottery accessories

Decorating the lovely lobster tablecloth:
1. Pearl grey, scarlet and black Post-86 Fiesta dinnerware. The white shakers with the red stripe are from the original Holiday pattern. At the time I wished they had added the holly decal that is on the larger shapes, but have since decided I really like them with just the red stripe as I can use them with many different tables. And I love the way the pearl grey really goes with this cloth.
2. Black hotel napkins I have had forever.
3. Red painted wooden napkin rings that I have also had forever.
4. Goblets from Tuesday Morning.
5. The salad bowl is vintage and was made by Weiss of Brasil.
6. A California pottery made the divided lobster server.
7. Black and white jam pot is vintage Stangl.
8. Flatware is vintage mid-century with acrylic handles.
9. The lobster claw salad set was sold to me as Brad Keeler, but I haven't checked to be sure. I like it regardless of the maker because it is another perfect accessory for this tablecloth.
10. Lobster claw crackers were a gift from my brother.
Be sure to check out lobster tablescapes by the Divas:
Candy @
The Little Round Table
Daphne @
Tabletop Time
Elaine @
Dishing with Carafaye
These ladies are all fabulous and inspire me daily. Notice that Candy's tablecloth has turquoise parsley, while mine, Elaine and Daphne's all have green parsley. That is the only difference we have noticed in the colourway, and I am not sure if it is a deliberate colour change or just a difference in the dye lot. A puzzle yet to be solved. I'd love to hear from any of you who have this cloth about your exact colours. And if you have done a tablescape with this cloth, please post a link in comments and I will add it to this post. Thanks so much!
Slightly late, but because the parties are still open, I am linking this to Jenny @
off on my tanget
for
Alphabe-Thursday
where Today's Letter is "W" - W is for "
Wilendur (lobster)
" and Susan at
Between Naps on the Porch
for Tablescape Thursday.
namasté,