Fresh peaches are one of the best delights of summer. We have lots of them growing at the farm and I love to make Peach Preserves.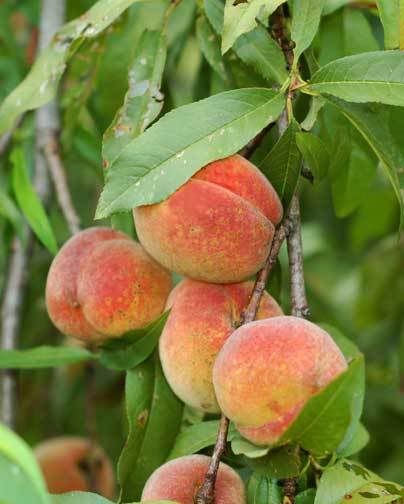 When I was growing up in Louisiana, my best friend's grandparents had a peach orchard ~ Phil-Lora brand peaches. Every summer her grandad would hire a bunch of us kids to either pick peaches or man the peach stand out at the highway. Trish and I always opted for peach stand duty. Summer in Louisiana is HOT

and we got to work in the shade.

During peach season my Mom and grandmother put up lots of peaches - mostly frozen and in preserves. I can remember my grandmother always put a peach kernel in every jar of her peach preserves.
Back in 1993, I got a copy of
Preserving the Taste
, by Edon Waycott. A number of recipes for the book were developed by her for La Brea Bakery and are quite popular there. I got this book when it was new and have loved a lot of her ideas. I was particularly delighted when I found this method of making peach preserves by cooking the juice into a syrup first, and will never make peach preserves any other way. They have to be the best we have ever tasted. Very much a fresh peach flavour, just bursting from every bite and not too sweet. The finished product is mostly fruit.
Peaches, peaches, peaches: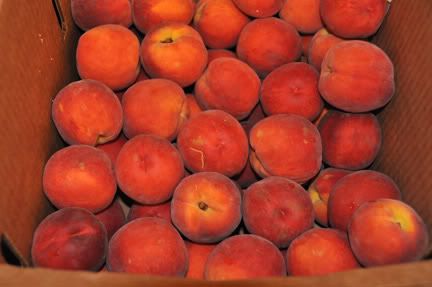 Sliced and measuring: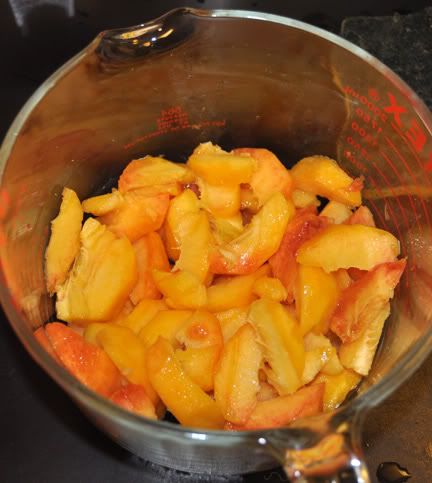 Sugar stirred into peaches: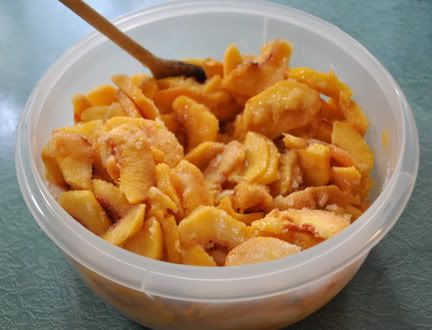 Cooking in the maslin pan: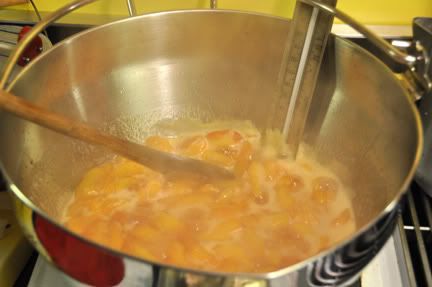 Sealed in jars: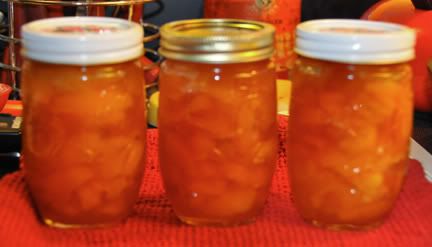 Peach Preserves
adapted from Preserving the Taste
makes 5 or 6 half pints

6-7 lbs peaches
2 cups sugar
2 Tbsp freshly squeezed lemon juice
5 or 6 almonds (one per jar), if desired

Sterilise jars and lids and keep warm.

Peel and slice the peaches. You should have approximately 8 cups. Pour the sugar on them and mix gently. Allow to sit at room temperature 2-3 hours. Place a colander over your preserving pan and pour the peaches and liquid into it. Let the juice drain for about 15 minutes. Put the peaches back in the bowl and set aside.

Add the lemon juice to the preserving pan and cook over high heat. You want to cook this into a syrup that is 222°F. How long it takes depends on the size and shape of your pan. I use a maslin pan and it takes about half an hour.

As soon as the syrup reaches the proper temperature, pour in the peaches and any other juice that has accumulated. Cook over high heat, stirring as needed, until the peaches begin to get translucent. This took me about another half hour or so.

Pour preserves into jars and add an almond to each if you are using those. Process in BWB for 5 minutes. Remove from canner and allow to cool before storing. Be sure to listen for the pings that tell you the jars are sealed.
Thanks so much for stopping by today!
namasté,