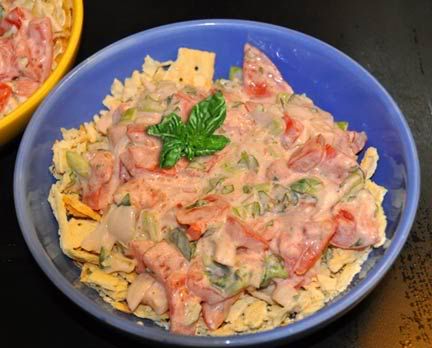 Some foods are only meant to be eaten seasonally. At the top of that list are tomato sandwiches. Not far behind is Cracker Salad. Cracker Salad is a rather southern version of Italian panzanella. It's quick and easy to fix. Also tastes great on a warm or hot summer day. We have it for both lunch and supper. It's also one of those forgiving things where you can add cucumbers, olives, and garlic or not, and use whatever peppers you have on hand, etc.
Today we had our first cracker salad of the season! This week's veggie box was loaded with fresh juicy tomatoes, green Vidalia onions, and cubanelle peppers, among other things. My basil is growing like crazy, so Cracker Salad was the perfect thing to make for lunch. It was just Mike and me today, so for the two of us I used 2 tomatoes, 1 onion, 1 cubanelle pepper, 3 sprigs of basil with crackers, mayo and seasoning, to taste.
Lovely tomatoes, green Vidalia onions and cubanelle peppers from the veggie box and basil from my garden: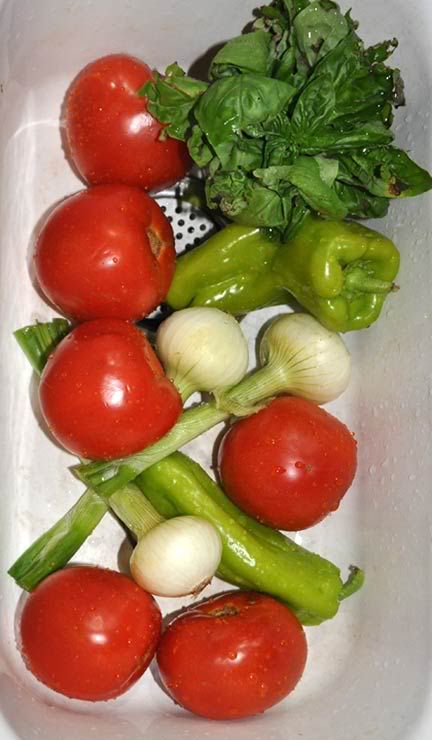 Crackers, good mayonnaise, and seasonings: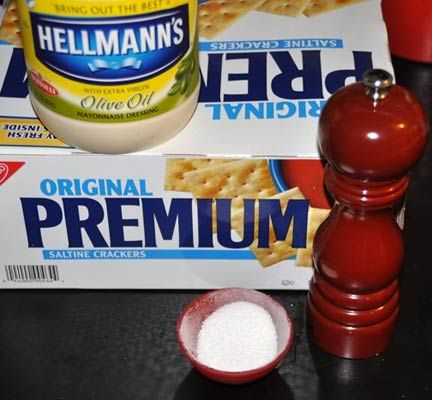 Chopped veggies and basil in a sunflower Fiesta mixing bowl: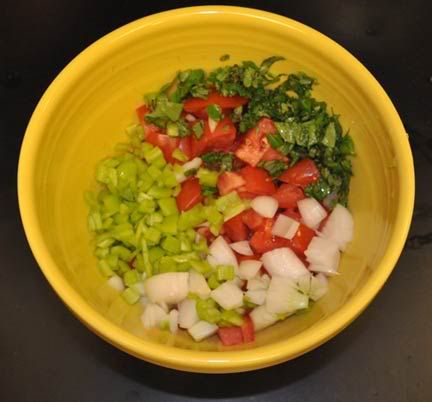 Crackers crumbled in a Harlequin blue Harlequin individual salad bowl:
And our lovely salad, ready to stir and eat: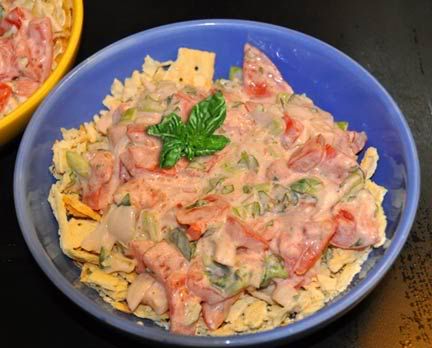 It was so good, that I would eat it again for supper. Except I have a dinner date with my spouse!

Cracker Salad

tomatoes
onions
fresh basil
cucumber, optional
olives, optional
garlic or garlic scapes, optional
good mayonnaise (I normally use Hellman's Lite, but the olive oil version is good, too.)
saltine crackers
salt, pepper, Creole seasoning, etc., as desired

Peel tomatoes; cut up, juice and all in a bowl. Chop up onion into bowl. Add chopped cucumbers, olives and minced garlic, if using. Shred basil leaves and stir into veggies. Fold in mayonnaise (should be pretty juicy). Divide between individual bowls and let everyone crumble crackers on top. Season as desired.