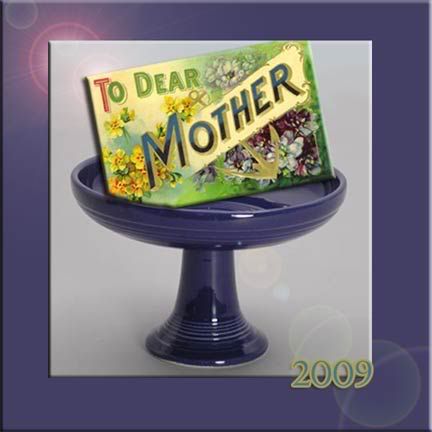 Mother's Day is a relatively new holiday, having been around less than 100 years. In the USA we celebrate this day honouring our mothers on the second Sunday in May. When I was growing up in the south, people always wore a rose pinned on their clothes. If your mother had crossed over, you wore a white rose. If your mother was still here with you, you wore a red rose. My Mom had a Paul Scarlet climbing rose growing on the corner of our front porch. It was always easy for us to cut roses to wear.
Most people I know tend to take their Moms out to dinner, send cards, give them gifts, etc. Since I became a mother, many times I have gotten a gift from a nature store - hummingbird feeders, bird baths, and other things like that. This year the girls gave me some lovely fragrant bath and body products and a very cool jewelry set in turquoise and chartreuse. I love them! I'm not going to say what we sent to my Mom and MIL because they read this blog and I got an e-mail notice that their gifts did not ship in time to arrive today. But perhaps they will get them tomorrow!
I want to wish a Happy Mother's Day to all the wonderful mothers out there who read this.
The card I made is kind of a play on words. My Mom and I both collect Fiesta, Harlequin and other colourware. The cobalt dish is a vintage Fiesta sweets comport. The vintage postcard, I altered to look like a wrapped bar of chocolate candy. This is so I could wish my Mom the sweetest Mother's Day. Happy Mother's Day, Mom. I am so lucky to be your daughter!