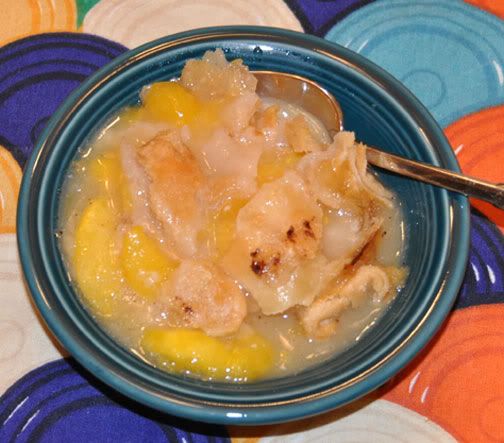 Fresh peaches rank right up with fresh tomatoes as food that tastes enormously better freshly picked in season. This week's veggie box was a bounty of summer goodness. Besides the wonderful tomatoes, peppers and onions, it had three bags of peaches!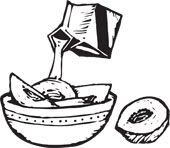 When I was growing up my best friend's grandparents had a peach orchard ~ Phil-Lora brand peaches. Every summer her grandad would hire a bunch of us kids to either pick peaches or man the peach stand out at the highway. Trish and I always opted for peach stand duty. Summer in Louisiana is HOT

and we got to work in the shade.

During peach season my Mom and grandmother put up lots of peaches - mostly frozen and in preserves. We also ate lots of fresh peaches, sometimes cut up in a bowl with cream. But one particular treat that I just loved was Peach Cobbler. And I still do.
In the South, cobbler uses a pastry crust. It doesn't have to be rolled out pretty like a pie crust. As a matter of fact, it can be put in pieces on the top so that it resembles cobbles. Sometimes cobbler has a bottom crust, and depending on how tall the pan is and how many peaches you have, it can have a layer of crust in the middle. My grandmother typically made cobbler in a 9"x13" baking dish. She didn't have a recipe that was written down, so I had to watch her carefully to learn how to make it. And she used basically the same technique to make blackberry cobbler, as well as peach cobbler. Both fruits were plentiful as we also spent many hours picking wild blackberries, often eating more than we put in our buckets.
So to make cobbler, first we need fresh picked peaches.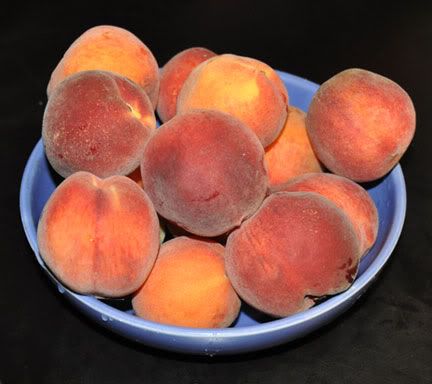 They need to be peeled and cut up in chunks. If the peaches are properly ripe, the skins will easily peel off.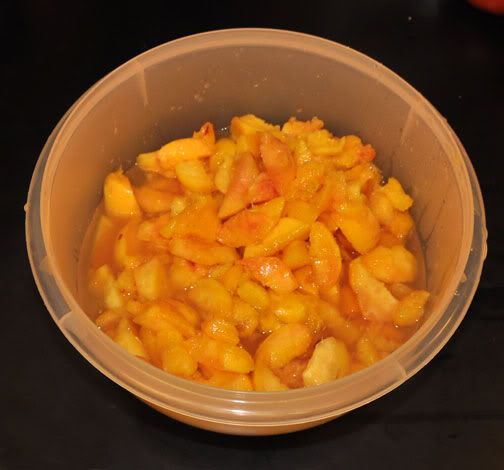 Tomorrow Mike and I have to go to Nashville and then he will be in Virginia the rest of the week. Therefore, I decided to make a small cobbler. One quart Betty Bowls, made by Homer Laughlin for General Mills and glazed in Fiesta colours, are perfect for many things in our family. Cobbler is just one way I use them. So, I lined the bowl with pastry, going for a rustic look.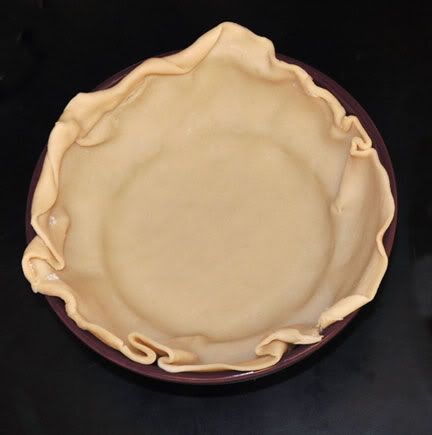 Cut up peaches get put into the pastry lined bowl.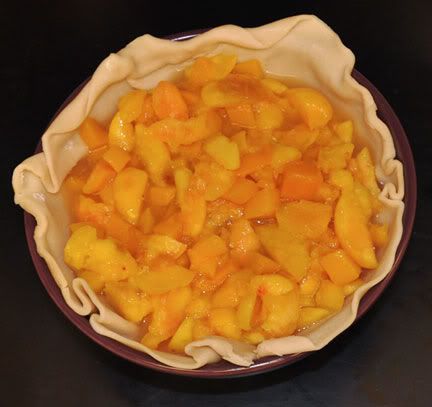 Peaches are topped with some sugar, butter, flour and a bit of lime juice and grated nutmeg.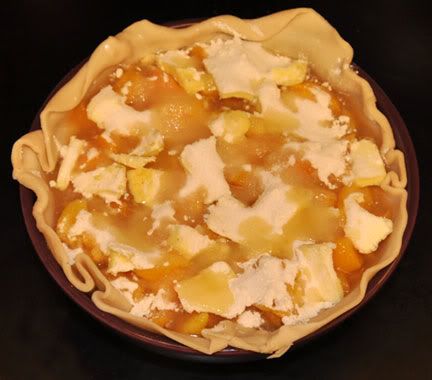 And then I just put a whole crust over the top, not sealing it as you would pie crust.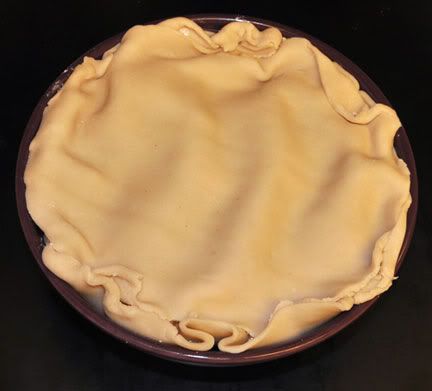 Top the crust with some sugar and a little cinnamon.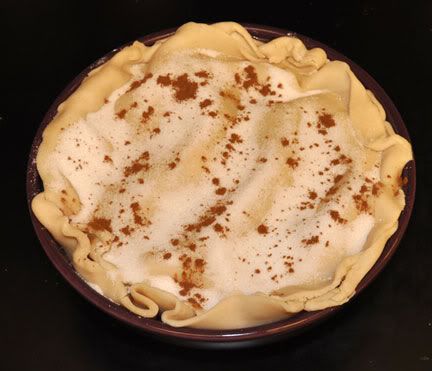 And here is the cobbler after being baked. I could hardly wait for it to cool down enough to taste it.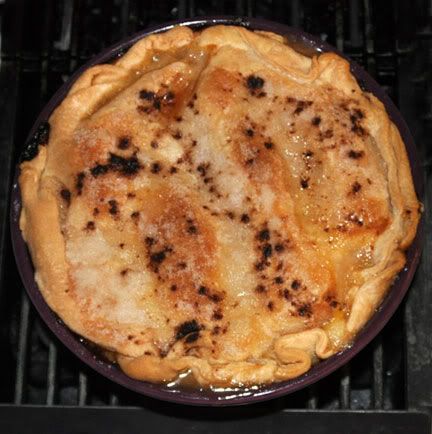 But I restrained myself and later dished some up in a small juniper Fiesta fruit bowl. Yum.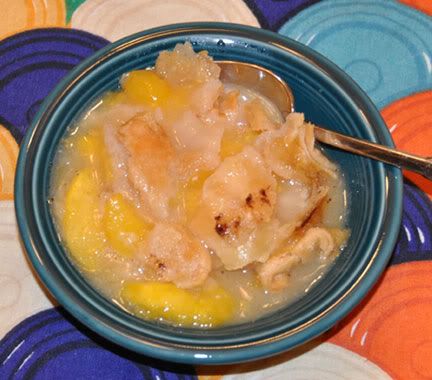 Cobbler



Pastry:

*
2 cups unbleached flour
1/2 tsp salt
1/2 cup butter
1/3 cup cold water

1 cup coarsely crushed sugar cubes (about 40), or use about 2/3 cup granulated sugar



Filling:


5 (generous) cups fresh sliced peaches
juice of 1/2 lemon
3/4 cup sugar
1 Tbsp cornstarch or 3 Tbsp Wondra flour
pinch salt
nutmeg
4 Tbsp butter

2 Tbsp half and half, optional



For Pastry:


Sift together the flour and salt. Cut in butter to look like cornmeal. Sprinkle on cold water and mix quickly with a fork. Divide into 2/3 and 1/3. Cover and let stand 5 minutes.



For Cobbler:


On floured surface roll out the large piece of pastry and line a large Betty Bowl or Fiesta pie plate. Sprinkle with 2-3 Tbsp of crushed sugar. Cover with wax paper and refrigerate. Preheat oven to 450°F. Roll out rest of pastry to form top crust and set aside.

Mix peaches with lemon juice. Mix sugar with cornstarch and sprinkle over fruit. Add the pinch of salt and fold gently to combine. Fill pastry lined pan with fruit mixture and grate on a little nutmeg. Dot with butter.

Fit on top crust in one piece or in several smaller ones. If your edges are nearly sealed, cut slits for steam to escape. Can brush generously with half and half (do not brush edges) and sprinkle with remaining crushed sugar. Can also sprinkle on a bit of cinnamon. Place cobbler on baking sheet in oven. Immediately reduce heat to 350°F. Bake 50-60 minutes or until crust is a deep golden brown.

*If you don't want to make pastry, you can use 2 Pillsbury refrigerated pie crusts instead.


Note:

To make blackberry cobbler, substitute blackberries for the peaches (use about 6 cups) and omit the lemon juice, nutmeg and cinnamon.
Think I could get away with eating cobbler for breakfast? LOL