...or summertime in the South.
Magnolia grandiflora, aka Southern Magnolia is the state flower of Louisiana. The tree is native to the southeastern United States and produces beautiful velvety white flowers. It's fragrance is sweetly unique and quite strong. Magnolias are evergreen with dark, shiny green leaves. It is very common to find these trees growing in cemeteries in the south. At Christmas time, everyone who didn't have magnolias growing in their yards would go gather magnolia greenery from the cemetery to decorate their houses.
My parents had a huge magnolia tree in their yard in Louisiana, and my children spent many happy hours playing in and under the tree. It was a playhouse, gym set and magical wonderland for them.
In our elementary music class I remember we used to sing the Louisiana State March Song:
Kissed by the Gulf's mighty stream,
A lovely state, LOUISIANA,
Where sweet magnolias, so rare,
Perfume the air
With fragrance that's supreme.......
Magnolias are in full bloom in north Alabama now. When passing anywhere near the trees we are blessed with their wonderful fragrance. Here's a photo of one on a tree yesterday.
And here it is, along with two others I picked as buds, in a chocolate Fiesta vase today: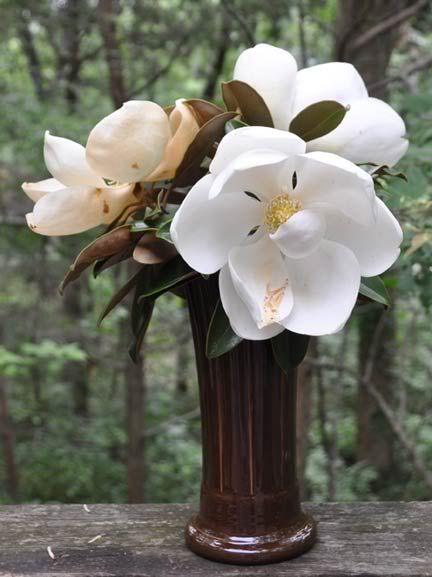 We definitely need to plant some magnolias at the farm!