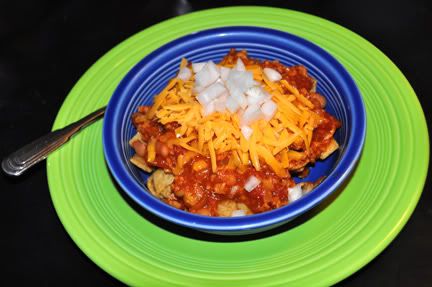 Some cold winter nights you just need something WARM to eat that doesn't take a lot of effort. You want to use things out of your pantry and get some comfort food on the table. Last night was one of those nights

and this veggie chili was just the thing. Chopping the onions is the hardest part - seriously. Canned tomatoes, tomato sauce and tomato juice. Some green chilies from the pantry or the freezer, along with some onion and garlic. TVP granules and some canned beans. Add some seasonings and voilà - chili.
Let's start out with our pantry ingredients. There's a large bag of bulk TVP granules, tomatoes and sauce, onions, garlic, Hatch chilies, chili powder, Rotel tomatoes with green chilies and beans: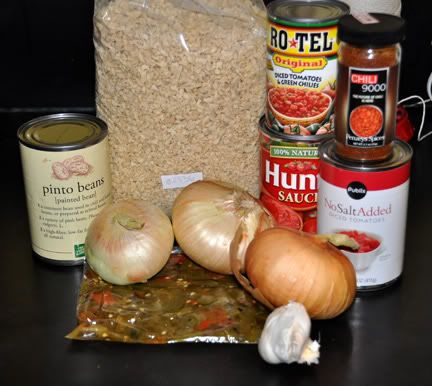 Sautéing the onion with some garlic and Hatch green chilies that I had put in the freezer back in the fall: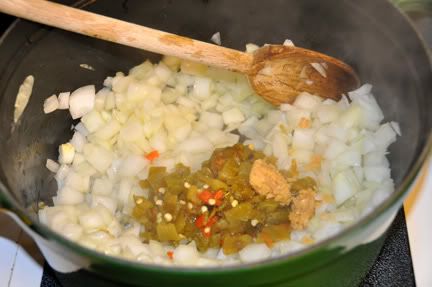 Chili has simmered and is ready to serve: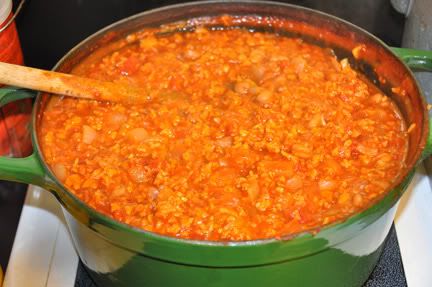 We need some accoutrements: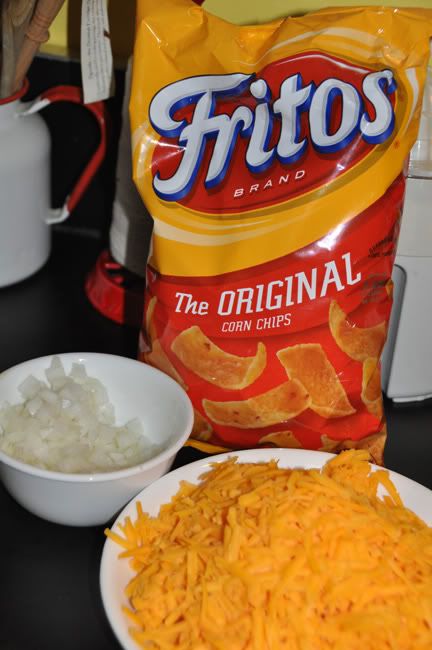 Plated Frito Pie style on sapphire and chartreuse Fiesta: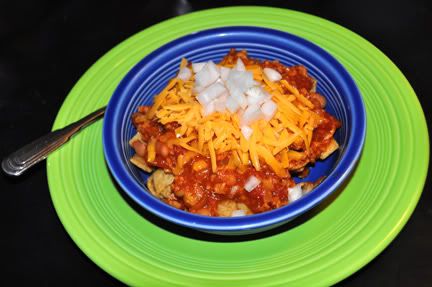 Also served as a chili cheese dog on chartreuse Fiesta: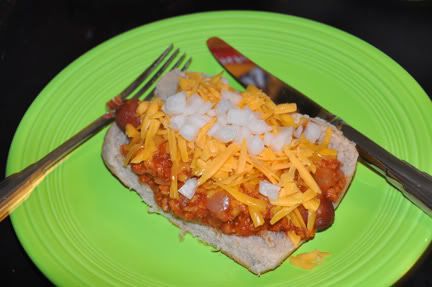 Quick and Easy Vegetarian Chili
3 Tbsp olive oil
3 onions, chopped (4 cups)
1/4 cup chopped roasted Hatch green chilies
3-4 cloves garlic, minced
1 (10 oz) can diced Rotel tomatoes with green chilies, drained with juice reserved
2 (15 oz) cans diced tomatoes
2 (15 oz) cans tomato sauce
32 oz tomato juice (or V-8)
3 cups unflavoured TVP granules
1 (15 oz) can beans (can add more, if you like)
chili powder, to taste
kosher salt, to taste

Heat oil in pot (I like to use my Staub coquette). Add the onions, Hatch chilies and garlic. Sauté until the onion begins to look translucent and add the drained Rotel tomatoes. Continue to cook until any liquid has evaporated. Stir in the reserved Rotel liquid, diced tomatoes, tomato sauce and tomato juice. Bring to a simmer and stir in the TVP. When the mixture returns to a low boil, stir in the beans and the seasonings, to taste. Simmer to allow flavours to meld and some of the liquid to evaporate.

When chili has reached desired consistency, serve in your favourite manner. We like it over Fritos, topped with cheese and chopped onion or on vegetarian hot dogs topped with cheese and onion.



Notes:

I like to add Hatch green chiles to my chili. Back in the fall I had a box full of them that I roasted, chopped and froze in 1/4 cup portions to use during the winter.
I'm linking this recipe to Kim's
Saturday Swap
over at
Quit Eating Out
. Click on the logo to check it out and join in the fun.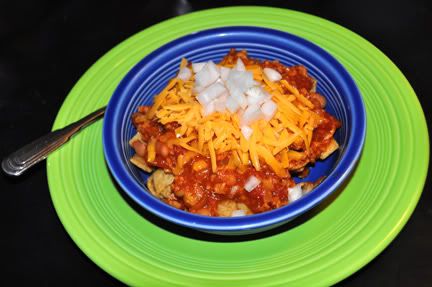 namasté,