The Guy and I had been planning to come to Louisiana after we got back from DisneyWorld to try to finish going through things at his Mom's house so that we can get it ready for the estate sale. After I saw the doc on Tuesday, I asked him would it be OK for me to make the trip. He said as long as I didn't get any worse and avoided people it would be fine. The Guy and I would be alone at the house with no need for me to see anyone, so this morning early we set off. I figured I could lay in bed and feel bad in LA as easily as I could in AL.
About mid-morning I got a phone call. It was my doctor's office. The test results from Tuesday came back. I have the FLU. Does this not make you wonder why you get a flu shot??? I had begun to wonder why I was feeling so crummy with just a regular upper respiratory infection. We had some discussion and decided that since the Guy and I were already enroute, the trip might as well continue. They wanted to call me in a prescription for Tamiflu. That required me to look up a pharmacy here in LA and call them back with the number. (Don't smart phones make life a lot easier?) When I called back we had discussion about my chemo. It seems I need time to get over the flu. I'll get the picc line next week, but not start the Vidaza until 10 January. After getting all psyched up to start it this week, it's a little bit of a let down to wait two weeks, but seriously, I don't want to risk getting sicker. So I'm looking at this as a slight reprieve.
Gilda Radner wrote a book about her journey with ovarian cancer and she personally recorded it as an audiobook. In the introduction she talks about when she was diagnosed and says, "Suddenly I had to spend all my time getting well." I can so relate to that! The story chronicles her inspiring attempt to keep an upbeat attitude during her illness, and the title is
It's Always Something
. Cheers to you, Gilda. and thanks for all the memories.
And remember,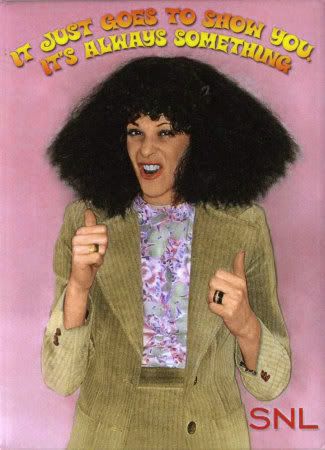 namasté,