for tomorrow I start chemo again.
Those of you who have been reading the last couple of weeks know that our family went to Walt Disney World for Christmas. We had a wonderful time seeing everything decorated for the holidays, meeting with the wedding planner, visiting our cousins, and in general enjoying ourselves. The girls were sick for a few days, but Docs on Call came to the room and took care of them. I had a small incident on Christmas Eve and had to go to ER to get my eye checked (flashing lights and floaters), but all in all, we'd much rather have these things happen at DisneyWorld where everything is magical instead of at home where it was grey, cold and snowy.
Given all that has been going on the last few months, it is time for a medical update. And hence the title of this post. My bone marrow transplant was on 18 July 2009. When I passed the one year mark, I moved to what Vanderbilt calls "long term care". Normally that consists of going every month at first for a check-up and bloodwork. Then it moves to every 2 months, every 3 months and eventually to every 6 months until I reach the FIVE YEAR mark - 18 July 2014. At five years the docs consider me cured.
I was doing very well and had graduated to the every 2 months schedule and was about to move to the 3 month schedule. My hair has grown back in great, and darker than it was before. (Still not the black that I always wanted, but a very dark brown.) Then my chymerisms (how they measure the percent of donor bone marrow to my original bone marrow) begin to drop. It was not dramatic, but the doc moved me backward to the 1 month schedule and we were watching the counts. The chymerisms dropped a little lower. Still not dramatic, so we were still watching them. Then the last time there was a somewhat dramatic drop. The counts had been at 100%. Then they dropped to 97%. Then 95% and maintained there for a while. The last time the drop was to 80%.
This is not a good trend.

I had another bone marrow biopsy and they discovered a few dysplasia cells in the DNA line that controls my platelet production. So something needs to be done about that. There are two options:
1. Give me a boost of my donor's T-cells.
2. Give me Vidaza (chemo drug) and plan for it to get rid of the dysplasia and give my donor cells an opportunity to come back and knock out the original bone marrow cells.
Giving a boost of donor T-cells carries a somewhat significant risk of graft vs host disease that is easy to get out of control. Giving the Vidaza will knock down my counts and I will have to be really careful about germs, sick people, etc. while taking that.
Every Monday afternoon, the doctors in the transplant unit have a big confab where they discuss all potential patients and current patients with any problems. They discussed me there before ever deciding I was good transplant candidate. So two weeks ago, my case was back up for discussion. The consensus was that they think it would be better for me to take Vidaza. Long time readers will remember that I had four rounds of Vidaza before I had the transplant and it made me worse instead of better. Now it is a whole new ball game. Back then I was really sick and deteriorating rapidly anyway. Now I have been doing very well and have my donor's healthy bone marrow to take over when the dysplasia is eradicated.
THE PLAN: Tomorrow morning I check in at Vanderbilt for lab work, a picc line insertion, and the first infusion of Vidaza. This will take most of the day. As I have a cough and very slight fever, that may change after they look at my bloodwork in the morning, but so far, this is what is expected. I will get Vidaza for a week, skip two weeks, and get another round of Vidaza. They will be checking my blood counts regularly. As long as the counts don't get too low, I will skip another two weeks and then have a third round of Vidaza. Within another two weeks, I will have a bone marrow biopsy to see where I stand. The hope is that the treatment will have worked perfectly, that I won't need any more Vidaza and that I won't need a T-cell infusion.
So the eat, drink and be merry part was what I was doing at DisneyWorld the last ten days. And chemo should start tomorrow.
Dear friends, once again I would be grateful for any healing thoughts, prayers, good karma and expressions to the universe that you would be willing to send. At The Monroe Institute they have put me on their DEC healing list, too. I continue to think positively and plan for the best.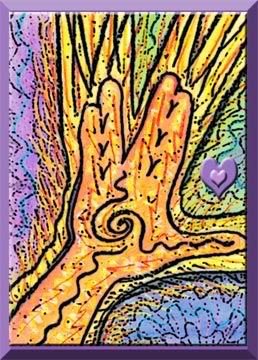 namasté,