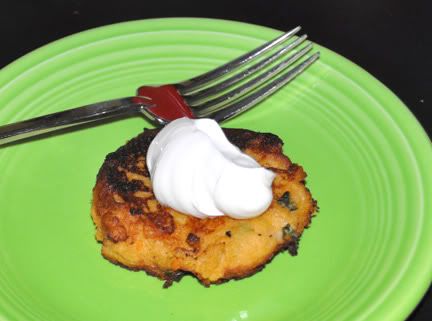 I love looking at different recipes posted on different blogs. All of us with an interest in cooking come up with many wonderful varied dishes. Back in the spring on
Food Practice
, Elena Rego did an interview with Anni Daulter. In the interview Anni shared a recipe for sweet potato cakes from her book,
Organically Raised: Conscious Cooking for Babies and Toddlers
.
It makes me happy to see books like this. When I was trying to rear Abbey and DD#2 organically starting in the 1980s, such books were few and far between. Those of us who were interested were often classified as "earth mothers" and supported each other through networking without the internet! It wasn't as hard as it had been 20 years before that, but organically grown foods were not nearly as widely available as they are now.
I shopped (and still do) at
Garden Cove
, a local health food/produce store which brought in fresh organic produce every Wednesday. Each Wednesday morning, off baby and I would go with baby in either a Snugli or sling to pick out the freshest organic and often local produce for our meals during the coming week. The owners of the store would have cooking classes where I would attend and learn new recipes for cooking vegetarian and organic. Those were a great source of information. Although I have been a subscriber to
Mother Earth News
since it's inception and had bought organically grown food when it was easily available, it wasn't really until I got pregnant the first time that it became a top priority.
There was no commercially prepared baby food in our house. Once the girls started on solids, they ate what we ate. I used either a fork for mashing things or a little baby food mill to process the food to an easy-to-eat consistency when they needed it. Because they were introduced to a large range of flavours from the time they started solids, both of the girls have always enjoyed a wide variety of foods.
In the interview Anni said, "I call mindfulness the 'first ingredient' and really conscious cooking is creating a sacred practice in the kitchen where we are present with our experience, who we are cooking for, taking time to honour the ingredients and respect our connection to the earth and really pour our loving intentions into the food. The secret ingredient to all of my recipes is LOVE – pure and simple."
That description really speaks to me. Love is the secret ingredient that has always made food special. How many of us have childhood memories of foods we ate then that tasted so much better than what we often get now? I know my Mom's, grandmothers' and great-grandmother's food tasted so good because of the intention and love they put into cooking. And I hope the girls will have those kinds of memories about the food I prepare.
The recipes in
Organically Raised
are not just for babies and toddlers. People of all ages will enjoy the food presented there. And as my Mom is in the hospital, I'm trying to make tasty food to take her that will also be more healthy for her than what comes on her tray every meal. (Those of you who are longtime readers here will remember some of my own discourses about hospital food.)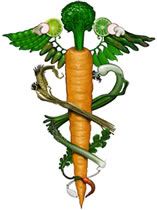 I've been keeping this recipe in the back of my mind and with Thanksgiving just behind us and me thinking about latkes as Hanakkuh is starting, I've adapted Mackenzie's Superstar Sweet Potato Cakes to be made using leftover potatoes from the Thanksgiving feast. While my Sweet Potato Cakes are not completely organic, all the potatoes, the onions and the eggs came from my CSA box and I grew the garlic myself. These can be eaten hot right after cooking, at room temperature, or even cold as a midnight snack. DD#2 and I prefer them piping hot topped with cold sour cream.
So let us start with the potatoes. You need four cups. I wrote two cups of each kind in my adapted version of the recipe, but because I was using leftovers, I had a very generous two cups of mashed potatoes and a somewhat scant two cups of sweet potatoes. That's OK. It doesn't have to be exact.
Our other ingredients - eggs and green onions from the CSA, garlic I grew, half and half, whole wheat flour, freshly grated Parmesan cheese, kosher salt and freshly ground pepper: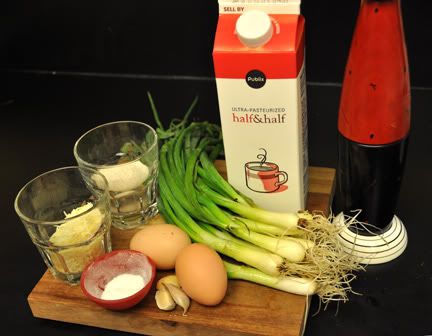 Onions just beginning to cook: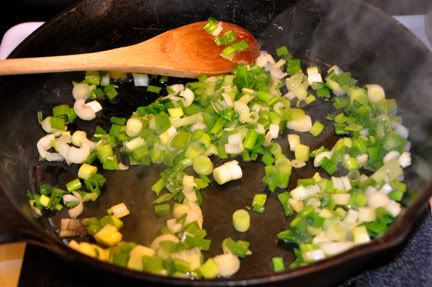 Potato cakes in the skillet: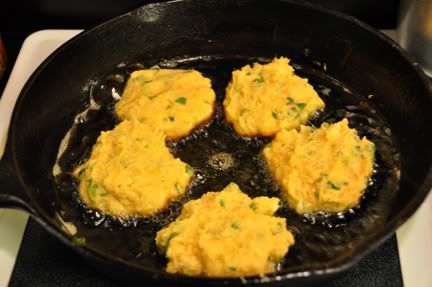 Draining on paper towels: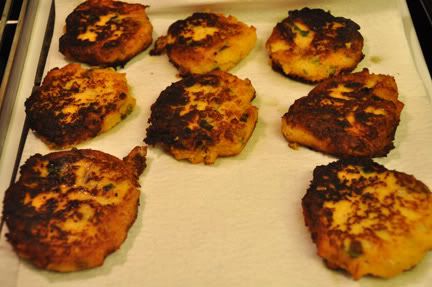 And plated to take to the table on a sunflower Fiesta plate: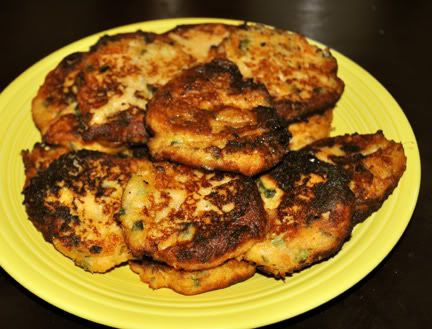 Sally stopped by on her way to the hospital to take Mom some of these Sweet Potato Cakes along with some of Ina Garten's Roasted Tomato Basil Soup (made with tomatoes from my CSA box and basil, garlic & thyme I grew) and
Pasta, Pesto and Peas
(made with
Pesto
from my basil along with spinach from our CSA box I had cooked and frozen). I hope this home cooked mostly local organic food will be just what she needs to tempt her appetite. I know for sure it was cooked with love.

Sweet Potato Cakes
Makes about 16 potato cakes

2 cups leftover mashed potatoes
2 cups leftover mashed sweet potatoes
1 to 2 Tbsp olive oil
1 large bunch green onions, trimmed and sliced thin (using both green and white parts, I got a little less than 2 cups before cooking)
3 cloves garlic, minced (or a few cloves of roasted garlic)
1/2 cup grated Parmesan cheese
kosher salt, to taste
freshly ground black pepper, to taste
2 eggs
1/4 cup half and half
1/4 cup whole wheat or unbleached flour
lowfat sour cream, for serving
chopped chives or garlic chives, for garnish

If refrigerated let the leftover potatoes all come to room temperature. Mix together in a large bowl and set aside. (If using roasted garlic, mash and stir it in with the potatoes.)

Heat the oil in a skillet and saute the onion until it begins to brown. If using fresh minced garlic, add it to the skillet with the onions and cook another minute or two, being careful not to burn. Remove from the heat and fold into the potato mixture along with the Parmesan cheese. Taste and adjust seasonings with salt and pepper. (This will depend on how much seasoning was already in your potatoes.)

Beat the eggs and cream together in a mixing bowl. Stir them into the potato mixture along with the flour.

Heat a cast iron skillet over medium-high heat (about 375˚F) and add a little oil. Using a heaping wooden spoonful of the potato mixture make round cakes in the skillet. Cook the cakes for 5 minutes per side, or until a brown crust forms on each side.

Serve garnished with a dollop of sour cream and sprinkled with chopped chives.



Note:

Next time I make these I think I will add some Hatch green chilies or some diced chipotle.

I'll be linking this recipe to Kim's
Saturday Swap
over at
Quit Eating Out
. Click on the logo to check it out and join in the fun.
namasté,