Yesterday shortly after noon we were having some little snow flurries. That is quite unusual for us at this time of year. Temps were in the 40s so nothing stuck. By late afternoon the sun had even come back out. But clearing means cold and we were under a freeze warning for the night. Now we all know what that means! Plants have to come inside for the season. And as our thermometer this morning said 26°, it is a good thing they did.
DD#2 and I got all the citrus trees, bay tree, cinnamon tree, house plants and some of the herbs inside, but then we ran out of room. Lots of basil was still growing in pots outside. I took my trusty Wiss flower shears and a grocery bag out to harvest. These shears are THE BEST for cutting flowers or herbs.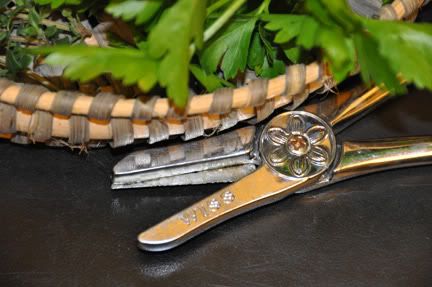 Now making pesto is something I do every year in the fall. I always plant a gazillion basil plants for two reasons. First, it is my favourite herb in the entire world and I use it practically every day during the summer. And second, I want to have A LOT to make pesto to see us through the winter. I have made this so often I don't even use a recipe anymore. The basic ingredients are pine nuts, Parmesan cheese, garlic, basil and olive oil. I just put everything in the food processor till it looks right.
Earlier I was reading on my friend Martha's blog,
Lines from Linderhof
. She prefers pesto with no Parmesan and makes hers based on Anna Pump's recipe in
Loaves and Fishes
. Hmmm. That sounded interesting. Martha posted her version, but I got out the book to see how Anna had written it. I like the idea, but I adapted the recipe a little more.
Washing a sink full of basil: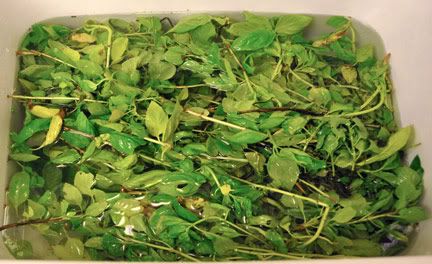 After gently washing I picked all the leaves off the stems and put the leaves in my salad spinner to get rid of the excess water. Yellowed leaves and stems were discarded.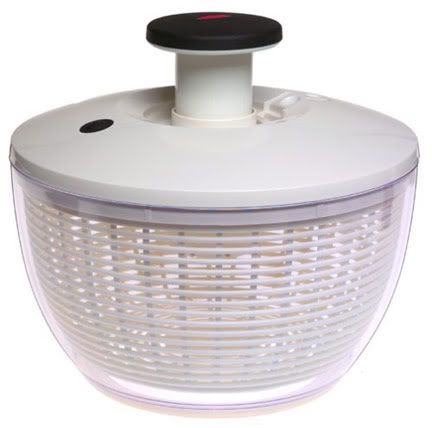 I

my OXO salad spinner. So much that I have two different sizes. The large one is sold as a salad spinner and the small one as an herb spinner. At pesto making time there is so much basil that the large spinner comes out to play.
One batch of the recipe fills up my food processor. I had enough basil for two batches.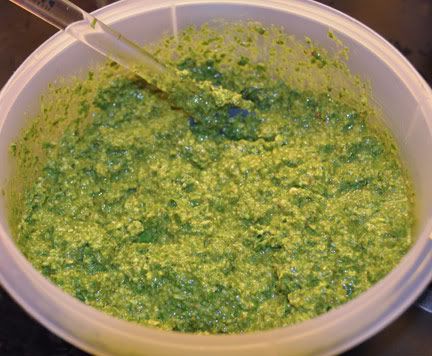 Also, I used Trader Joe's toasted pine nuts.
This gave me six jars and just a little left over.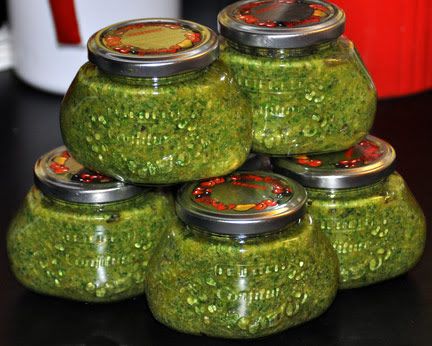 There were six jars of pesto already in the freezer that I had made earlier in the season. The jars I made last night are now also in the freezer, waiting for when it's time to come out and give us a fix of summer in the dead of winter.
This really is a tasty pesto. Like Martha, I think I might like pesto better without the Parm. I had a little leftover after filling the jars, so I had a night time snack of Cherokee Purple tomatoes from my CSA box, sea salt, and pesto. Food of the gods!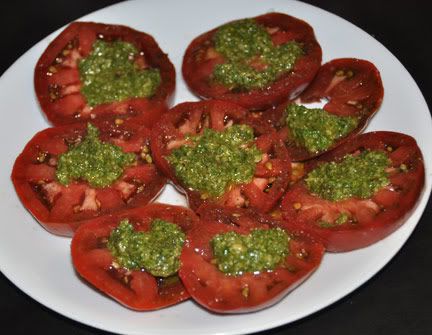 PESTO

1/2 cup pine nuts
6 large cloves garlic
5 packed cups basil leaves, buds and flowers
1/2 to 1 tsp salt, or to taste
1 1/4 cups olive oil

Put the pine nuts, garlic, salt and basil into the food processor. Pulse a few times and begin slowly adding the oil while the processor is running. Process until smooth. Taste and adjust seasonings. Use immediately or pour into jars, top with lids and freeze.

I'm linking this recipe to Kim's
Saturday Swap
over at
Quit Eating Out
. Click on the logo to check it out and join in the fun.
namasté,