My Mom and I were talking today and as is wont to happen at this time of year, the talk turned to food. Mom reminded me of a dish a family friend brought to the house after my grandmother's funeral. It was not something we had eaten before and it was delicious. Mom and I asked her if she could share her recipe and she gladly brought it over to us that afternoon. Now my grandmother crossed in 1988 and I made this recipe ever so often, but it had completely fallen off the radar the last ten years or so. Mom had run across it when she was sorting recipes today.
I looked at the recipe again and decided it was just what I needed to use up some of the things in my freezer. Summer squash,
Alton Brown's creamed corn
and chopped roasted Hatch green chilies were all in there waiting from when I put them up earlier this year. So I took the ingredients I had and adapted the recipe to use them: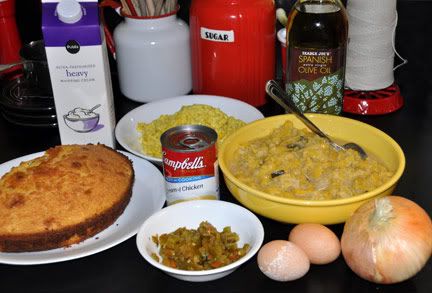 If it looks like I have only half a skillet of cornbread, that's because I do. I doubled the cornbread recipe because DD#2 absolutely adores my cornbread. If I had made cornbread only for the dressing she would have been very sad. And although the original recipe only used yellow summer squash, the package I took out today was a mixture of yellow squash and zucchini. Eggs are from our CSA.
Everything except the crumbled corn bread mixed together.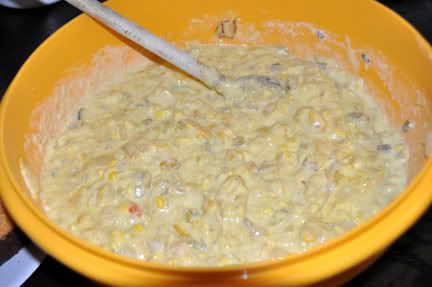 Dressing in a scarlet Fiesta rectangular baker ready to go in the oven: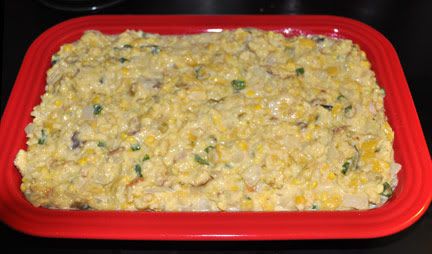 Baked and ready to be served: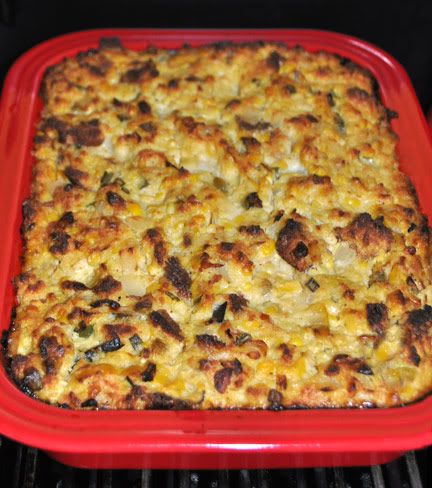 Now wouldn't you know, my family was so hungry that I didn't get a chance to make a picture of the dressing plated. Perhaps another time. This is a nice lighter dressing and because of the squash is less calorie laden than some more traditional dressings.
The dish needs to have some heat, so adjust the peppers to suit your taste buds. And if you don't have Hatch chilies, you can used canned green chilies or bell pepper and whatever kind of hot peppers you have on hand. Red bell pepper would add some nice colour. Also, I used Alton's creamed corn and it is seasoned with rosemary. You can add a pinch of that to the dressing if you are using canned creamed corn or another recipe that doesn't have rosemary. Not too much though. You just want a little underlying hint of the flavour.
Today I was in a bit of a hurry, but the next time I make this I want to experiment with making this vegetarian. I think leaving out the soup and adding some concentrated veggie broth and cream would work.
Here's the dressing I made today:
New Mexican Cornbread Dressing

1 large onion, chopped
4 Tbsp olive oil
2 eggs, slightly beaten
1 can cream of chicken soup
3 cups cooked and mashed summer squash
2 cups creamed corn
1/4 to 1/2 cup chopped roasted Hatch green chilies (adjust according to heat of the peppers and personal taste)
4 green onions (top green part only), sliced
Cornbread (recipe follows) – crumbled

Preheat oven to 350ºF.

Sauté chopped onion in olive oil until it is translucent. Mix with eggs, soup, squash, creamed corn, Hatch chilies and green onion tops. Fold in cornbread. Pour into greased 9x13" pan. Bake for 20-35 minutes.
.


Cornbread:


1 cup stone-ground cornmeal
3 Tbsp flour
1 tsp sugar
2 tsp baking powder
1 tsp salt
2 eggs, beaten
1 Tbsp oil
1 cup milk

Preheat oven to 425ºF.

Combine dry ingredients. Add eggs, oil, and milk. Pour into hot iron skillet which has been well oiled after heating. Bake for 15-20 minutes. Cornbread can be baked a day ahead of time, if you like.
And here is the original recipe as our friend wrote it down all those years ago:
Squash Dressing

1 medium onion, chopped
1 stick butter
2 eggs, lightly beaten
1 can cream of chicken soup
2-3 cups cooked & mashed yellow squash
1 can cream style corn
1 package Mexican cornbread mix, baked as directed on package

Preheat oven to 350°F.

Sauté the onion in butter. Mix the eggs, soup, squash and corn. Add the onions and stir to mix. Crumble the cornbread and fold it into the mixture. Pour into a 9"×13" casserole and bake for 20-25 minutes.
I'm linking this recipe to Kim's
Saturday Swap
over at
Quit Eating Out
. Click on the logo to check it out and join in the fun.
namasté,