I have never been much of a fan of creamed corn and hadn't really eaten it since my grandmother passed away. I liked hers OK, but it was a bit sweet for me. And the stuff that comes in a can is just nasty - mostly sweetened cornstarch goop with some corn kernels. Around five or six years ago I was watching
Good Eats
and Alton Brown made creamed corn. Hmmm. It looked different than what I was used to seeing, didn't use a lot of sugar and was seasoned with rosemary. That might be something we would like. So I gave it a try.
Well, let me tell you, it was delicious. It is now my go-to recipe for creamed corn. I like to make it several times during the summer. This year I am hoping to make enough to put some in the freezer to have when corn is out of season.
And as when I think of corn, I think yellow, this is my MellowYellow Monday post. Check out who else is joining Drowsey Monkey at this week's
Mellow Yellow Monday
party.
I got corn in the last CSA veggie box and decided it was high time to make Alton's Creamed Corn. So I gathered all the ingredients together: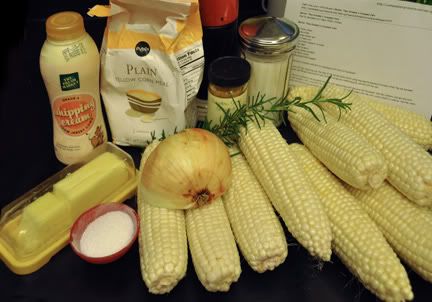 Next I got the corn cut off the cob.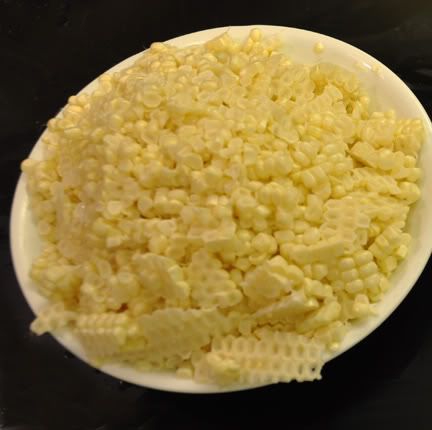 The directions say after the corn is cut off the cob, you should use the dull side of the knife to scrape off the remaining pulp and corn milk. Do not be tempted to skip this step. I probably got another cup full of corn goodness to add to the skillet.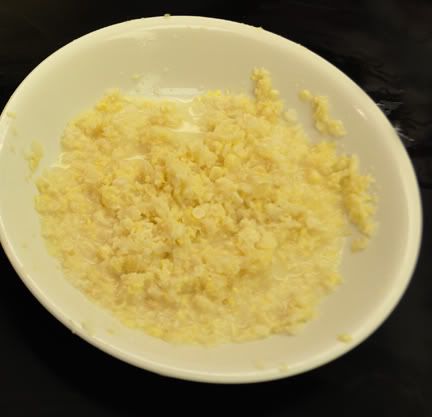 Sauté the onion in butter. I did this in my lovely Lilac Mist Le Creuset pot. Have I mentioned that I just love my Staub and Le Creuset pots?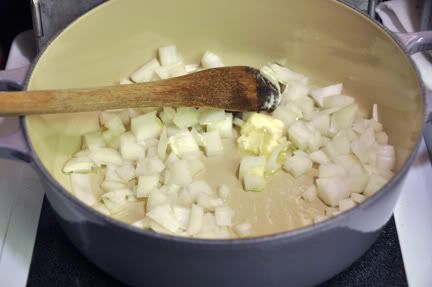 Add the corn to the pot.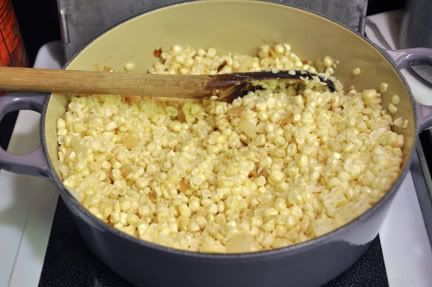 Then the seasonings. I picked the rosemary about five minutes before I put it in the pot.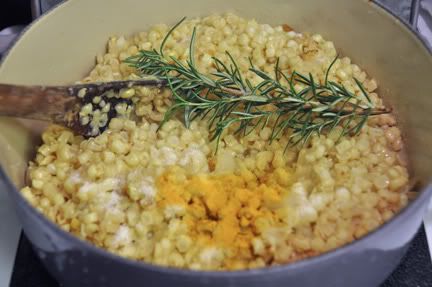 Luscious creamed corn, ready to serve: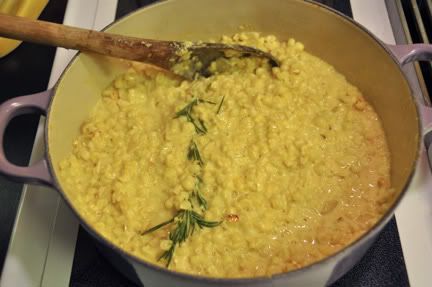 Better Than Grannie's Creamed Corn
Alton Brown

1/2 onion, diced
1 Tbsp butter
2 pinches kosher salt
8 ears fresh corn
1 sprig fresh rosemary, bruised
1 Tbsp sugar
1/4 tsp turmeric
2 Tbsp yellow cornmeal
1 cup heavy cream
Fresh ground black pepper

Sauté onion in butter with salt in a saucepan until onion is translucent.

Cut corn off cob, removing only the tops of the kernel with a knife, using long smooth downward strokes. After the cob has been stripped, use the dull backside of your knife to scrape any remaining pulp and milk off the cob.

Add the corn mixture to the saucepan and cook over medium high until the juice has thickened. Add the rosemary and sprinkle with sugar and turmeric. Stir constantly for about 2 minutes. Sprinkle the cornmeal onto the corn, using a whisk to combine. Add the cream and cook until the corn has softened, about 2 to 3 minutes.

Remove the rosemary sprig, and season with freshly ground black pepper. Now it is ready to serve.



Notes:


1. I had 10 ears of corn in the veggie box and used them all. Then I increased all the other ingredients slightly so it would be seasoned correctly.
2. Because this was Silver Queen corn, I used 1/2 tsp turmeric in order to give the finished dish a more yellow colour.

namasté,