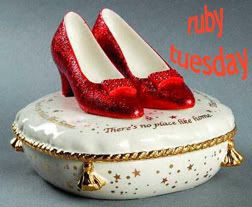 MaryT/TheTeach over at
Work of the Poet
started a photo meme for people who have photographed something red. I love red. Red just jumps out at me. I have lots of photos with red.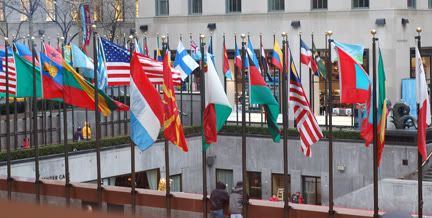 This week's photo was made sitting in a Starbuck's across the street from Rockefeller Centre in March of 2009 by DD#2 during her Interim Drama Trip to NYC. For those of you who have been following my Ruby Tuesday posts for the last couple of weeks, this is the last New York Interim trip photo I have in the lineup. Interim is always the week before Spring Break and all students from 7th grade up participate. Interim is a learning experience outside the classroom and there are many different opportunities from which to choose.
The youngest group goes to school and takes life skill classes, such as sewing, cooking, basic automobile knowledge (how to change a tire, etc.), ballroom dancing, how to balance a chequebook, etc. As the children get older they can mentor younger children, shadow professionals for a career in which they are interested, work for Habitat for Humanity, take a special studies workshop, or go on various trips geared toward particular disciplines.
My daughters take after their mother and tend to want to travel. (Hey, there was a reason I worked at a travel agency!) The New York Drama Trip was mostly theatre things. Many shows were seen and the kids got to go backstage and meet actors, directors, stage managers and learn about the tech for the shows. They also took in some of the tourist sites such as the Statue of Liberty, Ellis Island, Ground Zero, Times Square and others I don't recall at the moment.
DD#2 has always loved seeing the flags of many countries together. When she was a little girl there was a building in Huntsville we would pass by that was rimmed with flags around the top edge. She was very sad when the company was sold and the flags went away. These flags reminded her of the flag building she loved as a little girl.
Happy Ruby Tuesday!
namasté,