This week's CSA veggie box had over a gallon of blueberries, so I spent some time this morning perusing different recipes for jams, preserves, etc. First up is one I have had in my files for a while and have been wanting to try: Blueberry Lavender Jam. The recipe calls for dried lavender, but as I have some growing in a container, I just picked some of that. This recipe only makes 2 or 3 half pint jars, so it is not overwhelming.
So I've gathered the ingredients. It only takes three.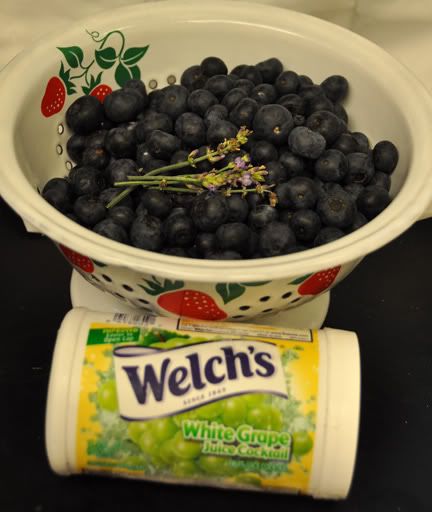 My lavender sachet. Wrapping in cheesecloth or putting the flowers in a tea ball makes it easier to remove them later.
Blueberries, white grape juice and sachet in my Lilac Mist Le Creuset pot.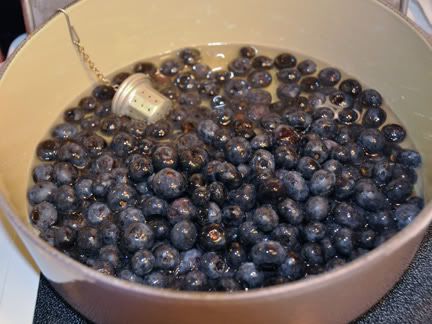 Jars in my makeshift canner: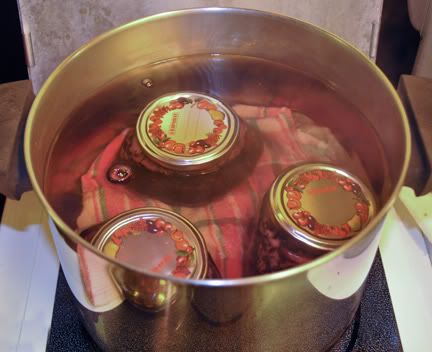 And here we have them cooling and waiting for that telltale ping that lets me know they are sealed.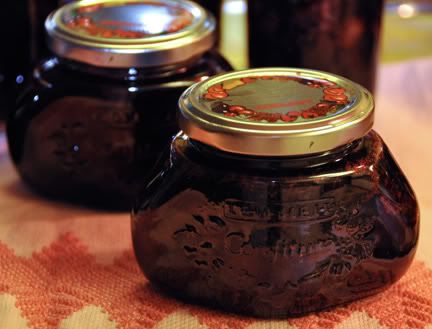 The lavender is subtle, but it gives a hint of a different background flavour to the jam. This one is a keeper. Next time I make this I think I might use just a little bit more lavender.
Blueberry Lavender Jam
Makes about 2 or 3 half-pint jars

2 Tbsp dried lavender flowers or a few blossom sprigs of fresh lavender
11½ oz can frozen white grape juice concentrate
3 cups fresh blueberries, washed and drained
1 tsp powdered pectin



Make a lavender sachet:

Cut a piece of cheesecloth into a 6-inch square, place lavender in the centre, and tie into a bundle with kitchen twine. Or, place lavender in a tea ball and secure lid.



Cook the jam:

In a heavy saucepan (I used a Le Creuset) over medium heat, bring lavender sachet, grape juice concentrate, and blueberries to a boil. Stir constantly to prevent burning for about 20 minutes. Cover and steep for 2 hours. Bring jam back to a boil and stir in pectin. Remove from heat and discard the lavender sachet. Ladle jam into sterilised jars. Put lids on jars and process in a boiling water bath canner for 15 minutes. If you do not want to can the jam, place it in jars and store in refrigerator for up to 1 month.
namasté,