My sister and I were born four years and 10 days apart. My birthday is just before Labour Day and hers is just after Labour Day. Since we have become adults and live in the same town, we often have a joint birthday celebration over Labour Day weekend. A few years ago we decided to have a luau for our joint birthday party. The party was fab. We tried have an authentic mid-century affair. Flowers and banana leaves flown in from Hawaii for decorating and cooking. Not to mention we all needed the leis. For months we scoured eBay collecting appropriate flower containers, serving dishes and tiki decor. Everything came together perfectly. There was a lot of terrific food (even included SPAM, since it's the national dish of Hawaii), but this salmon was one the favourites. It's been in my repertoire ever since. I particularly like to make it in the summer when we have fresh garden tomatoes.
Recently I received a gift package with a cute little salmon shaped cutting board and a package of smoked salmon. Sometimes this kind of smoked salmon is not the best for just eating plain, but is perfect to use in something, such as Lomi Lomi. The other ingredients were on hand so I decided to make a small batch.
It's wonderful having veggies from my CSA box: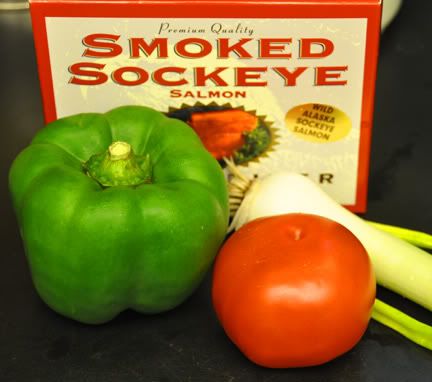 And it couldn't be easier to mix up and serve. Takes about two minutes, max. And I love how it looks in the turquoise Fiesta mixing bowl.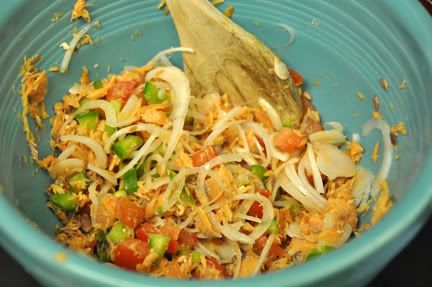 When slicing the onion, I used my little hand held Kyocera mandolin. This is a wonderful tool. If you don't have one, you need one. It's so easy to use and clean that I find myself using it several times a week.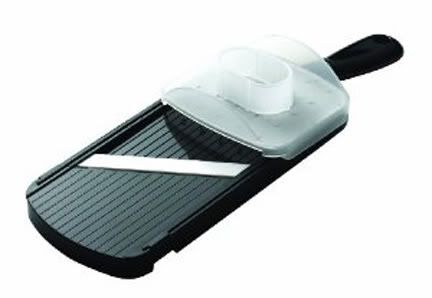 Lomi Lomi Salmon
Serves 4

8 oz smoked salmon, finely chopped
1 cup thinly sliced green onion
1 cup peeled & diced tomato
1/4 cup finely chopped green bell pepper
Hawaiian red salt, optional

Mix salmon, onions, tomato, and bell pepper. Taste and add some salt, if desired. Your salmon may be salty enough that no extra is needed. Chill well for several hours to allow flavours to blend. Serve with assorted crackers.
namasté,