Pink Saturday
is hosted by Beverly at
How Sweet the Sound
. She loves pink and graciously invited the rest of us to play along. Check out her blog to see who all else is enjoying this week's pink party.
Continuing with what makes me the deco lady and the pink art deco theme from last week, I've moved from my dressing area to the bar area. I just love these campy little decanters. Made in Japan, they are not the greatest quality, but I think they are so cute. The pink bellhop I have had for a long time. It was missing some of its cups, but I found a totally different decanter with the same cups and got it so I would have cups for this little guy. Then just last year, my daughters found the little green bellhop. He had no cups with him, so I gave him the pink ones. I think these must have been made by the same company. The heads seem to be made from the same mold. And they make me smile whenever I look at them.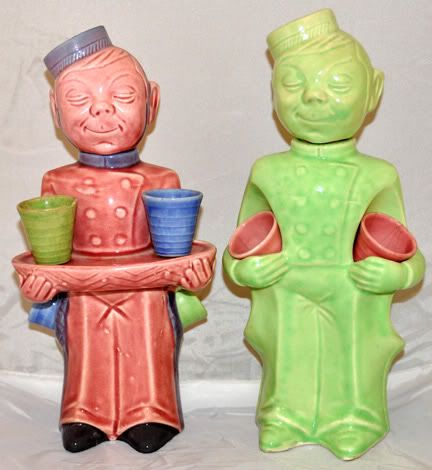 As it's summer, this drink recipe booklet is just what we need. The pocket flask is covered with pink leather and the clock lets us know it's 5:00 somewhere.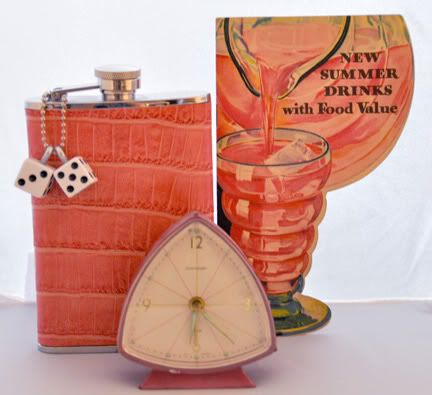 Harkening back to something I mentioned last week - the lovely packaging manufacturers used in times past. Mohawk Liqueurs were put up in these lovely skyscraper style bottles. They came in a number of different colours and plain clear glass, depending on which liqueur was in the bottle. The pinkish ones held Blackberry Liqueur. Many of these are found without their labels and I use them to hold my homemade drinks such as
limoncello
and
vin de pamplemousse
. The smaller bottles say they hold 25/32 pint and the larger bottles hold 25/32 quart (that would be 12 1/2 and 25 oz respectively).

Last, but not least, a beautiful pink waterfall light globe. This is not in the bar area, but in the nearby foyer. It came to me from Belgium. The Guy (not so jokingly) says I furnished and decorated this house via eBay.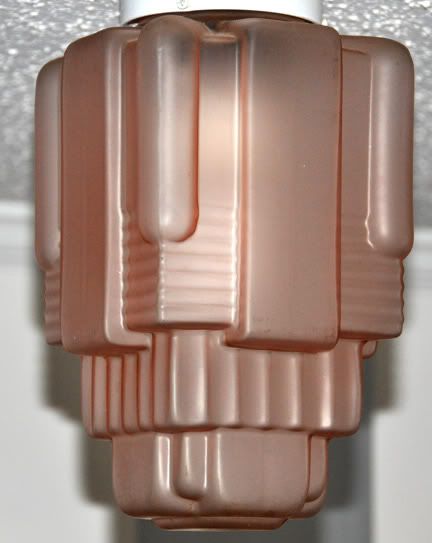 All you art deco fans out there who like pink, don't give up hope. There are pink items out there. Keep looking. Happy Pink Saturday!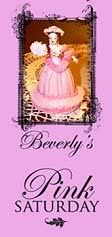 namasté,