Pink Saturday
is hosted by Beverly at
How Sweet the Sound
. She loves pink and graciously invited the rest of us to play along. Check out her blog to see who all else is enjoying this week's party.
There is a reason for the name of my blog. For years my friends have described me as that deco lady because I collect art deco. Pink is not a colour that normally comes to mind when thinking of art deco. It's more associated with Victorian times. But if you look around there are art deco pinks to be found. I thought I would begin share a few with you today.
We'll start with things in my dressing area. First is this little pin tray. I bought this on eBay from a guy in Germany. It's made of glass and is about 6" long. I keep it on my bedside table, as I invariably forget to take off my rings and earrings until after I have gotten in bed. The pin tray is a perfect thing to hold them.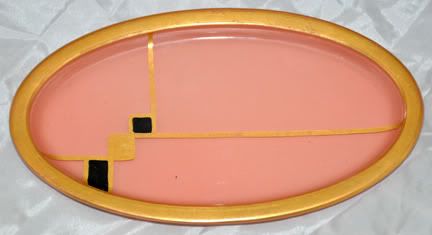 This is a pink glass powder box. I use it on my dressing table to hold pins.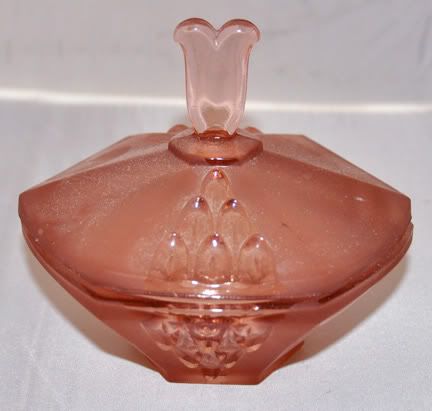 More pink glass. This set of vases I picked up some years ago at a shop in York, England. They are Bagley Grantham, date back to the 1930s, and also live on my dressing table.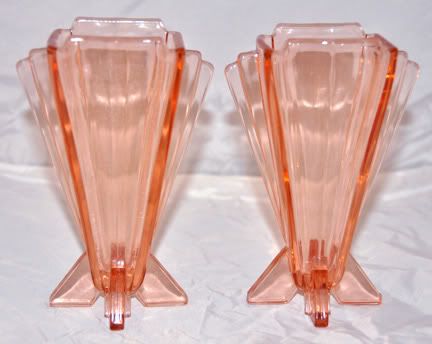 I like pink in my dressing area. These pieces are by New Martinsville, an American glass company. It is pattern #33, Modernistic. Design patents are dated 1928 and 1929. Modernistic was not made very long, but there are nine known items and it is found in eleven different colours. These are in the acidized satin finish with black cold paint decoration. I have a few other pieces in different colours, but I am still looking for the pink candleholders and perfume bottle.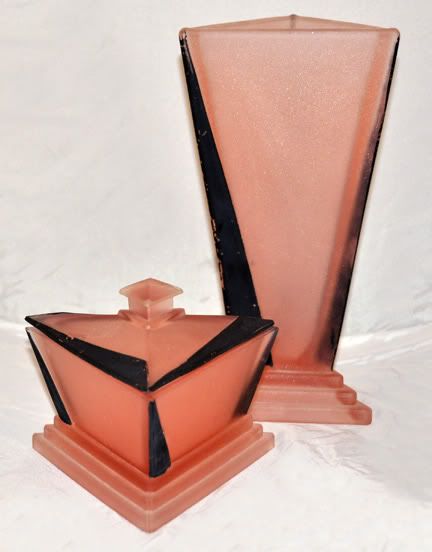 Manufacturers used to package things so beautifully. These bottles were used by Marinello to hold Acne Lotion and Astringent Lotion. The little round jar is part of a dresser set.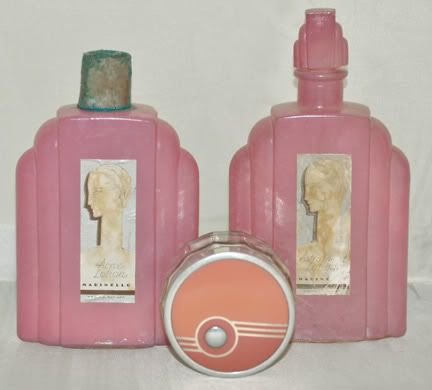 These two items are pottery. On the left is a deco lady figurine and on the right is a perfume bottle. The lady is unmarked, but the perfume bottle is made by Franciscan. It was made for Fragrance de heriot, Hollywood and New York. While the perfume bottle is shown in the book
Franciscan, Catalina, and other Gladding-McBean Wares
, this is the only one I have ever seen for sale. It is missing it's top, but I was still thrilled to find it. The bottle was used for more than one fragrance. In the book there is a foil label on the base that says, "La Premeire de heriot". The foil label on mine says, "Wood Lilac de heriot".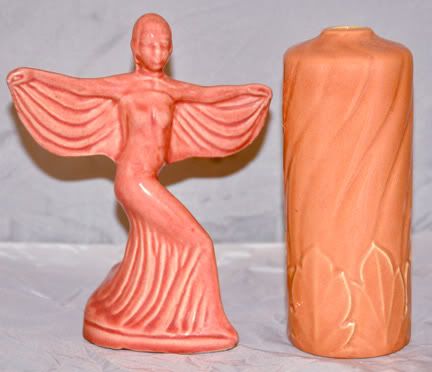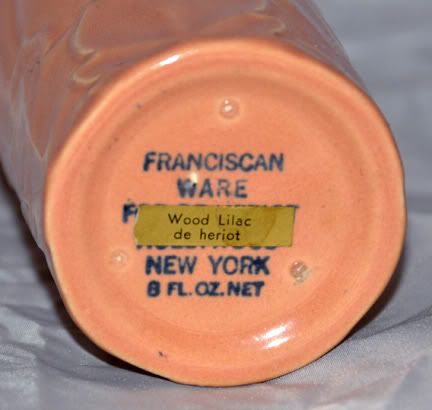 If you like pink and you like art deco, don't give up hope. There are pink items out there. Happy Pink Saturday!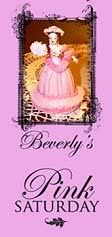 namasté,