This week's CSA veggie box had lots of blueberries, so I spent some time this morning going through my recipe file to look for some different recipes for jams, preserves, etc. After making the Blueberry Lavender Jam I was on a roll using herbs, so second up is another recipe I have had in my files for a while and been wanting to try: Blueberry Basil Jam. Because I have a huge pot of opal basil and this seemed like a good use for it, I changed up the recipe to use the opal variety. This recipe only makes 2 or 3 half pint jars, so it is not overwhelming.
Here are the ingredients. I just love opal basil and feel like I don't really use it enough. The kitchen twine holder was a gift I got last year and I am really finding it useful.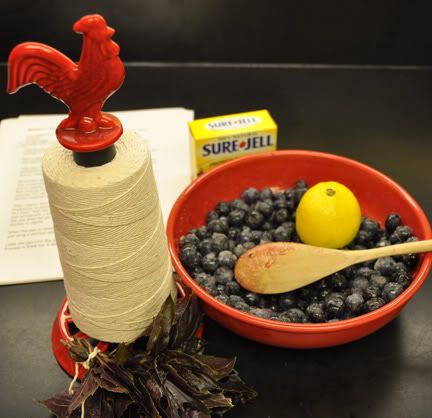 Now the ingredients have moved to the pot (once again my Lilac Mist Le Creuset):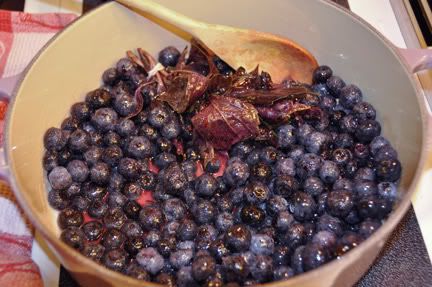 Jars of jam in the makeshift canner: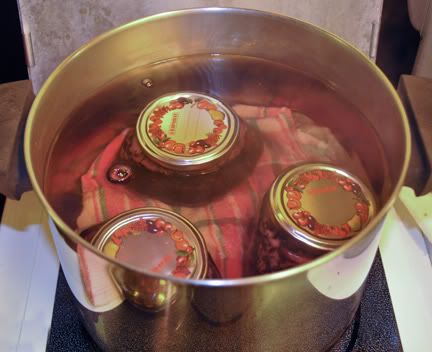 Blueberry Basil Jam in the jars and waiting for the ping.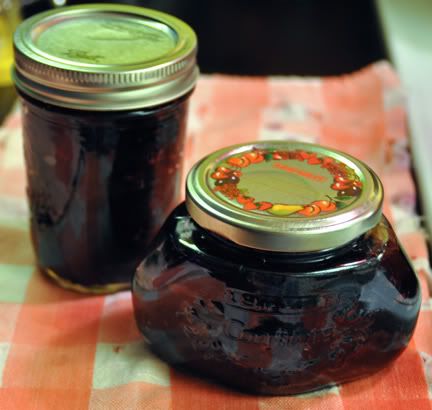 I really like the flavour of the basil with the blueberries. For years now I've been making a Peach White Wine Sangria that uses peaches and basil, so I thought this flavour profile would be good. It's even better than I thought!
Blueberry Basil Jam
makes about 2 half-pint jars

3 cups blueberries, cleaned, stems removed
½ cups sugar
2 tsp freshly squeezed lemon juice
4 sprigs fresh opal basil
¼ cup water
1 tsp pectin

Toss the blueberries with the sugar and lemon juice in a bowl and let sit for one hour at room temperature.

Take the sprigs of basil and tie them together using kitchen twine.

Put the basil bundle in a heavy saucepan and smash the leaves to release the aromatic oils and flavour. Pour in the blueberry mixture and water and bring to a boil over moderate heat. Mash the berries so they are not chunky. Boil, stirring frequently for approximately 30 minutes. Stir in the pectin and cook 5 more minutes. Remove the bundle of basil from the jam using a slotted spoon and discard.

Ladle the jam into the jars leaving ¼" headspace. Top with lids and rings. Process in boiling water bath for 15 minutes. Remove from canner and listen for the ping to let you know the jars are sealed.



Notes:


1. If you do not have opal basil, regular basil will do.
2. This recipe can be tripled successfully.
namasté,