32 YEARS!!!
On this day in 1978 Mike and I eloped. Mike is 2 years older than me and we had known each other for several years. His sister, Pam, is my age and was my college roommate. I call him The Guy because that's what Pam called him. (Pam and I called each other room persons, and when we talk to one another always say, Person instead of our names. Abbey started out calling Pam, Pam Person, but shortened it to P Person. Mike's mother told us one time our moms gave us perfectly good names and they weren't Person. But I digress.) The Guy and I actually went out a few times after astronomy lab the year he was a senior and I was a sophomore. But that was really just as friends. Except for the night Pam and I graduated (when he told me to have a wonderful life!), I hadn't seen him again until December of my second year of graduate school. By that time he had his Ph.D. and was hired to work for Texas Instruments in Dallas.
I went to visit The Person between Christmas and the New Year. This time something clicked and we started our relationship. Pam was getting married in July. Her wedding began getting complicated. And interestingly Mike was Best Man and I was Maid of Honour. One day in May Mike looked at me and said, "We should just elope." And so we did!
I was still working on my Master's degree at LSU, so we had a commuting relationship and big phone bills. And I have never been exactly traditional. He had an engagement ring made for me: a square emerald-cut emerald solitaire, which I still adore. Planning around his work and my summer school schedule and work, we decided I would come to Dallas on the weekend and we would get married on Monday, the 19th. Best laid plans..... He had come to get me, so I didn't have my car. And the bearings went out in one of his wheels. Wedding delayed until the 20th because of car repairs.
But it worked out just fine. He left work early on Tuesday and we went down to the old red brick courthouse in downtown Dallas to get our marriage license. Then we walked across the street to the new courthouse and took whichever judge was doing weddings that day.
We had to wait in the jury box of an empty courtroom till the justice was free. In his office the judge asked us if we were related. I was SO nervous. Except for that question and looking down at our hands when we exchanged rings and seeing mine shaking, I don't remember anything else until we were walking out and some deputy made some comment. Now of course, The Guy tells me I promised all kinds of things I would NEVER have agreed to do. LOL.
I love The Guy more than I ever would have thought anyone ever could. There have been ups and downs. We've faced both good times and bad times. He is my rock and the love of my life. He is a good man. He's been a more wonderful father to my children than I ever could have imagined. He is kind and protective, but he has given them room to grow up and become amazing young women. He loves them. He loves me.
He loves to read and he loves books, though the last year or so he's really been getting into his Kindle. He is an intelligent man. He enjoys science, math, ham radio and woodworking. While he's not an avid fisherman, he likes to fish. He taught the girls how to fish. He and I go fishing at the farm. And he takes care of all the nasty stuff to get the fishies to the kitchen. Then I take over the prep. He's a good son to his mother and to my mother. I love The Guy. And I am in love with him. He is also my best friend.
I don't know how I would have gotten through the MDS and transplant without Mike, as he has been caretaker extraordinaire. From him I have truly learned the meaning of unselfish love. So thirty-two years and many happy times later, I dedicate this song by Orleans to my beloved:
You're Still the One!
We've been together since way back when
Sometimes I never wanted to see you again
But I want you to know, after all these years
You're still the one I want whisperin' in my ear
You're still the one I want to talk to in bed
Still the one that turns my head
We're still having fun, and you're still the one
I looked at your face every day
But I never saw it 'til I went away
When winter came, I just wanted to go
Deep in the desert, I longed for the snow
You're still the one that makes me laugh
Still the one that's my better half
We're still having fun, and you're still the one
You're still the one that makes me strong
Still the one I want to take along
We're still having fun, and you're still the one
Yes you are
Changing, our love is going gold
Even though we grow old, it grows new
You're still the one that I love to touch
Still the one and I can't get enough
We're still having fun, and you're still the one
You're still the one who can scratch my itch
Still the one and I wouldn't switch
We're still having fun, and you're still the one
You are still the one that makes me shout
Still the one that I dream about
We're still having fun, and you're still the one...
You're still the one
You're still the one
We're still having fun, and you're still the one...
And just as I was on this afternoon in 1978, I am so looking forward to the rest of our lives together!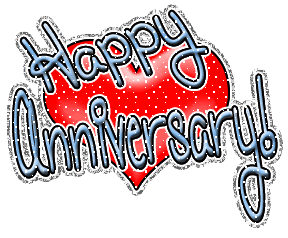 namasté,