As you all know I love Ina Garten and her recipes. This is one of our favs from her very first cookbook, and I haven't made it in a while. No time like the present! I always have homemade sun-dried tomatoes on hand. I pack mine with garlic and lots of fresh basil. Yum! And the stars are aligned just right so that all the other ingredients needed are in my pantry and fridge. How easy is that?
So let's gather all our ingredients. I always keep low-fat cream cheese on hand, so that is what I use for the dip. Also I like to use olive oil mayonnaise when making this. The onion is from my CSA box.
In the processor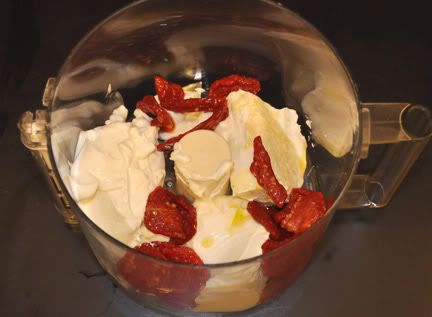 Served up in a pretty little vegetable shaped bowl I got at Pier One. The dip bowl is sitting on a Fiesta platter that will be filled with veggies when I serve this tonight.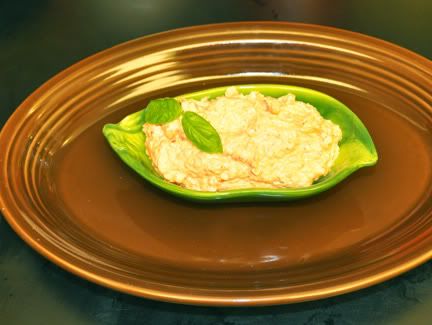 But the Guy and I had to do a taste test, so I spread some on a few crackers for us.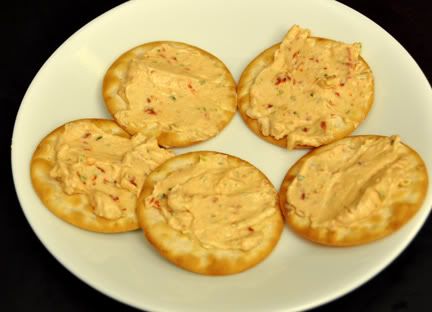 Sun-Dried Tomato Dip
adapted from The Barefoot Contessa Cookbook

1/4 cup sun-dried tomatoes in oil, drained
2 green onions, cut in 1" chunks
8 oz cream cheese, at room temp (I use low-fat)
1/2 cup sour cream
1/2 cup mayonnaise
10 dashes Tabasco sauce
1 tsp kosher salt
Freshly ground pepper, to taste
Fresh basil leaves, optional

Pulse the tomatoes, green onion, cream cheese, sour cream, mayonnaise, Tabasco, salt and pepper in food processor to purée.

Just because I normally have it on hand and love it so, I usually add a few leaves of fresh basil to the the processor before puréeing. Ina does not call for the fresh basil.

Serve with fresh vegetables and/or assorted crackers for dipping.
namasté,