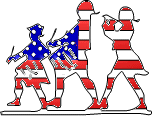 Today we thank all veterans who have fought in all the wars of our country. Men in my family fought in the American Revolution, The War of 1812, both sides of the War Between the States, WWI, WWII, Korea, and now the War in Iraq. To each of them and the thousands of their brethern, I give them thanks for protecting Freedom.
Most military pictures you see are of the men in uniform, all proper and at attention. That is certainly awe-inspiring. I have photos like that of my family members. But here's a more light-hearted moment amongst some off-duty MPs in El Paso, Texas, 16 November 1949. That's my Papa in the front.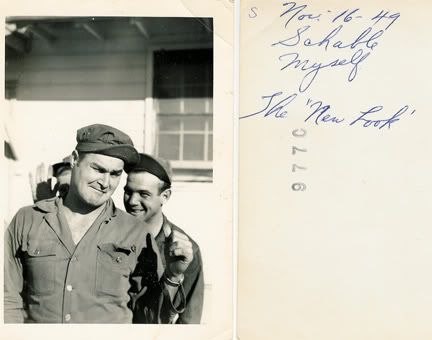 On the back he wrote: Nov.-16-49, Schable, Myself, "The New Look". Now I don't know exactly what he was referring to with "The New Look" (except that it was the way women's fashion was described by Christian Dior after WWII), but they look like they were having fun. Men form bonds of brotherhood in the military than can last a lifetime.
Currently my cousin, Raymond, is serving in Iraq. He's funny, handsome, intelligent, a good friend and has more courage than I can imagine. He's very special with a lovely wife, two small sons, a Mom, a Dad and a host of other relatives who love him dearly. I ask for your thoughts and prayers for him that he will return home to us safely.

namasté,