I love to bake muffins and other quick breads. This delicious recipe was shared by a friend on an internet food message board about five years or so ago. I have made it both with and without the cranberries. The muffins are savoury and are just wonderful. We especially like them served with my homemade
Crockpot Apple Butter
. The recipe says it makes 12 large muffins, but when I bake them in regular sized muffin tins I typically get about 14. I have also baked them in mini-muffin tins, but neglected to write down how many of those I got from the recipe. When baking in the mini-pans the baking time needs to be reduced and that is when I normally omit the cranberries.
Here are the muffins going into the oven: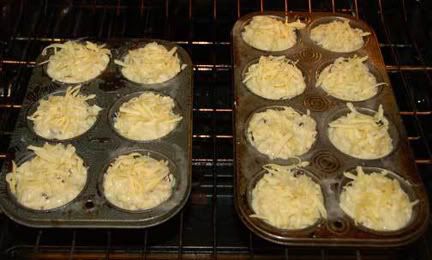 Baked: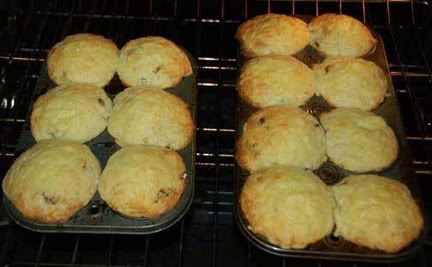 And served in a basket with a vintage-style roll warmer: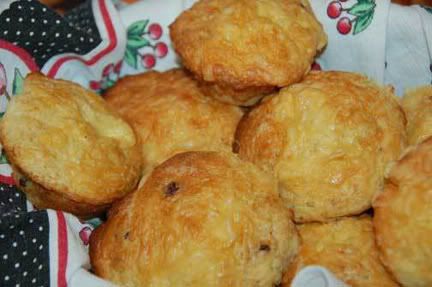 Gouda Muffins with Walnut and Cranberries
Originally from a recipe in a booklet from the Anco Fine Cheese Company

2 cups all purpose flour
½ cup sugar
1 Tbsp baking powder
1 tsp salt
½ tsp baking soda
½ cup chopped walnuts
½ cup dried cranberries
2 cups grated Gouda cheese
1 cup plain yogurt
¼ cup melted butter
2 large eggs, beaten

Preheat oven to 400°F.

In a large bowl, stir together flour, sugar, baking powder, salt and baking soda. Fold in the walnuts, cranberries, and 1½ cups of the cheese.

In a smaller bowl, thoroughly combine yogurt, butter and eggs. Add all at once to dry ingredients and fold in to mix.

Divide batter evenly among 12 large greased muffin tins. Sprinkle remaining cheese on top of muffins and bake for 18-20 min.
namasté,