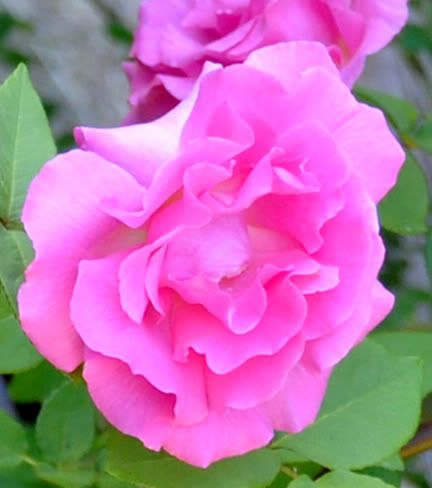 I've been reading about Pink Saturday for a while now, and this is my first time to participate.
Pink Saturday
is hosted by Beverly at
How Sweet the Sound
. And inspired by my friends Candy at
The Little Round Table
(who grows some of the most beautiful roses I have ever seen) and Martha at
Lines from Linderhof
(who grows mostly pink roses at her home) I am going to feature a rose - Zéphirine Drouhin.
Zéphirine Drouhin is a Bourbon (Old Garden) rose. It is a completely thornless climber, a prolific bloomer and very fragrant.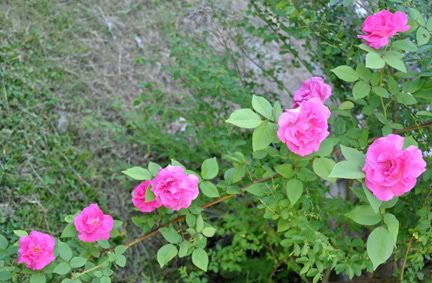 Bourbon Roses are named for Île Bourbon, now called Réunion Island, in the Indian Ocean. Tradition has it that they originated from a natural cross between the China 'Parsons Pink' and the red Damask Perpetual 'Tous-les-Mois', two roses which were grown as hedges on the island. Bourbons began to be intentionally bred in the 1830s. In the best of them, vigour was combined with floriferousness, and beauty with fragrance. Zéphirine Drouhin embodies all of those.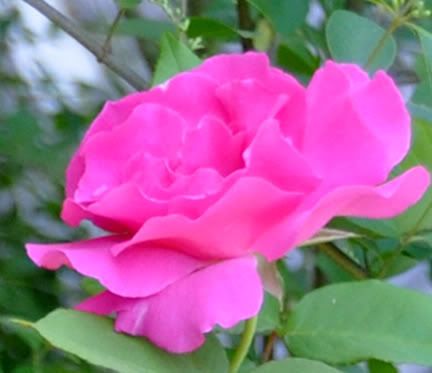 A typical Bourbon will have the arching growth, lush flowers and intoxicating fragrance from its Damask ancestors; but it will also have a strong tendency to rebloom from the China ancestor, as well as a certain often subtle influence of the China flower form. Bourbons range in colour from deep reds through pinks to blush and white. The actual glory days of the Bourbon roses were 1830 to 1850. Currently they have regained popularity with antique rose growers due to their easygoing charms.
Around 1800 the French became interested in roses, inspired by the Empress Josephine, who was very interested in botany. After her divorce from Napoleon she lived at the palace of Malmaison. At this palace she collected all the available sorts of roses, and encouraged the breeding and hybridizing of new ones. Spurred by imperial patronage, French breeders went to work, developing several hundred new cultivars. Zéphirine Drouhin was bred by Bizot in France in 1868. Although it is a later Bourbon, it is still considered an antique rose.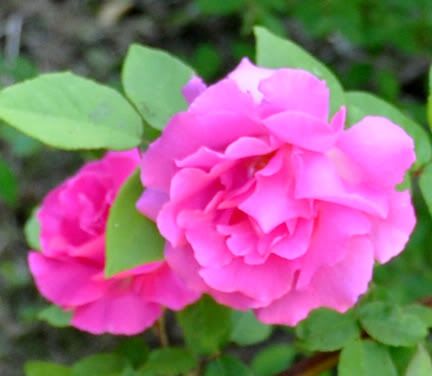 Zéphirine Drouhin features profuse, sweetly scented, semi-double, cerise pink flowers that range 3.5"-4" in diameter. It blooms from May to frost giving beauty and fragrance all summer. Then the purple tinted canes make it attractive in winter after the foliage drops. It will take Zéphirine Drouhin a few years to reach peak blooming, but the wait is well worth it. Regular deadheading during the growing season will encourage re-blooming.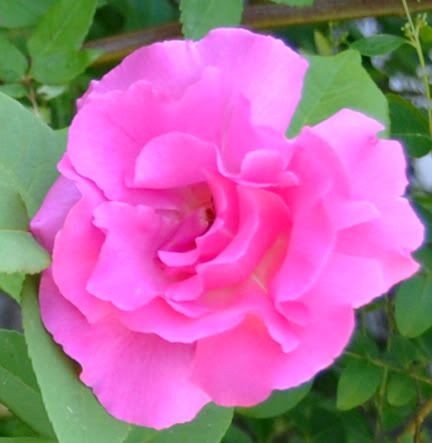 This rose is especially wonderful for arches, porch columns and fences as the canes can grow to 15' long. I learned about Zéphirine Drouhin from my Mom. She had read about it and ordered one to plant on her fence. Of course after I smelled and saw hers, I had to get one, too! I planted my Zéphirine Drouhin on a wrought iron column at the corner of the smokehouse at the farm. This is its first year to really start blooming and I am enchanted. The fragrance permeates the air all around. I have cut some of the flowers for bouquets inside and have found them to last about a week or so. And the house smells wonderful! The pink blooms and the purplish canes really stand out against the greyed wood of the weathered logs of the smokehouse. I can see it out the kitchen windows, and when I open the windows, the fragrance comes right in the house.
Here is a free-form bouquet of Zéphirine Drouhin with some other roses that were blooming at the farm. I've got them in a chartruese Fiesta bud vase on the mantle in our bedroom.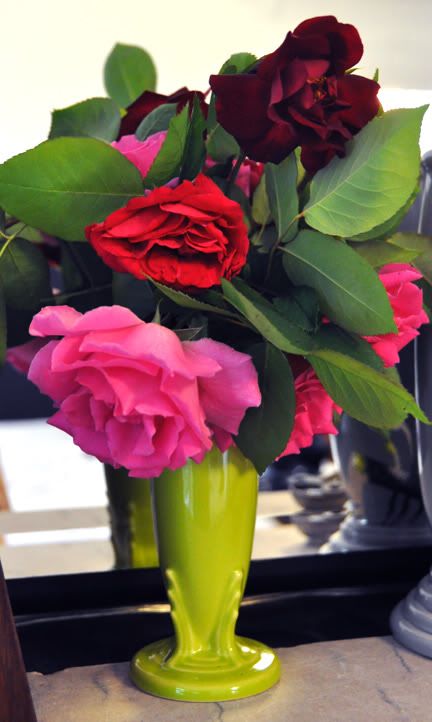 Happy Pink Saturday!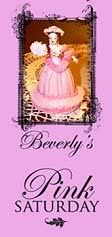 namasté,