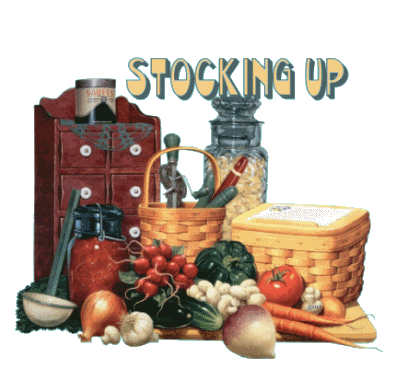 "Stocking up" or "Putting food by" are old expressions used to denote canning, preserving, pickling, freezing, drying, etc. to save food for use at a later time. When I was growing up I helped my grandmother can and freeze things every summer. I also helped my Mom and my other grandmother put up preserves every year. There is such a satisfying feeling knowing what is in the food your family is eating. And I just adore hearing the pings as the jars seal when they are taken out of the canner. Today I have been very busy using things from my CSA box, supplemented with a few herbs from my container garden and few add-ons from the grocery store to put food by.
First I had a ton of bell peppers. Didn't count them, but they filled up my sink. Also had some a few New Mexico peppers and jalapeños. The hot peppers and some of the bell peppers got minced in the food processor and put in the freezer to make pepper jelly later on. I froze enough for three batches of the jelly. And I still had over a dozen bell peppers left.
Cucumbers - made one quart jar of
pickles, using my great-grandmother's recipe
.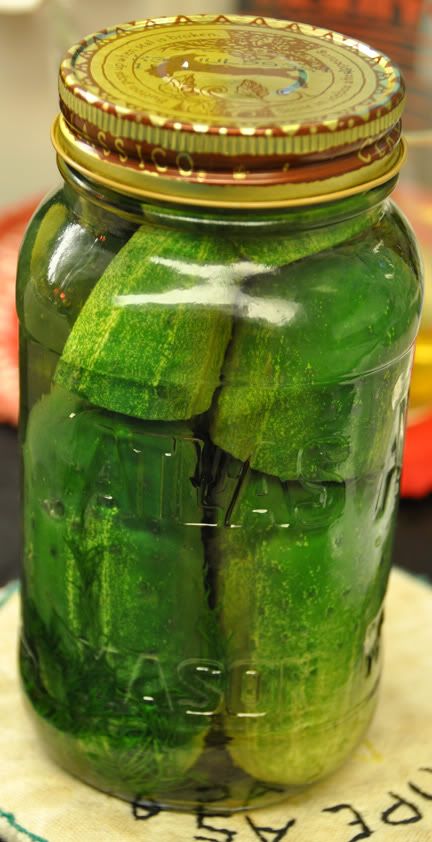 I think I had at least as many spring bulb onions as I did peppers and I used them in several things.
Green beans and onions. There were enough beans to fill two baking sheets, so I added some onion to those, tossed with olive oil and some salt, and roasted. Those are now frozen to pull out for a few easy meals.
Summer squash - a mixture of yellow crookneck and zucchini. I sliced those up with some of the onions and cooked them. Now there is a quart bag of those for a later meal or two.
The TRINITY - a necessity for Creole and Cajun cooking. I filled a four cup measure with chopped onions, bell pepper and celery. Sautéed that and froze for the next time I want to make gumbo or étoufée. I think I will make another batch of that as there are still nearly a dozen bell peppers to use.
I also mixed up a batch of Easy Stuffed Crabs to put in the freezer. (2 fresh crabcakes from Publix, 1 lb fresh lump crabmeat, Creole or Old Bay Seasoning. Today I used Old Bay. Mix together and fill 8 vintage McKee Glass Crab Dishes. Set on a tray to freeze, then store in Ziploc bag in freezer.)
Strawberry Ice Cream
.

This won't last in the freezer as long as the other things, but what a great way to use some ripe, fresh-picked strawberries.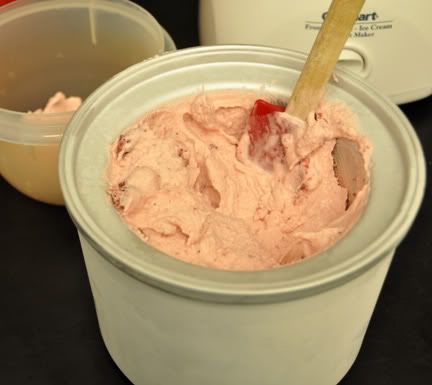 Add to that the
Strawberry Mango Jam
I made Friday, and I've already gotten a good start on putting up this year's bounty.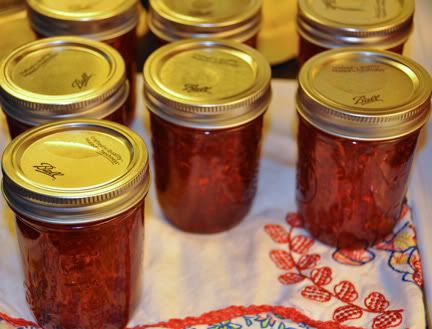 namasté,