This is my second time to participate Pink Saturday and I so enjoy being part of it. For many years my friends always said that pink was my signature colour. And they meant that literally. I alway wrote with a pink pen.
Pink Saturday
is hosted by Beverly at
How Sweet the Sound
. By interesting coincidence, this is also the second birthday of
Pink Saturday
. Check out the wonderful party going on around the web.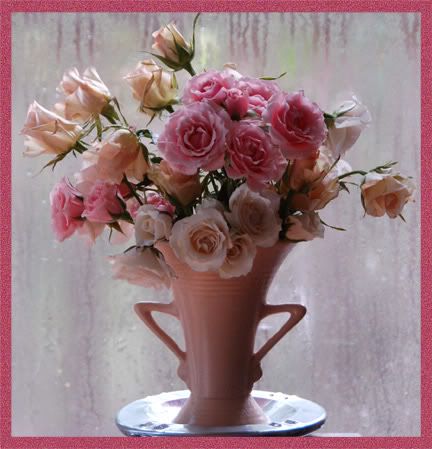 This is a photo of sweetheart roses in a pink art deco vase made by Brush Pottery. Brush later joined with McCoy and the company became Brush-McCoy. The vase was probably produced in the late 1920s or early 1930s.
The handles on this vase are identical to the handles on many of the pieces in the Harlequin line of dinnerware that was designed by Homer Laughlin China beginning in 1936. It was quite common at that time for potteries to flagrantly copy one another. Sometimes they made exact copies and at other times changes would be made. Here I think that the handles were "borrowed" from Brush because they went so well with the angular lines of Harlequin.
There were never any vases made by HLC to go with Harlequin, so many Harlequin collectors look for these Brush vases. The vases come in several different styles and colours. In this photo I love the effect of the backlighting and the rain on the window screen behind the arrangement.
Happy Pink Saturday!
namasté,