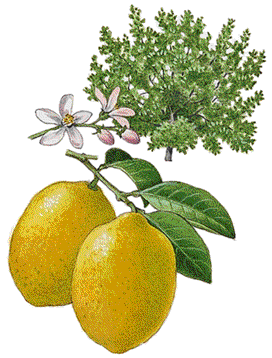 I love lemon. Lemon flavour anything for me beats out chocolate any time. I was quite happy on the Amalfi Coast! My grandmother's three layer Lemon Cake with Lemon Curd filling and icing has been one of my two favourite cakes all my life. But a couple of years ago I was introduced to Italian Lemon Creme Cake. Originally the recipe was posted by a friend on an internet food message board. Then, when I was so ill the year preceding the transplant, that friend and another brought us dinner one night. This cake was the dessert. Everyone here loved it. Particularly DD#2.
Yesterday was DD#2's 17th birthday (she was born on Mother's Day and my best Mother's Day gift ever), I baked this cake to go with our Italian dinner last night. (As an aside, this was her third cake this weekend. We had Chocolate Cookie Sheet Cake on Friday night for our early Mother's Day/Birthday celebration with the family. There was a Red Velvet Cake Saturday night with the Betty White on Saturday night/Ring in the Birthday at Midnight party. Then we got the Italian Lemon Creme Cake.)
I do not bake many cakes as I am more of a pie person. The normal exceptions are
my Pound Cake
(for which I am famous amongst my family and friends) and Chocolate Cookie Sheet cake (which is Mike's favourite cake and he gets every year on his birthday). Occasionally I do others, just not very often. And they are all totally from scratch. So starting with a cake mix is a new-to-me thing.
Now my sister was justifiably famous in our family years ago for Sock-It-To-Me Cake. A product of its times, as evidenced by the name, this cake starts with a yellow cake mix, is baked in a bundt pan with a cinnamon/pecan/brown sugar layer in the centre, and is quite good. But that was her cake. I made some changes to the original recipe for the Lemon Creme Cake and am pleased with the final product. This may become one of my go-to cakes. It gets rave reviews and anyone who asks for the recipe is always surprised it starts with a mix.
Ingredients for the cake: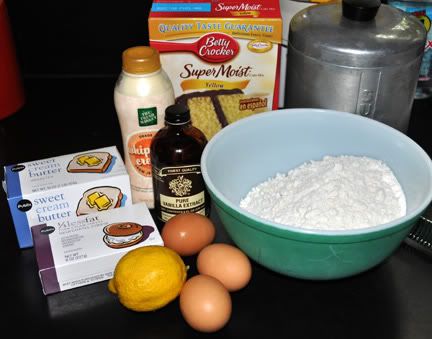 Vintage OvenEx springform pan I got from my grandmother: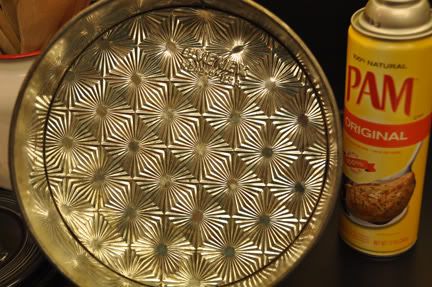 Greased and floured (I spray with PAM and dust with Wondra flour):
Batter in the pan: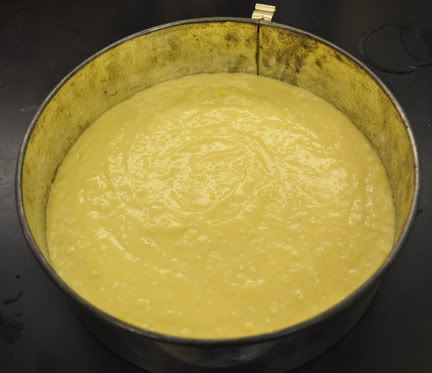 Baked: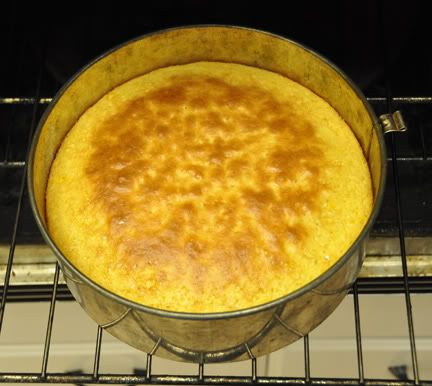 Cooling:
Forgot to make photos while filling and frosting.

Sliced and served on a Fiesta ivory square plate: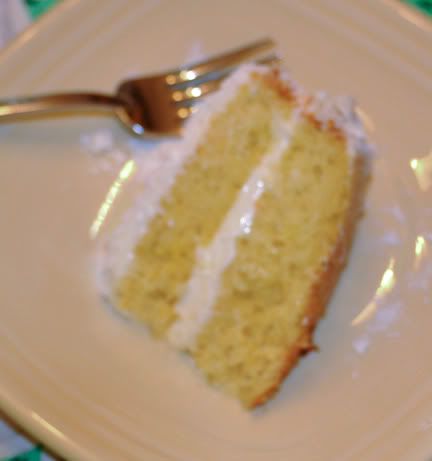 Buon appetito!
Italian Lemon Creme Cake


Cake:


1 box yellow cake mix
Zest of 1 lemon (zested very finely - I like to use my microplane)
1¼ cups water
3 eggs, beaten
1/3 cup vegetable oil



Lemon Creme Filling:


1 (8 oz) pkg cream cheese or mascarpone, softened to room temperature
2 cups confectioner's sugar
4 tsp freshly squeezed lemon juice
1 cup heavy cream



Vanilla Crumb Topping:


½ cup all purpose flour
½ cup confectioner's sugar
¼ cup cold butter
½ tsp vanilla extract



Garnish:


confectioner's sugar

Preheat oven to 350°F. Grease and flour a 10" round cake pan or 9" springform pan.

Mix the lemon zest into the cake mix. Then add the water, eggs and oil. Stir to just mix. Pour the batter into prepared pan. Bake for 40 to 45 minutes, testing for doneness. Remove cake from oven and allow to cool 10 minutes before removing from pan. Continue to cool on wire rack until cake has reached room temperature.

Make lemon cream filling by mixing cream cheese and confectioner's sugar in a medium bowl with an electric mixer until smooth. Mix in lemon juice. Whip cream in a large bowl with an electric mixer on high speed until it forms stiff peaks. Fold the whipped cream into the lemon/cream cheese mixture gently by hand to mix.

Make crumb topping by combining flour and confectioner's sugar in a medium bowl. Add butter and dribble in the vanilla extract. Use your hands or a pastry blender to mix cold butter into the flour and sugar. Break butter into smaller and smaller pieces as you incorporate it into the dry ingredients. Be sure not to press the mixture together. You want to end up with a very crumbly consistency with pieces no larger than a pea. (If you have trouble making small crumbs, put the bowl into your refrigerator to chill for a few minutes.) Also, do not mix with an electric mixer or it will likely turn into shortbread dough. Chill this crumb topping until you are ready to use it. The topping does not get cooked.

When the cake is cool, slice it in half through the middle and remove the top. Spread about half of the lemon creme filling onto the bottom half of the cake, then carefully replace the top half of the cake. Spread the remaining filling over the top and sides of the cake. Sprinkle the crumb topping on top of the cake and press it onto the sides all the way around the cake.

Chill for at least 3 hours. Serve each slice topped with sifted powdered sugar.
namasté,