I take part in MYM because it is a challenge for me. The only area where I have much yellow in my photos is my dishes.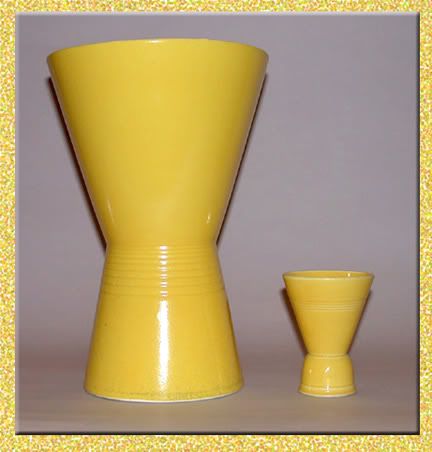 These two pieces are amazingly similar in both design and colour. On the left we have a vase and on the right we have a double eggcup. The eggcup is part of the Harlequin line of dinnerware, made by Homer Laughlin China from 1937- 1959. Frederick H. Rhead was the art director and designer. Harlequin is the epitome of Art Deco with angular handles and cone shapes to many pieces. It came in an array of 12 different colours through the lifetime of the vintage line. Harlequin has been my passion in dish collecting since the early to mid 1980s. Over the years I have managed to get nearly every shape in every colour. (Still a few missing, but they give me something to look for when I'm out dishing.)
The Harlequin double eggcup was modelled in July of 1936 and was discontinued with the line in 1959. There is no way to tell when in this time period the yellow eggcups were made. That's because even though the colour assortment changed throughout the years, yellow was used throughout the life of the line. Harlequin yellow is a bright egg yolk yellow. More brilliant than the yellow of its sister line, Fiesta.
Back in 2001 I was at a
Homer Laughlin China Collectors Association
meeting in Pittsburgh and one afternoon we went out dishing. At one of the shops I looked up and saw what looked like a Harlequin double eggcup on steroids. It was the vase on the left in the photo. Now this vase has nothing to do with Harlequin. It was not even made in Newell, WV by HLC.
This vase is special. It is known as the Cones vase and was made by Vernon Kilns in California. Cones vases are quite scarce. I have only ever seen one other for sale. (The other example was a pinkish colour.) The vase was designed by sisters May and Vieve (Genevieve) Hamilton. In the mid 1930s VK established an artware department. The Hamilton sisters created some beautiful art pottery there, but only for a very short time. Economic conditions forced the closing of the artware department at Vernon in 1937. The Cones vase could not have been made for very long.
But back to my story of finding the vase. I looked up at the top of some shelves in the antique mall and there it was. And I could hardly believe my eyes. It was filled with plastic flowers and I wasn't even sure it was for sale or if it was what I thought it was. My shopping buddy got it down for me and I saw the tell-tell tale mark on the bottom.
This scalloped circle with their names and the Pekingese dog is on all the Hamilton sisters' art pottery from Vernon. And it's got the name of the vase, Cones, stamped on it, too.
I was so excited my hands were shaking. And I was even more excited when I figured out the price - $25.00. On top of that I got a 20% discount. In 25 years of dish collecting, this is probably my greatest deal. I love the Hamiltons' work and would love to see some more of it in person. But until then I will just enjoy my yellow vase. One of these days I may even put an ostrich egg in it to look like a giant eggcup. And I always wonder, which one of these was designed first - the eggcup or the vase?
Happy Mellow Yellow Monday!
namasté,