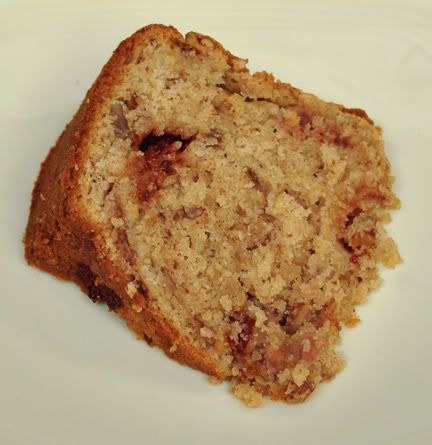 Strawberries
~ We are still getting lovely strawberries in the CSA box, so I am looking into different things to do with them. A person can only eat so much jam or preserves, you know.
Yesterday I was reading on my friend Mary's blog,
One Perfect Bite
, and she posted this lovely recipe for
Sweet Cheeks Strawberry Tea Bread
. Mary always has great stories to go along with her recipes, so check out the reasons for the Sweet Cheeks name over there, if you get a chance. This bread looked like it would be a good thing to use up some of our strawberries.
Mary originally got the recipe from
A Taste of Home Magazine
, and I have changed it up yet some more. Mainly I increased the amounts of nuts and strawberries. Plus I changed the walnuts to pecans. I also doubled the recipe, so that I could have some to share. The recipe as I've posted it here makes two 8"×4" loaves, or several smaller ones. I used an assortment of small pans and baked them for about 45-50 minutes.
Mike got home right after I had taken the first loaf out of the pan and we just cut slices hot to taste them. Oh my goodness. What a wonderful tea bread! I really liked that it is not too sweet and the strawberry flavour really shines through. That is typical of more European style tea breads and what I grew up eating as a child. What a delightful addition to my recipe repertoire! Mary, thanks for bringing this great recipe to our attention. My MIL gives me a subscription to
A Taste of Home
every year, but somehow I missed this recipe.
We have cut the hexagon shaped loaf. That one was baked in a vintage Swan's Down advertising pan. I wrapped the other three in foil and put in Ziploc bags in the freezer. Next week one will go to my Mom and one to my sister.
Strawberries: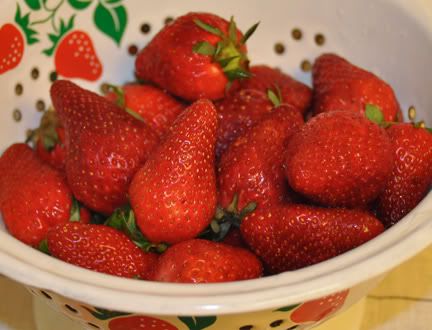 Here are my four pans ready to go in the oven: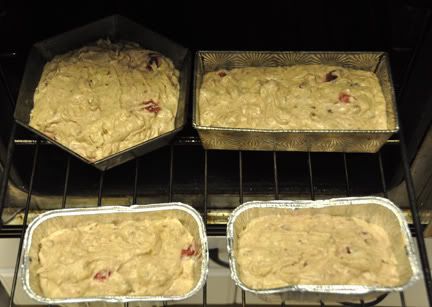 Baked tea bread cooling in the pan: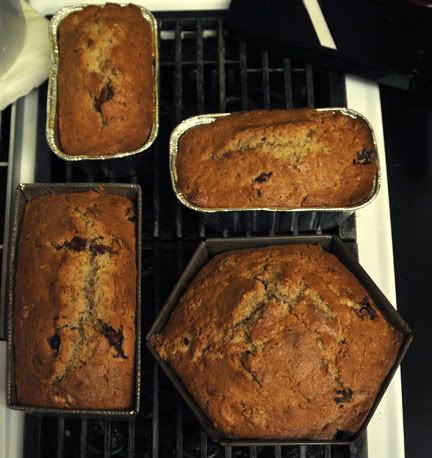 Sliced and served on a square ivory Fiesta plate: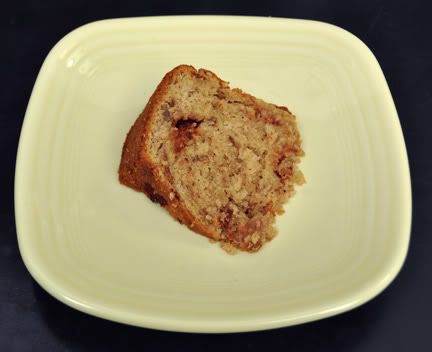 Strawberry Pecan Tea Bread
1 cup butter, softened
1 1/2 cups granulated sugar
4 eggs
1 cup sour cream
2 tsp vanilla extract
3 1/2 cups flour (I used 2 1/2 cups all purpose and 1 cup whole wheat)
1 tsp baking powder
1 tsp baking soda
1 tsp salt
1/2 teaspoon ground cinnamon
2 cup chopped pecans
2 cups chopped fresh strawberries

Preheat oven to 350°F. Grease two 8"×4" loaf pans or equivalent smaller pans and set aside.

With a stand mixer, cream butter and sugar. Beat in eggs, one at a time. Add sour cream and vanilla; mixing well.

In another bowl, combine flour, baking powder, baking soda, salt and cinnamon. Mix dry ingredients into creamed mixture just until moistened. Batter will be thick. Mix in pecans. By hand, fold in the strawberries.

Place batter into prepared pans. Bake for 65 to 70 minutes for the 8"×4" loaves, or until a toothpick inserted near the centre comes out clean. Adjust baking time for smaller pans. Cool for 10 minutes; remove from pan to a wire rack to cool completely.



Notes:

If you, as I do, use low-fat sour cream at your house, add a couple of Tbsp of oil to the cake batter.
namasté,