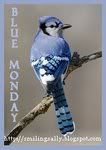 This is my first time to participate in the
Blue Monday
photo meme. It's hosted by
Smiling Sally
. Check it out and see who else is playing along on
Blue Monday
.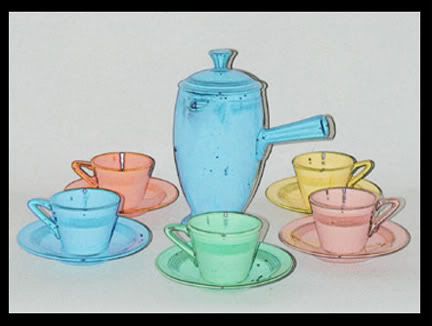 Today's picture features an image I made of vintage dinnerware and then edited in Photoshop. The dishes are a turquoise Fiesta after dinner coffee server and Harlequin after dinner coffee cups in Fiesta red, turquoise, light green, rose and yellow. When I made this photograph we were homeschooling Abbey (she was either a junior or a senior) and one of the classes I taught her was Photography and Photoshop. I had found an exercise online that showed how to make landscape pictures look like vintage postcards. It was really interesting and I applied that technique to a number of different pictures, including the photo of the after dinner coffee service.
A number of my dish friends fell in love with this image. The
HLCCA
made cards with this picture on the front and sold them on their website and at their conferences (though I believe they ran out quite some time back). I also printed at least one poster for a dish friend. It's been a while since I have made dish photos and I am anxious to get back to that.
Happy Blue Monday!
namasté,