May's second Barefoot Blogger recipe is
Grilled Herb Shrimp
, from
Barefoot Contessa Parties!
. It was chosen by Penny from
Lake Lure Cottage Kitchen
.
We absolutely LOVE this recipe. Penny, thank you for choosing it! Ina suggests leaving the tails on the shrimp and skewering them. I normally remove the tails and grill them in my fish grilling baskets. Spray the baskets with PAM before adding shrimp to keep them from sticking. This method works wonderfully! Also, I like to cook these on my indoor grill.
Shrimp in baskets on grill: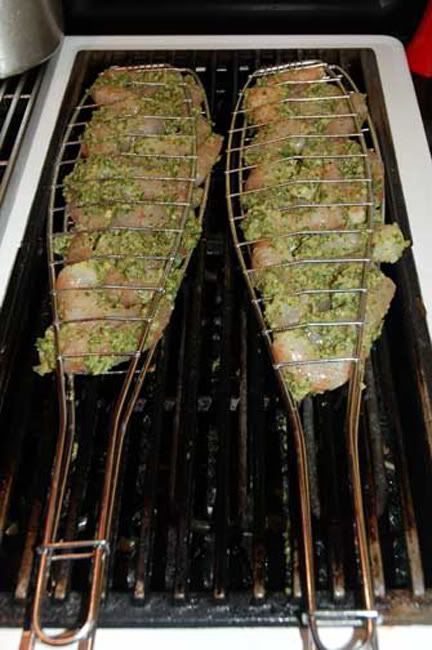 Turned to grill the other side: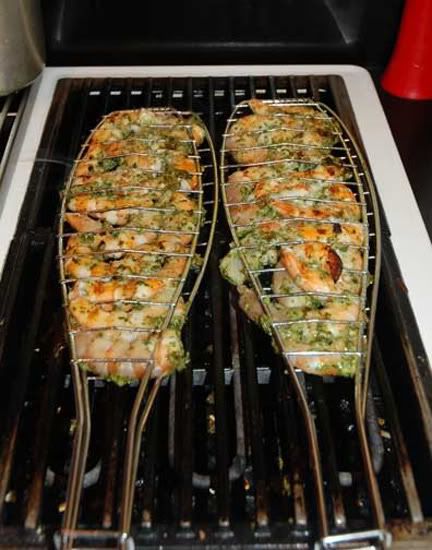 Plated on a Harlequin yellow chop plate: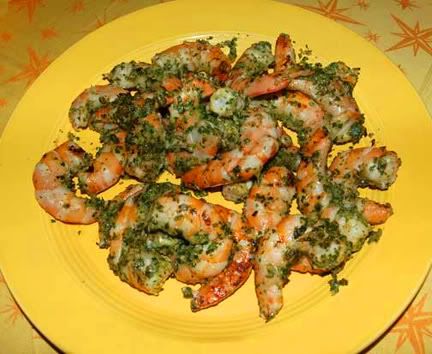 Dinner is served with p-86 Fiesta and one of my favourite summer tablecloths: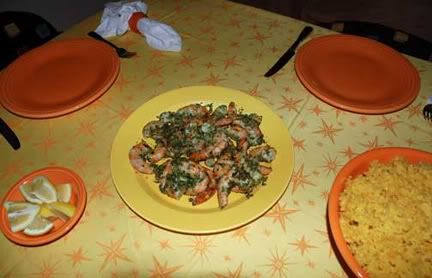 Grilled Herb Shrimp
Barefoot Contessa Parties!
6 servings

* 2 lbs large shrimp (16 to 20 per pound), peeled and deveined, leaving on the tails
* 3 cloves garlic, minced
* 1 medium yellow onion, small-diced
* 1/4 cup minced fresh parsley
* 1/4 cup minced fresh basil
* 1 tsp dry mustard
* 2 tsp Dijon mustard
* 2 tsp kosher salt
* 1/2 tsp freshly ground black pepper
* 1/4 cup good olive oil
* 1 lemon, juiced

Combine all the ingredients and allow them to marinate for 1 hour at room temperature or cover and refrigerate for up to 2 days.

Skewer the shrimp - 3 or 4 shrimp on a 12-inch skewer for dinner. Heat a grill with coals and brush the grill with oil to prevent the shrimp from sticking. Grill the shrimp for only 1 1/2 minutes on each side.



Notes:


1. For the marinade I put all the ingredients in the food processor and blended. The marinade was kind of pesto-like in consistency, so after removing the shrimp I cooked it a few minutes in the microwave and served it on the side in case anyone wanted more herb flavour.
2. There were 25 of the very large shrimp and when I peeled them, I removed the tails, too. Instead of grilling on skewers, I decided to use my fish grill baskets.
Click here
to see what other Barefoot Bloggers think of this recipe.
namasté,