My long-time readers, family and friends know that I have been a proponent of locally grown, organically grown food for many, many years. Besides my own garden, I shop at a local health food store and am a member of a CSA where I get a box of local organic fruits and veggies every week.
People in the USA have gotten spoiled with having all kinds of fruits and vegetables available year round. But things taste better and are better for you when they haven't been over-processed and transported thousands of miles to get to grocery stores around the country. Not to mention the un-greenness of all that transportation. Online groups have sponsored numerous challenges to eat locally. A few years ago I took part in one that ran through flickr's site, but this year I have decided to participate in a different challenge. Eating locally also helps the local economy and supports the family farmers in your area.

Would you like to eat locally, sustainably and fantastically well this winter? If so, check out Laura's
4th Annual Dark Days Challenge
. Sign-ups have started. The challenge begins on 1 December, then runs through Tax Day (15 April) next spring.
The guiding principle of the Dark Days Challenge is SOLE - sustainable, organic, local, ethical. The challenge involves cooking four meals each month (1 per week) focused on SOLE ingredients and writing about it on your blog.
Most local food advocates consider food local if it comes from within a 100 mile radius, but for this challenge the distance is 150 miles. Some things are exempted from being from local: oils, spices, coffee, etc. For more info and all the details, click on this logo: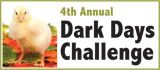 Sign-ups go through the 21st of November. I hope you will all join in the fun!
namasté,