The Wreck of the Edmund Fitzgerald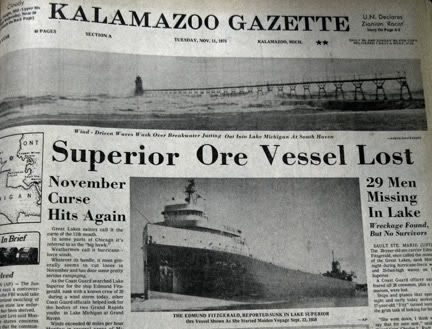 Photo from Kalamazoo Gazette
It was a Monday and I was nearing the end of Fall Quarter of my senior year in college. And I remember that news broadcast. Nature's wrath is a fearsome thing. I've always thought Gordon Lightfoot's song was a hauntingly beautiful tribute to the 29 men who lost their lives that day.
On this 35th anniversary of the tragedy, I think about the men who died and the families they left behind. No one knows exactly what happened that caused the ship to be lost. It lies deep in the Canadian waters of Lake Superior. If you'd like to read more about the ship and the wreck,
click here
.
Where were you during the wreck of the
Edmund Fitzgerald
?