Pink Saturday
is hosted by Beverly at
How Sweet the Sound
. She loves pink and graciously invited the rest of us to play along. Check out her blog to see who all else is enjoying this week's pink party.
My pink subject is a simple, yet complex treat ~ gelato. I am not normally a big fan of ice cream, but I must say that I really did enjoy the gelato in Italy. Many people think that gelato is just Italian ice cream. However, that is not exactly correct.
In the US ice cream legally has a minimum of 10% fat, but many contain as much as 30%. Gelato has more whole milk than cream so it is normally 5% - 7% fat. Gelato is churned more slowly than ice cream, so it doesn't get as much air incorporated into the mixture. While ice cream can have as much as 50% air, gelato's percentage of air is around 25%. And lastly, gelato is not frozen to as cold of a temperature as ice cream. All of this, particularly the lower fat content, results in a different mouth feel. And that's probably why I enjoyed the gelato so much when I'm not one of those who "all scream for ice cream".
Melon and strawberry gelato ~ a treat to be savoured on the bank of Lake Como:
Happy Pink Saturday!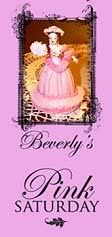 namasté,