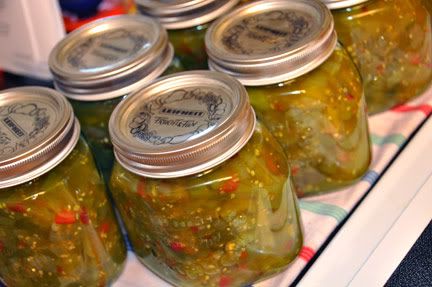 Kool Point Relish is one of those things that takes me back to my grandmother's kitchen. In her life I don't believe there was much of anything she didn't can, freeze or dehydrate at one time or another. My grandparents got married in May 1929 - just before the stock market crash that started The Great Depression. My Mom was born in early 1930. There they were: newly married with a baby and an economic crisis that those of us who didn't live through it can't really understand.
I suspect my grandparents were always frugal as they came from farming and cattle families who always grew their own food. But the situation in which they found themselves at the start of their married life really sealed their values of being self-sufficient, "Waste not, want not", and kept them on the path of always providing for their immediate family and anyone else they could help along the way. My grandfather gardened every year in a HUGE garden and produced most of the vegetables they ate. I rarely ever saw commercially canned food in my grandmother's pantry. It was all jars and jars of beautiful home grown fruits and vegetables.
My grandparents lived in northwest Louisiana. There are lots of waterways in Louisiana and fishing is a way of life for many people. Atchafalaya blue catfish are particularly prized in the inland areas. 40 to 50-ish years ago there was an eating establishment on one of these lakes called the Kool Point Restaurant. It specialized in fried catfish.
Now my grandparents weren't much for eating out, but my grandfather was the Mayor of their town, so meals in restaurants were sometimes required. Along with the fried fish and hush puppies served at the Kool Point Restaurant there was a hot/sweet green tomato relish. Most gardeners know that at the end of the season there are always green tomatoes that have to be picked when the first frost is coming. My grandmother had several ways she preserved them, but she and my grandfather found this relish to be particularly tasty. One day she decided to ask the owners of the restaurant how it was made and they gave her the recipe.
The Kool Point Restaurant has long since disappeared into the memory of time, but once my grandmother got the recipe we always had Kool Point Relish around. I helped my grandmother make it any number of times. But my grandmother crossed over in 1988. Since then I've been making Kool Point Relish every few years. When we were expecting the BIG FREEZE this past Friday night, I picked the remaining herbs, hot peppers and green tomatoes that were on my plants in the containers. And my sister called and asked me did I want the green tomatoes off of our plants that she was growing for me. Well of course I did! There wasn't any Kool Point Relish made the last couple of years and I had been wanting some. So ask and ye shall receive.
Big basket of green tomatoes: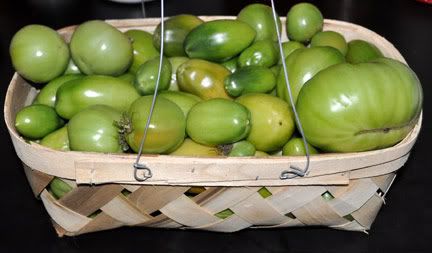 There were enough tomatoes for three batches of relish. This time I did not follow the recipe exactly. I did as my grandmother would have done. The recipe calls for 1 cup of chopped hot green peppers. My grandmother used whatever colour hot peppers were picked along with the green tomatoes. I had a jalapeño plant that produced
very
hot peppers this year. I used 4 to 5 of those (and nearly all of them were red) in each of the three batches and they were hot enough for me! A cupful would have made the relish too hot. It pays to know your ingredients. BTW, while it is OK to decrease the amount of peppers, you shouldn't increase it. You need to have maintain enough acidity for safe storage after canning.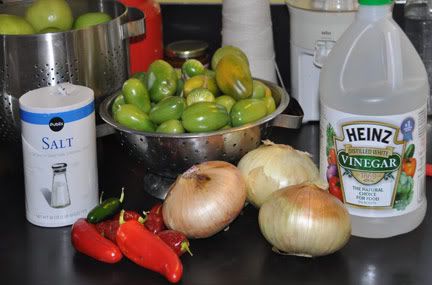 Veggies chopped and in the maslin pan: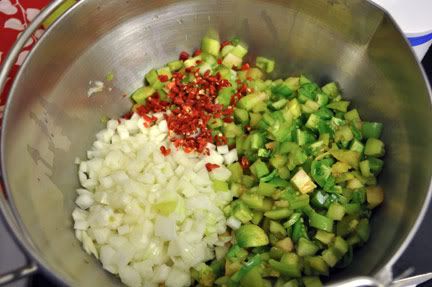 Jars of relish, sealed and cooling: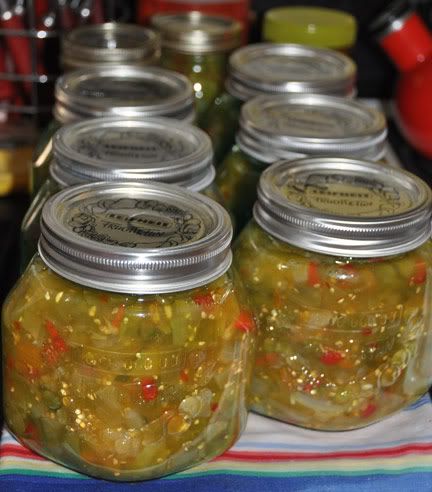 From the three batches of relish I got three pint jars and six 1 1/2 pint jars.
Besides serving this with fish, the relish also makes a nice appetizer. Pour it over a block of cream cheese. Or mix it into cream cheese and make a cheese log or cheese ball. Or simply spread cream cheese/relish mixture on crackers. Depending on how small you chopped your veggies for the relish, you might need to chop them a little more before mixing with the cream cheese. I usually chop the relish and mix it with the cream cheese in my food processor.
Kool Point Relish

1/2 gallon chopped green tomatoes (8 cups)
1 cup chopped hot green peppers
3 cups chopped onions
1 Tbsp plain salt
1 cup vinegar
3/4 pound sugar

Drain juice from vegetables and mix all ingredients. Cook till tomatoes lose colour, but do not boil. Pack immediately into scalded jars and seal. Using a boiling water bath canner, process pints for 10 minutes, 1 1/2 pints for 15 minutes and quarts for 20 minutes. Remove from canner and set on tea towel to seal and cool.



Notes:

Serve with fried fish. This is also excellent with cream cheese for an appetizer. You can pour the relish over the block of cream cheese for people to serve themselves. Or you can mix the relish into the cream cheese and make a cheese ball or spread it on crackers.
I'm linking this recipe to Kim's
Saturday Swap
over at
Quit Eating Out
. Click on the logo to check it out and join in the fun.
namasté,