Fennel Pollen - a quintessential ingredient in Tuscan cooking. I was first introduced to fennel pollen through Purple Haze Goat Cheese. Purple Haze is produced by
Cypress Grove Chevre
. It is flavoured with fennel pollen and lavender. This cheese is a wonderful melange of flavours that just makes my mouth HAPPY. Finally I started reading about fennel pollen and decided I should order some and start cooking with it. Then a couple of years ago I ran across this recipe from Joanne Weir. Shortly thereafter someone on one of the internet food boards posted it along with some photos. That did it. I couldn't wait any longer to prepare this for dinner!
So I got busy gathering up the herbs, pepper and olive oil. Sage, rosemary, and garlic from my garden.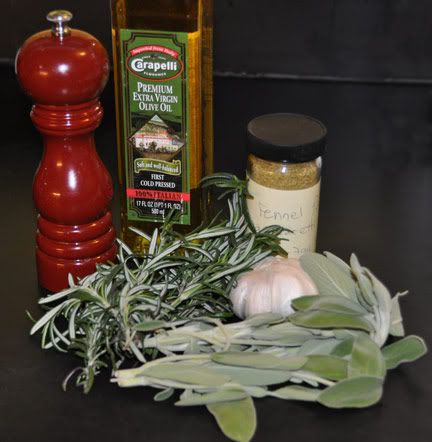 Sage, rosemary, garlic, fennel pollen, salt and pepper all nicely chopped together: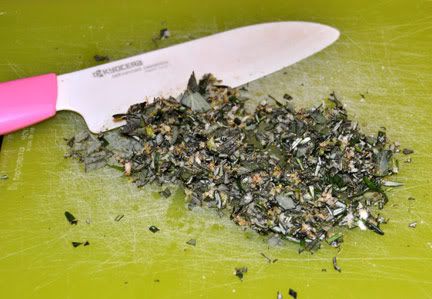 It really makes a difference in using fresh sage and rosemary vs dry. The fresh ones have a more delicate aspect that pairs perfectly with the fennel pollen.
Browning the tenderloin in my 100+ year old cast iron skillet: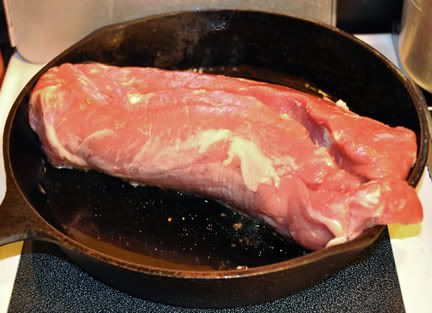 The pork just barely fit in this skillet, but it worked out fine.
Ready to brush the inside of the baguette with olive oil: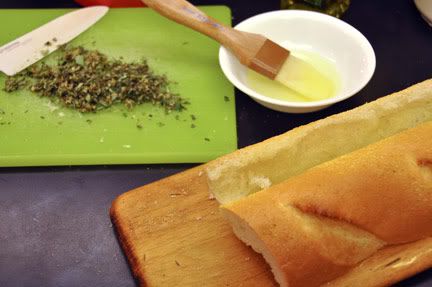 This time I sliced my baguette from the side, but if you look at the photo of the finished dish on
Joanne's site
, she sliced hers from the top. Either way works.
When the dish is assembled it needs to be held together. You can use kitchen string or silicon ties. Either one works. Here is my spool of kitchen string on a cute red stringholder. I love having it handy on the counter.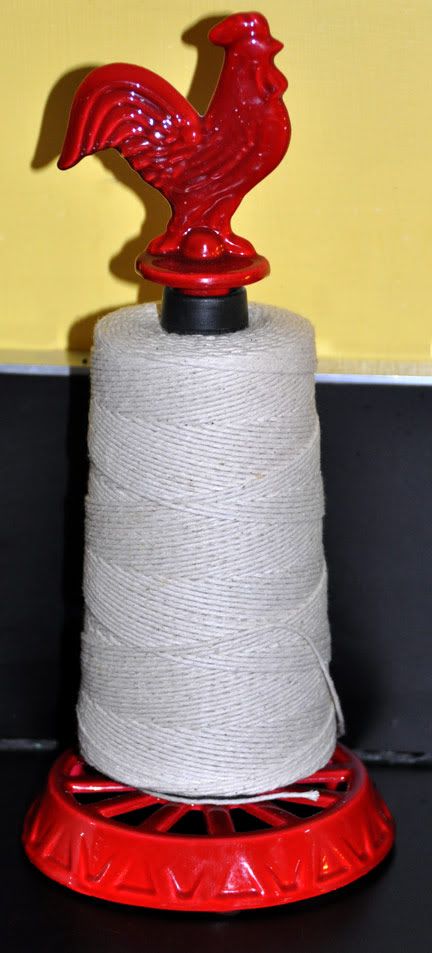 And here are silicon ties. Super easy to use and they can go in the small items basket in your dishwasher for cleanup.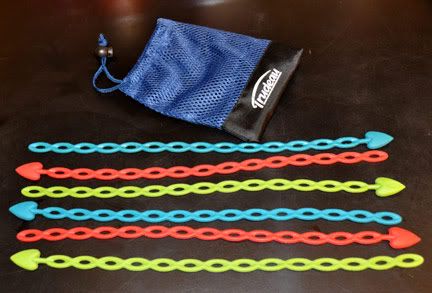 The herbed loin rolled in the baguette and tied: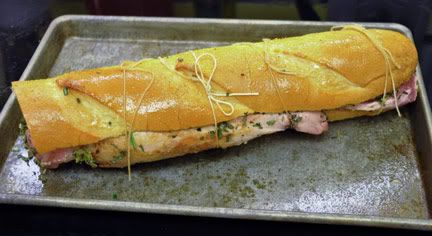 Toasty golden brown out of the oven:

I just can't describe to y'all how good this smells!
It slices beautifully: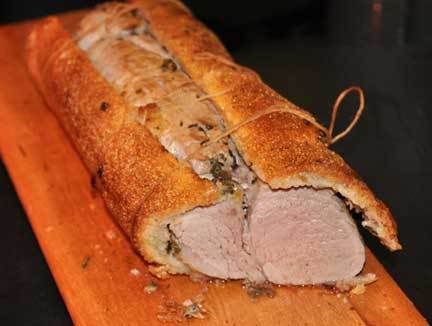 Plated for dinner on plp yellow Fiesta with sides of steamed haricots verts with sautéed red onion and roasted tomatoes:
Several people on the food message board made this without fennel pollen and substituted things like mustard. I think they were missing the point of the Tuscan aspect of this dish. Fennel pollen really is essential to the original intent. It's got a beautiful flowery flavour that isn't replicated by substitution. Do try to get some if at all possible. It's available from several online shops.
That said, I also prepared the pork using a little Dijon mustard and leaving out the fennel pollen for a taste comparison. It is very good that way, but it is different. One nice thing about this recipe is that it really can lend itself to different seasonings. We like it with the fennel pollen, but don't let the lack prevent you from ever preparing this dish. Just call it something else if you use mustard or other seasonings.

I've made this several times since my initial foray and it has been a hit every time.
Pork Roasted the Way the Tuscan Do
JoAnne Weir
Serves 4

2 tsp fresh chopped sage
2 tsp fresh chopped rosemary
freshly ground black pepper
2 cloves garlic, minced
Kosher salt
1/4 tsp fennel pollen
4 Tbsp extra virgin olive oil
1 pork tenderloin, trimmed
1 loaf crusty baguette

Preheat oven to 375°F.

Mince together the sage, rosemary, pepper, garlic, 1 tsp salt, 1/4 tsp black pepper, and fennel pollen on a cutting board.

Heat 1 Tbsp of the oil in a frying pan over medium high heat. Brown the pork, turning occasionally, until golden on all sides. This should take about 8 to 10 minutes. Roll the pork in the herb mixture and set aside.

Cut the baguette in half the long way and scoop out the soft insides. Save the insides to make bread crumbs for another use. Brush the inside of the baguette with the remaining 3Tbsp olive oil. Place the pork on the inside of the baguette so that the pork is completely enclosed. If the bread is longer than the tenderloin, trim off the excess ends of the bread. Tie the baguette every couple of inches with kitchen string or use silicon ties to hold it together.

Place the pork on a baking sheet and roast until done, 155°F on an instant-read thermometer inserted into the thickest part. This should take about 25 to 30 minutes. Take pork out of the oven and let rest for 10 minutes. Remove the strings or ties and cut into slices to serve.

Notes: Joanne says this can be taken on a picnic. To me that indicates it can be served at room temperature. We tried it that way also and much preferred it to be served hot.
namasté,