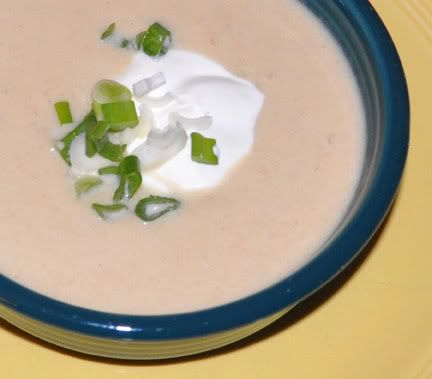 So you get home from vacation (where btw, you may have eaten some of the most delicious seafood ever) and you need to fix something for dinner. You don't want to go shopping before cooking, so you check out your pantry. Behold, what wondrous food there is to be prepared! LOL. I love that visual. But seriously, we did just get home from the beach, I didn't want to go to the store, and we did need something for dinner. It's always a good idea to have something in the freezer that can be pulled out for an easy meal, OR keep a well stocked pantry and just throw something together.
A couple of years ago I ran across
this recipe for artichoke soup
on Susan's blog,
Farmgirl Fare
. I have kept it mind for just such an occasion as this week. Both artichokes (uncannily there are several cans from when I stocked up for something) and garbanzo beans are in the pantry, as are some boxes of stock. Onions are in their bin and my container herbs have survived me being away. There is even some cream & sour cream in the fridge and green onions were in the CSA box. How fortuitous! While made from mostly canned rather than fresh ingredients, the soup is quite tasty and really filled the bill when I got home tired from travelling.
From the pantry and fridge: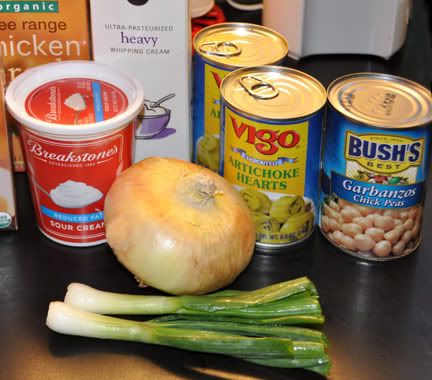 Onions happily beginning to brown in my favourite Staub cocotte: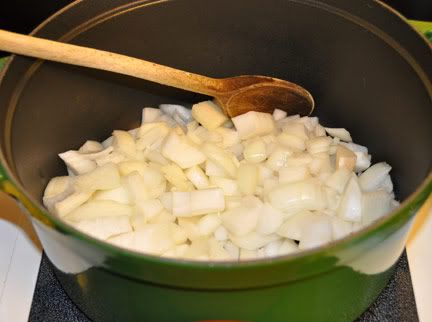 Chopped artichokes: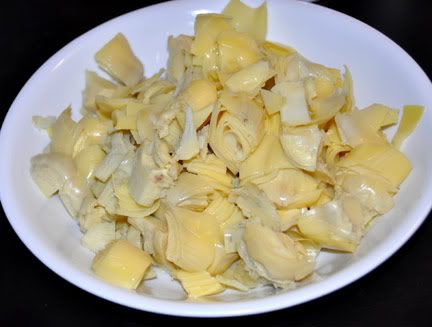 Other veggies added to pot:
And the broth stirred into the veggies: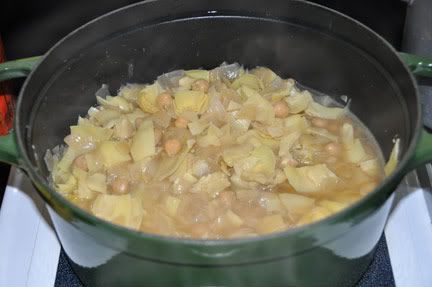 Puréed with the stick blender: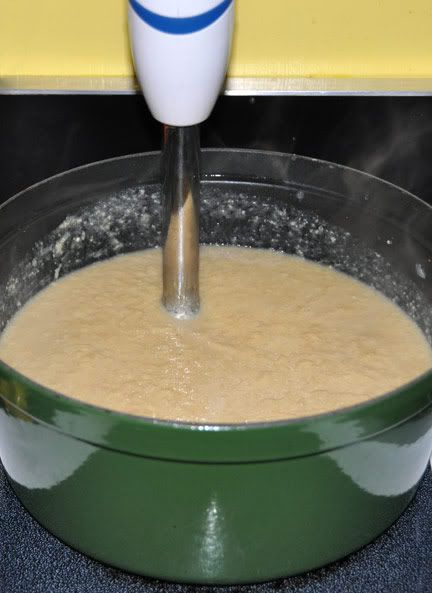 Served in a juniper Fiesta small cereal bowl and ready to be consumed by a hungry family: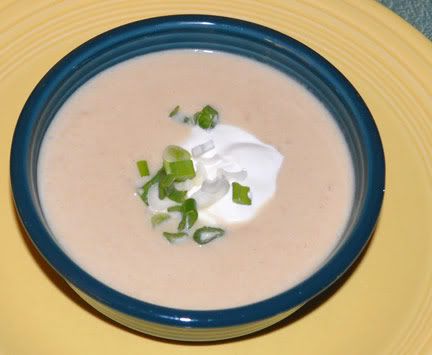 Cream of Artichoke Soup

2 Tbsp olive oil
4 onions (about 1-1/2 pounds), coarsely chopped
4 to 6 cloves of garlic, minced
1 (15 oz) can garbanzo beans, drained
2 (14 oz) cans water-packed artichokes, drained & coarsely chopped
4 cups vegetable or chicken stock
1 cup heavy cream
Kosher salt
Freshly ground pepper
Garnishes: sour cream, chopped green onions

Heat olive oil in a heavy large pot over medium heat. (I like to use one of my Stuab or Le Creuset pots for making soups like this.) Sauté the onions until they are soft and just beginning to brown, stirring while they cook. This should take around 8 to 10 minutes. Stir in the garlic and cook another couple of minutes. You don't want the garlic to burn.

Add the artichokes, beans, and stock. Bring to a boil, then reduce heat and cover, leaving the lid partially ajar. Simmer about half an hour.

Using an immersion blender, purée the soup. Or transfer in batches to a standard blender and purée very carefully. Return soup to the pot. Stir in the cream. Heat gently for a couple of minutes, then taste and adjust seasonings.

Ladle into bowls and garnish each bowl with a dollop of sour cream and some of the chopped green onions.

namasté,