Pink Saturday
is hosted by Beverly at
How Sweet the Sound
. She loves pink and graciously invited the rest of us to play along. Check out her blog to see who all else is enjoying this week's pink party.
Every year in June East Liverpool, Ohio hosts the Tri-State Pottery Festival. This area has been a centre of pottery production in the US since the 1800s. The festival has been being held for over 40 years and one of the events they have each year is the National Door Knob Toss Contest.
In the contest only official knobs are thrown at a sand filled tire. The thrower is 24 feet from the tire and there is 4" PVC pipe in the tire. The point of the game is to get the doorknobs in the pipe. The rules and scoring are the same as for horseshoes. The winner is the first to score 21 points.
Door knob tossing as a game actually originated in East Liverpool. During World War II Riverside Knob Works made tens of thousands of knobs a day. As with any industry some pieces are imperfect. The ones that didn't pass quality control were dumped by the banks of the Ohio River. People in the area began picking up the discarded knobs and started tossing them for fun. After the War, the game really caught on and kids in the area grew up playing it.
Eventually though vintage doorknobs became collectible and the supply was becoming thin. In 1986 the Homer Laughlin China Company began producing the doorknobs made specifically for playing the Door Knob Toss Game. Besides the doorknobs used in the competition, people can buy a set of six knobs packaged with the instructions. Typically the knobs are glazed in Fiesta colours. This set is made of two of Post-86 Fiesta's introductory glazes: rose and seamist.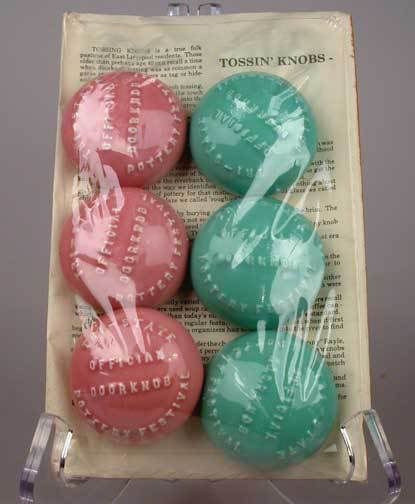 Many Fiesta collectors also add these doorknobs to their collections. And the only sad thing is the game knobs can't really be used on doors.
Happy Pink Saturday!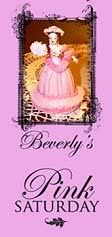 namasté,