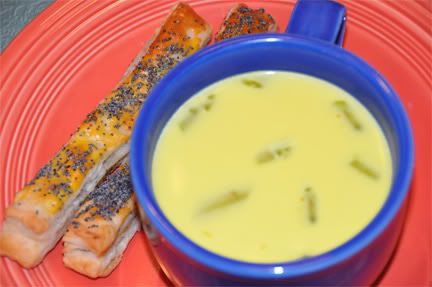 When I first heard that the cable channel Fine Living was going to turn into the Cooking Channel I got very excited. I really enjoy watching instructional shows about cooking and Food Network has gotten away from those. One of the new-to-me programs is
French Food at Home
with Laura Calder. This is a Canadian show and I am really enjoying it. Most of the recipes are ones that really can easily be made at home. I was impressed enough after the first week of watching that I ordered her cookbook of the same name.
Earlier this week they aired a recipe for
Fiddlehead and Saffron Soup
. I've been fascinated with fiddleheads for some years now and am trying to grow some at the farm. But as they are not readily available to me and when I can get them it is only for a week or so in the spring, I've adapted a number of recipes that call for fiddleheads to use asparagus instead.
When I read this recipe, I thought about the contents of my refrigerator. In there was some chicken stock I had made, leftover egg yolks and heavy cream from the Halloween cake, and steamed asparagus from our meal the night before. Voilà! Creative use of leftovers and Saffron Asparagus Soup suddenly became the start to our dinner. To go with the soup I baked Mustard Batons from
Around My French Table
, by Dori Greenspan. They were an excellent accompaniment.
Started out by heating the saffron and chicken broth:
When wanting to boil stock, I like to use my copper-bottomed Revere ware as it heats very quickly.
While that was coming to a boil I got my leftover asparagus chopped: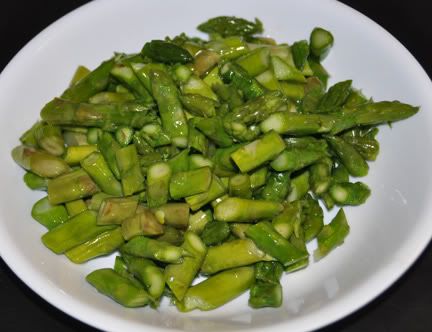 Just poured in the cream: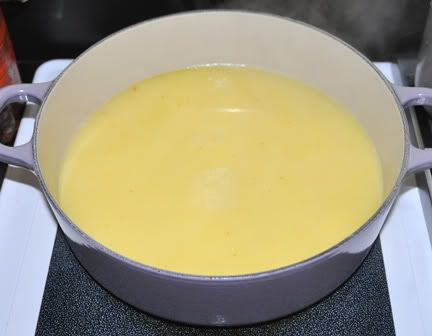 After the stock boiled, I switched the soup to my Lilac Mist Le Creuset pot. The cast iron gives slow even heating so the soup doesn't get hot too quickly and curdle.
And here is the soup served in a sapphire Fiesta jumbo mug on a persimmon plate with Dorie's Mustard Batons on the side: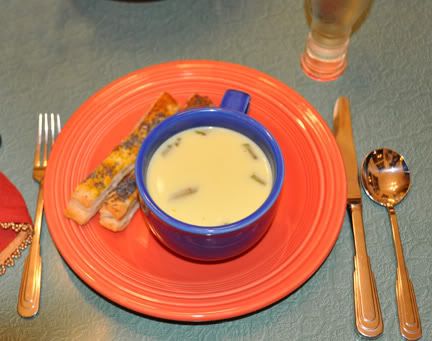 This made a lovely start to our meal and would also be excellent for lunch. The soup is so much more than the sum of its parts and tasted very fresh and spring-like. The eggs were from my CSA box, so the yolks were a deep orange-yellow. Between those and the saffron, the soup was a most beautiful golden colour. I'll certainly be making it again next year when our asparagus is ready for picking. The Mustard Batons were the perfect thing to serve with the soup. Both these recipes were easy as well as delicious. Who ever said French food had to be difficult? In the words of my all time favourite television chef (Julia Child), "Bon Appétit!"
Saffron Asparagus Soup

8 oz asparagus
4 cups chicken stock
2 pinches saffron threads (not too much, maybe about 1/4 tsp)
2 egg yolks
Freshly squeezed juice from one lemon, strained
1/4 cup cream
Kosher salt

Wash asparagus and snap off tough ends. Steam until tender but still a pretty green. Remove from steamer and shock with ice-water to set the colour and stop the cooking. Drain, and set aside.

Crumble the saffron into the chicken broth and heat to boiling. Turn off the heat. In a small bowl, whisk together the yolks and lemon juice. Whisk some of the hot stock into the yolk mixture to temper it. Then whisk the egg mixture back into the pot of stock. Stir in the cream. Taste and adjust the seasonings. Chop asparagus into 1" pieces and fold into the broth. Reheat slowly, being careful not to let the soup come back to a boil. Boiling will cause it to curdle. Ladle into bowls and serve.



Notes:


1. I didn't actually see this soup being made, so I don't know if the cream was supposed to be light cream or heavy cream. As I had some heavy cream in the fridge, that is what I used.
2. If you like chicken, this soup base would be nice with cooked chicken diced and added to it.
namasté,