I am so blessed. My friends, both cyber and IRL, are the best in the world. I just can't tell y'all how much your care, concern, love and support mean to me.
Today's medical news:
after I had blood tests and saw the doctor, he decided to wait until next week to start my treatment. I am running a low grade fever and have an upper respiratory infection. He doesn't want to give me the chemo, crash my immune system and have me get pneumonia. My neutrophils were quite low today. Sigh. I'm neutropenic, as a matter of fact. My instructions were to come home, go to bed and avoid going out amongst strangers, people who might be sick, etc. So that is what I have done and am drinking a nice cup of green tea, eating a biscuit baked by DD#2, and working on this post.
Odds and ends:
1.
I love my doc at Vanderbilt. He's VERY good. He knows I am a reasonable, thinking, intelligent person and tells me everything and all the options. Good traits in a doctor.
Two weeks before we went to DisneyWorld, my doc took his family there. (He has a wife and two little girls.) The girls love everything Disney, but my doc's very most favourite thing at WDW is (are you ready?): Turkey Legs.
Smoked Turkey Legs, Mickey Ice Cream Bars, and Dole Whips are the signature snacks of Disney. Though how a 1 1/2 lb leg of poultry is considered a snack is beyond me! Anyway, at my appointment right before their trip, he told us how much he was looking forward to eating a turkey leg again. Fast forward to my next appointment. He was back from his trip and we were about to leave on ours. Lo and behold, horror of horrors, he had missed getting his turkey leg.
Smoked turkey legs are available in all the parks. At the Magic Kingdom you buy them from a cart in Frontierland. Epcot sells them at the Fife and Drum Tavern in the American Pavillion. You can buy them at Toluca Turkey Legs at the Disney Studios and Animal Kingdom has them available at Safari Turkey Legs on Discovery Island. They're everywhere, they're every where! Turkey leg snobs think it is lame to get them anywhere but the Magic Kingdom, but most people seem to think they taste the same, no matter which location sells them.
The Guy and I discussed the situation and took a couple of boxed styrofoam coolers with us to Florida. Just before we packed to leave Disney, he and I went over to Epcot to get my hands hennaed in Morocco and buy some Turkey Legs at the Fife and Drum. (My hands/arms look fabulous, btw. I got the Healer and Health designs, figuring that every bit of good karma helps!) The cast members packaged up three turkey legs for us and we immediately took them back to the room and iced them down in the coolers. Today we delivered one to my doc. The other two are in our freezer to eat another day. It really was funny to see the doc's face when he opened the box and realized what he had.

2.
Last night when we were leaving the hotel to go to dinner, my car wouldn't shift from park to reverse. On the second try it shifted OK, so we thought it was a fluke. Then when we were coming home from dinner it again wouldn't shift. Got out the book and did what it said, using a key to unlock the shift. The last line of the directions said, "Something is wrong with your car. Take it to your dealer for repair." Duh. I figured that out on my own.
However, we still had things to do in Nashville today. We used the key to unlock the shift every time we had to move the car. As soon as we got home and the Guy got the car unloaded, we took it over to our dealer. They called around 4:30 and said that something had gotten spilled in the gearshift (Coke, coffee, etc) and gummed it up. Now I don't drink soft drinks. I do drink coffee, but I always have it in a travel cup in the car. I think something got spilled in it previously and the bitterly cold weather last night caused it to get all sticky. Luckily they can get it fixed by tomorrow. I'm glad it was something that simple. Whew!
3.
This past week a very unusual astronomical event occurred. Full moon, lunar eclipse and winter solstice all happened on the same night. This is the first time that has happened since 1638. I went outside our room at the Polynesian during totality and the view was amazing! The Magic Kingdom was open late that night for Extra Magic Hours. If it hadn't been so cold I would have gotten on the launch that went from the Poly to MK and watched the eclipse out on the water. Earlier in the evening as the full moon was rising this was the view that many visitors saw.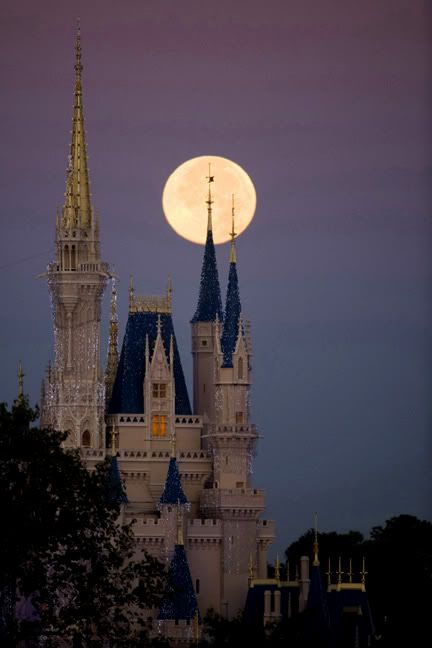 Isn't it magical?
namasté,